TACLANE-FLEX (KG-175F) Encryptor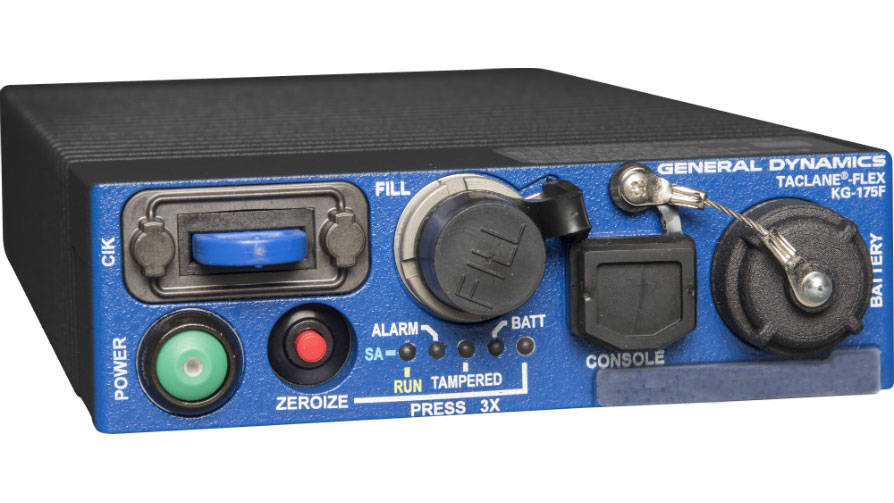 The Next Generation of Network Encryption
It's Time to Transition to TACLANE®-FLEX, the Smallest, Lightest, Most Efficient 2 Gb/s Aggregate HAIPE
The TACLANE-FLEX customizable encryption platform provides the flexibility needed to support today's advanced cyber security missions – including insider focused threats and external cyber-attacks. With the same form and fit of the widely deployed TACLANE-Micro, the FLEX is the next generation crypto modernization product in a TRUSTED encryption portfolio. Designed for EFFICIENT performance and SWAP-C, the FLEX is SCALABLE to support 200 Mb/s to 2 Gb/s aggregate throughput and is ENHANCED with advanced features that support additional networking and security capability.
NEW Power Management Feature provides users greater control over the device's power consumption, resulting in increased power efficiency, and decreased operating and touch temperatures and related lifecycle costs.
The TACLANE-FLEX is NSA Certified and ACC Compliant to protect information classified Top Secret/SCI and below. ACC Certified software includes support for new Modern Agile Performance Enhancing Proxy (PEP) for disadvantaged networks and applications like SATCOM HAIPE.
TACLANE-FLEX RELEASE 4.3V3 NOW AVAILABLE
---
See It In Action
IMPROVED PERFORMANCE FOR TACTICAL APPLICATIONS
Now Available for TACLANE-FLEX (KG-175F) & TACLANE-Nano (KG-175N)
TACLANE Agile Performance Enhancing Proxy (PEP) feature increases network availability and performance over disadvantaged networks.
REQUEST WHITE PAPER
---