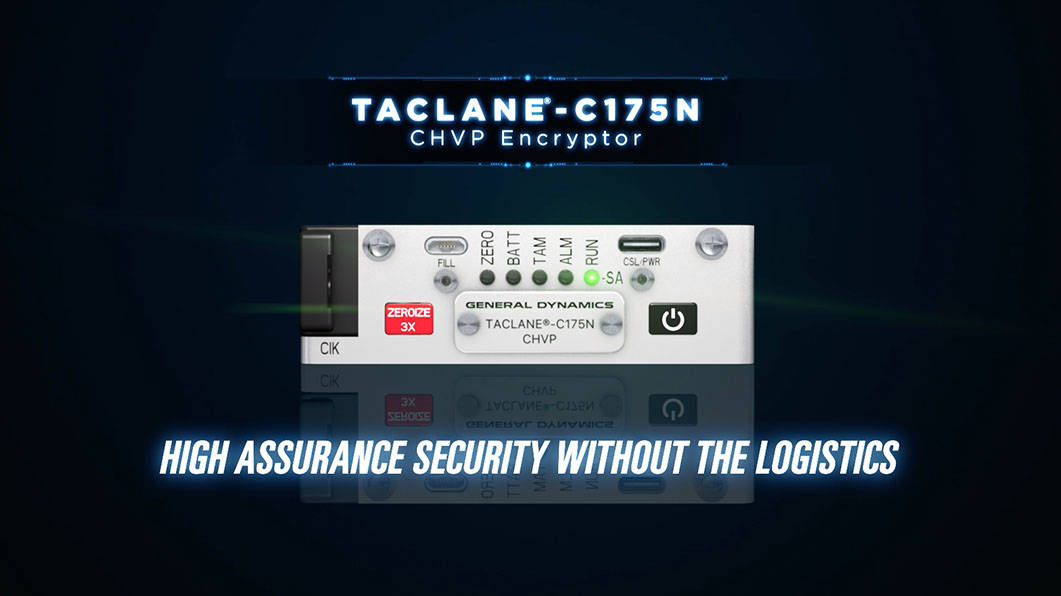 The TACLANE®-C175N Cryptographic High Value Product (CHVP) encryptor bridges the need for high-assurance Type 1 security and interoperability with less restrictive handling requirements, providing a low-cost alternative for secure, classified communications.
FAIRFAX, Va. – General Dynamics Mission Systems announced today that its TACLANE-C175N CHVP encryptor has been certified for use by the National Security Agency (NSA). This new, small-form-factor HAIPE® encryptor provides high-assurance security, interoperability, and mission-focused features in a single device with less handling requirements and safe-keying capabilities that secure classified information. Designed and certified to the NSA's high-assurance security standards, the TACLANE-C175N encryptor is a non-controlled, cryptographic item (non-CCI) device that protects voice and data communications classified secret and below.
Consistent with the Committee on National Security Systems Instruction (CNSSI) 4031, the TACLANE-C175N CHVP requires less handling and accountability compared with other Type 1 encryption products, expanding the use of certified devices in high-risk environments where there is greater probability of unplanned leave behind in unmanned operations or tactical units. The TACLANE-C175N CHVP solution offers trusted security, and provides multiple performance and feature benefits, including:
200 Mb/s aggregate throughput supporting analytics and video streaming at the network edge
Military standard ruggedization and size, weight and power (SWaP) optimization
Advanced networking and performance even in disadvantaged networks
Tamper and TEMPEST protections
Adverse event handling features such as Render Useless Zeroize (RUZ) and Heartbeat Signaling to 'brick' the device
Lower total cost of ownership as compared to Commercial Solutions for Classified (CSfC) solution with minimal network integration, maintenance and no yearly registration
Remote configuration, management and control of device and keying using GEM® One Encryptor Manager
The TACLANE-C175N CHVP encryptor is now available for purchase from General Dynamics Mission Systems. For more information, contact INFOSEC.
General Dynamics Mission Systems, a business unit of General Dynamics (NYSE: GD), provides mission-critical solutions to defense, intelligence and cyber-security customers across all domains. Headquartered in Fairfax, Virginia, General Dynamics Mission Systems employs more than 12,000 people worldwide. More information about General Dynamics Mission Systems' portfolio of capabilities is available at gdmissionsystems.com.