TACLANE-Micro (KG-175D) Encryptor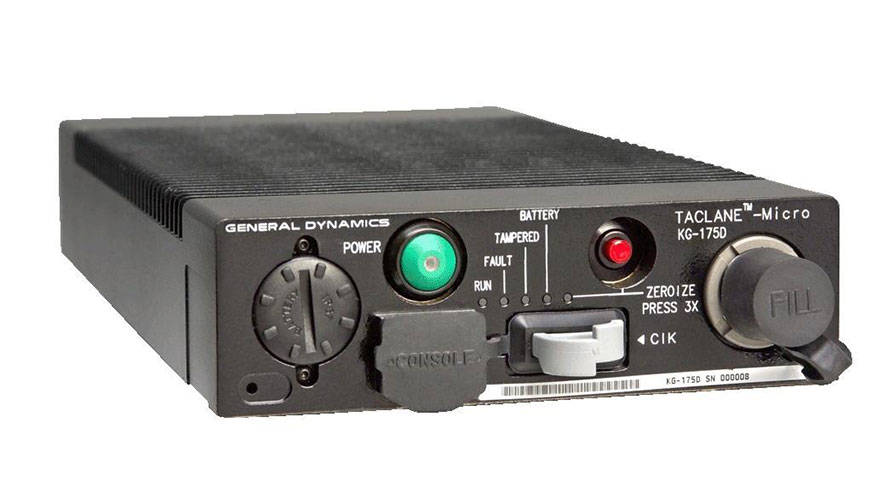 The most widely deployed certified encryptor
With the Same Field Proven Reliability and Ease of Use - Next Gen TACLANE
®
-Micro Solutions are Here
Now compliant with the Advanced Cryptographic Capability (ACC) standard, the TACLANE-Micro continues to be the most widely deployed High Assurance IP Encryptor (HAIPE) encryptor securing tactical and strategic networks worldwide. Request the latest software.
Network and Crypto Modernization - General Dynamics continues to evolve the TACLANE portfolio - the gold standard in secure classified networking solutions – and stands ready to partner with you to secure your mission from the tactical edge to the enterprise. End-to-end TACLANE solutions not only embed high assurance encryption technology into your network; they also come with an unmatched customer support ecosystem to ensure optimal user experience and investment protection.
With limited inventory, the TACLANE-Micro (KG-175D) is only available to purchase while supplies last. If you are considering purchasing a TACLANE-Micro, please contact us immediately at the link below.
---
Next Generation Crypto Modernization
TACLANE-Micro (KG-175D) users have several options to consider when planning to modernize network and crypto equipment:
TACLANE®-FLEX (KG-175F) – The form/fit of TACLANE-Micro with advanced features and scalability to support expanding bandwidth requirements (200 Mb/s – 2 Gb/s)
TACLANE®-Nano (KG-175N) – The smallest, lightest certified HAIPE® optimized for secure tactical, unmanned, remote/telework applications and deployable communication kits (200 Mb/s)
TACLANE®-Nano (KG-175N) Adapter Module (for KG-175D) – Enables use of the TACLANE-Nano encryptor in an exact form factor (size, power, interfaces) of the TACLANE-Micro (KG-175D)
Click on the tabs below for more information
---