Students and Recent Graduates

Start Your Career Out In Front
Find Your Next Challenge
Use the search fields below to tell us what you want to do, and where you want to work.
We're Looking For the Next Generation of Leaders
At General Dynamics Mission Systems, we're focused on what's next:
For our industry, for our company, and for our people.
As an intern, you'll learn from the very best. You'll be involved with the technologies and solutions that make the world a safer place. And you'll discover why starting a career here is such a smart choice. According to WayUp, our internship program is one of the Top 100 in the country.
As a new graduate, you'll be joining a company where the next discovery is powered by your thinking. You'll have endless opportunities to share ideas with world-class talent. And you'll be positioned for a future filled with potential.
CHOOSE YOUR PATH AND LET'S TALK ABOUT WHAT'S NEXT.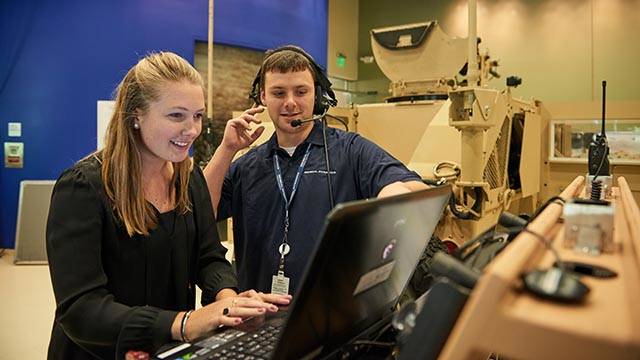 Start Your Career With Us
Our entry level positions are a great way for recent graduates to get their foot in the door. These positions are filled with mentorships and growth opportunities that can help you jump start your professional career.
Search Entry Level Positions
Intern With Us
Our internships are filled with real work that makes a difference. No coffee runs here! Interns are exposed to a variety of opportunities and have the chance to interact with multiple levels of management.
Search Internships
Connect With Us
Our team of helpful recruiters are available to answer your questions and support you through the hiring process. Check out our calendar to find an event near you. Come talk to us about joining our team!