TVE Trusted Multilevel Computing Solution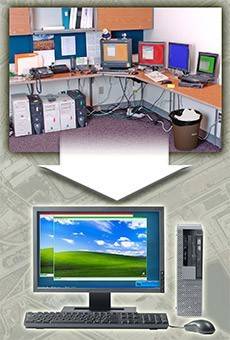 Simultaneous View of Multiple Security Levels on a Single Computer
TVE is a multilevel computing solution that allows users to simultaneously view and access multiple security levels, operating systems and domains from a single computer, eliminating the need for multiple computers. TVE is easy to use, manage and deploy into your network. An ideal desktop consolidation system, TVE provides significant cost savings associated with IT equipment, network infrastructure, labor, space, weight and power improving operational and environmental efficiencies.
Trusted Data Separation
TVE creates Virtual Machines (VMs) within a single computer with industry leading VMware® virtualization technology. Each VM can run different operating systems and security levels in separate windows on a shared computer and monitor. These windows can be viewed separately or simultaneously. TVE is proven secure through extensive evaluation, certification, and accreditation efforts (DoD and IC Certified) and is UCDMO baseline listed.
---
---