TACLANE Software Features
Advanced and Optional Features Enhance Security and Network Efficiency
In addition to providing proven, reliable and NSA certified HAIPE encryption, TACLANE® products are designed to accept advanced and optional software to extend the use and versatility of the encryptor. These software features gives customers greater flexibility and control of their network and devices based on their budget and mission requirements.
Agile VLAN / Layer 2 Passthrough
This feature adds Layer 2/Non-IP Ethernet capability to the TACLANE encryptor while preserving the benefits of HAIPE interoperability and security functions (like remote key transfers) as well as Layer 3/IP capability (like remote management). Per packet agility allows for simultaneous HAIPE and Layer 2 traffic to pass without any infrastructure changes. This feature provides equipment and cost savings associated with the reduced reliance on routing equipment and the elimination of cumbersome processes like GRE tunneling. The ability to pass multiple protocols (including VLAN tagged, IP, MPLS, etc.) eases network transitions as your infrastructure and networking requirements change. Other benefits include increased bandwidth efficiency and failover.
Download Agile VLAN Brochure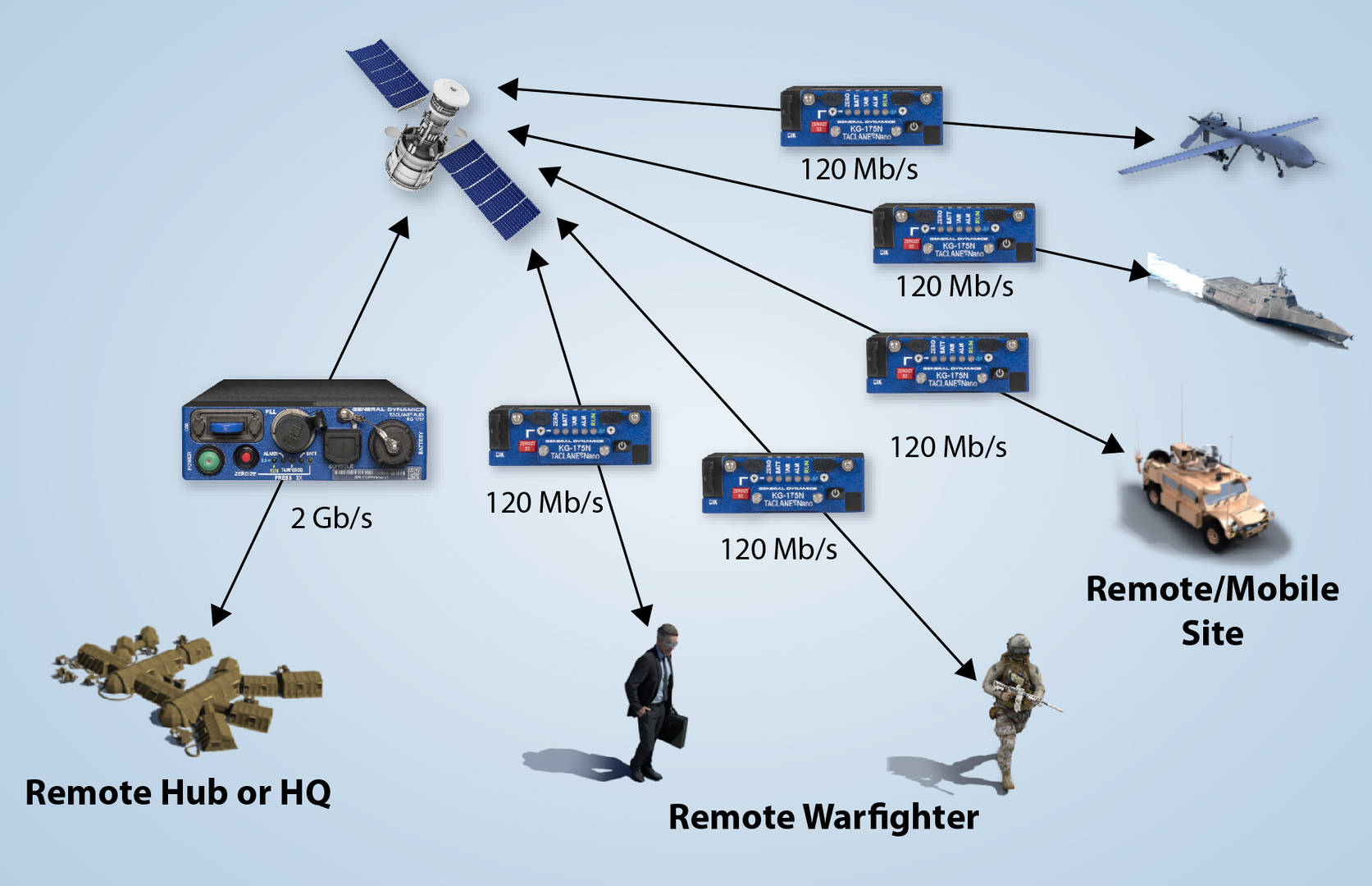 Agile Performance Enhancing Proxy (PEP)
The TACLANE Agile Performance Enhancing Proxy (PEP) is an advanced software feature that increases network availability and performance over disadvantaged networks. The function isolates the Transmission Control Protocol (TCP) problems (underutilized link, reduced transmission rate and TCP fairness) from the rest of the network to accelerate network performance over geostationary satellite links which provides fast network access for mobile users.
This feature is supported in both TACLANE-Nano (KG-175N) and TACLANE-FLEX (KG-175F), providing symmetric support from endpoint to enterprise. TACLANE-FLEX Agile PEP is designed to support up to 10 remote Agile PEP enabled TACLANE-Nano devices.
REQUEST PEP WHITEPAPER
TACLANE Render Useless Zeroize (RUZ)
The Render Useless Zeroize (RUZ) feature eliminates key material and cryptographic algorithms, fully rendering the ECU useless, making it completely inoperable and inaccessible. This aspect makes the feature ideal for unattended operations where the platform is at risk of capture or missions where Operators need to unexpectedly withdrawal/retreat quickly in an emergency.
Request RUZ Whitepaper
TACLANE Trusted Sensor Software
This feature addresses continuous monitoring and insider threat security by adding Cyber Sensing capability to the TACLANE encryptors. Using Deep Packet Inspection (DPI), this feature enables packet header and content filtering for malicious data and issues Type 1 encrypted alerts to further protect from attacks. Unlike any other IDS/IPS system, the TACLANE Trusted Sensor Software is able to support both open source, user unique or government classified rule sets. This in-depth inspection aids network administrators in understanding the overall health of the system and provides the ability to fine tune network filtering to reduce response time and increase defense in depth. This solution can be easily integrated into cybersecurity infrastructures in place today.
TACLANE TRUSTED SENSOR SOFTWARE