Commercial Aircraft Radomes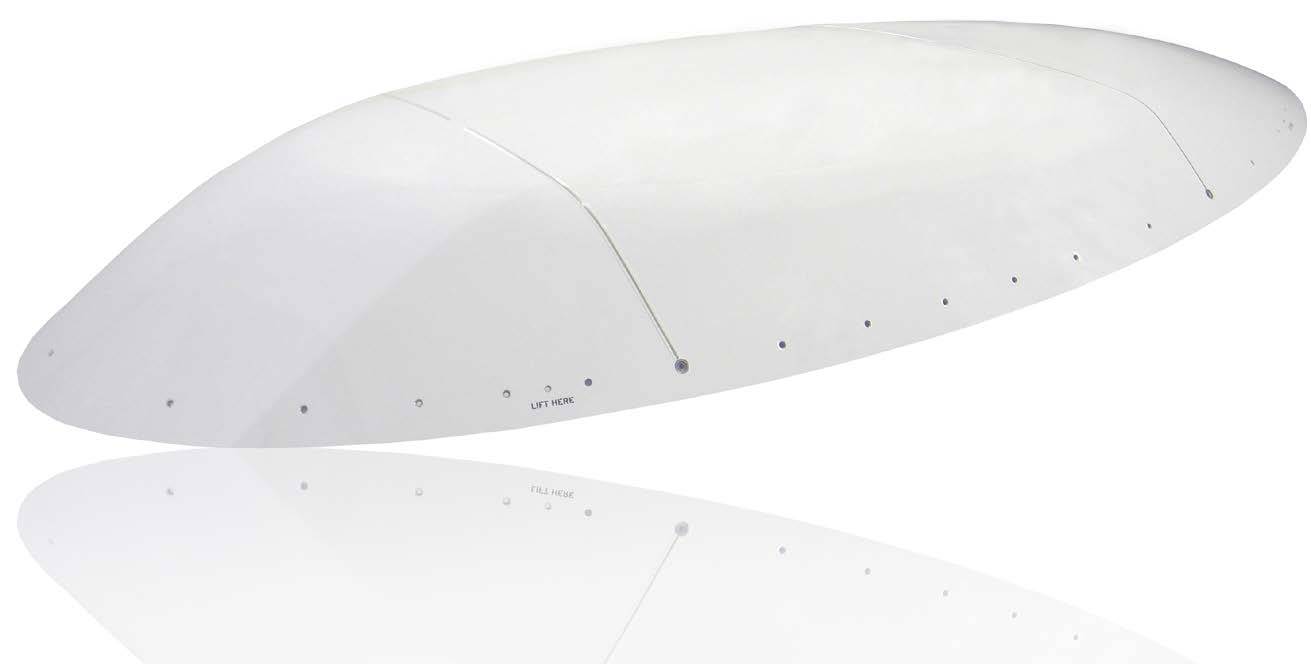 Keeping Passengers Connected
General Dynamics is capable of designing and manufacturing single and dual-band, low-reflection radomes for optimum performance of various radar systems, such as weather radar. These capabilities extend to the development and production of multi-band radomes that provide excellent cross-polarization discrimination and transmission performance across X, Ku, K and Ka-Bands for SATCOM applications.
---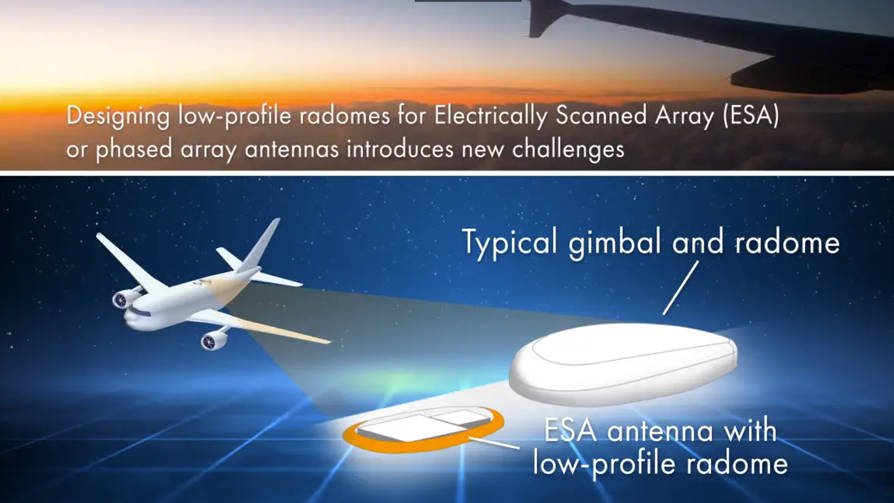 Solving Electronically Scanned Array (ESA) Design Challenges
Designing low-profile radomes for Electronically Scanned Array (ESA) or phased array antennas introduces new challenges.
For over two decades we have designed radomes for the most advanced Active Electronically Scanned Array (AESA).
Our Radome Design Approach
General Dynamics collaborates closely with our customers to choose the best design, process and materials to fit their needs for cost and performance.
Employing an extensive analytical tool set, General Dynamics is capable of coupling accurate RF performance predictions with FEA structural analysis to ensure a high integrity, optimal solution for your system needs. These tools can be applied early in the design process to aid in radome shape selection trade studies.
When radome performance matters, General Dynamics' design experience, analytic and measurement tools and manufacturing know-how provide for low-risk, high performance radome solutions.
Key Capabilities:
Electrical (RF) design/analysis
Structural design/analysis
Lightning direct effects protection
Mechanical design
Tool design
Material and process engineering
High precision machining
Radio frequency (RF) testing
Non-destructive testing (NDT)
Repair
Radome Qualification Experience
Material Allowables
Static Loads
Mechanical Shock & Vibration
Fatigue
Bird Strike
Low Velocity Impact Damage (LVID)
Fluids Resistance
Rain Impact/Erosion
Lightning Protection
Other Environmental Qualification
Electrical (RF) Performance
Supplemental Type Certification
Facilities
Approximately one million square feet of manufacturing space in Marion, Virginia n Indoor and outdoor RF test ranges
Large autoclaves (up to 11 feet in diameter and 50 feet in length)
FAA Repair Station Certification Number VQBR980L
Platform/Radome Examples
Commercial/SatCom

737
747
757
G500/600
Thales Tri-band
Boeing Ku
Boeing Tri-band
In-Flight Entertainment & Connectivity
Our extensive experience allows us to apply real world knowledge to the design, qualification and manufacturing processes for successful overall system performance and minimal life cycle cost. General Dynamics has supported multiple commercial programs in obtaining STCs and holds an FAA Repair Station Certification for IFEC radomes.
---