Small Business Resources
General Dynamics Mission Systems is committed to establish mutually beneficial relationships by actively seeking small businesses, including those owned by minorities, women, and veterans, capable of providing products and/or services in our supply chain.
The provisions of Public Law 95-507, as amended, and Federal Acquisition Regulation (FAR) Part 19, establishes requirements for participation in federal contracting opportunities by:
Small business (SB) concerns, including Native American small businesses
Small disadvantaged business (SDB) concerns owned and controlled by socially and economically disadvantaged individuals
Small business concerns owned and controlled by women (WOSB)
SBA-certified HUBZone (Historically under-utilized business zones) small businesses
Veteran-owned (VO) and service disabled veteran-owned (SDVO) small businesses
To be considered for opportunities, we recommend that you register your company with General Dynamics. This information will be kept in a database to identify possible candidates for future opportunities that may arise and without obligation of either you or General Dynamics.
If you would like to speak to a member of our Supply Chain team, please contact us at: SmallBusiness@gd-ms.com or visit us at and upcoming supplier event.
Register Your Company
For access to the General Dynamics Mission Systems Innovation Sourcing Network™, visit: gdmissionsystems.com/isn.
Select Sign Up For The Innovation Sourcing Network,

Fill in registration information,

Attach company capabilities document

Select the Sign Up For ISN Newsletter box to be added to the email distribution list.
The Innovation Sourcing Network will alert you of TechScout opportunities and share your company profile throughout General Dynamics Mission Systems.
For access to the Corporate Supplier Registration Portal, visit: https://suppliers.gendyn.com/.
Select Create An Account,

Type "I agree" to accept the Terms of Use

Fill in your registration information.
General Dynamics will contact you when an opportunity becomes available.
We recommend you fill out the following sections completely:
CAPABILITIES: In addition to using the preselected lists of capabilities and customers, be sure to add unique and descriptive key words and customer details, in the available free text fields (e.g., network engineering; not IT).

DOCUMENTS: Uploading corporate briefings, brochures or line cards and other capability documents is highly recommended (Note: documents cannot contain more than 50 characters in their name and no special characters. You may need to rename documents you want to upload).
What You Can Expect
If there is a need for your products/services you may be contacted by buying personnel directly or may receive a Request for Information or Request for Quotation (RFQ). We may not have an immediate requirement that matches your capabilities but when a need for your product or service arises your organization may be considered.
If you propose to furnish production (as opposed to overhead) material, then you may be required to undergo a Quality Assurance survey to assess your quality system. If your quality system is approved by other contractors (e.g., ISO 9000 approvals), then please let us know. If needed, arrangements for the survey are coordinated through the responsible buyer. Your process must be found satisfactory before you can be considered as a source for production material.
Thank you for your interest in doing business with General Dynamics. We look forward to working with you in our efforts to achieve a strong and diverse supplier base.
Our Small Business Liaison Officers
Small businesses seeking to partner with General Dynamics Mission Systems are encouraged to contact supplier liaisons listed below for more information.
Suzanne Trinh (Group Lead)
San Diego, CA
Email: smallbusiness@gd-ms.com
Stephanie Poppe
Scottsdale, AZ
Email: smallbusiness@gd-ms.com
Small Business Series Presentations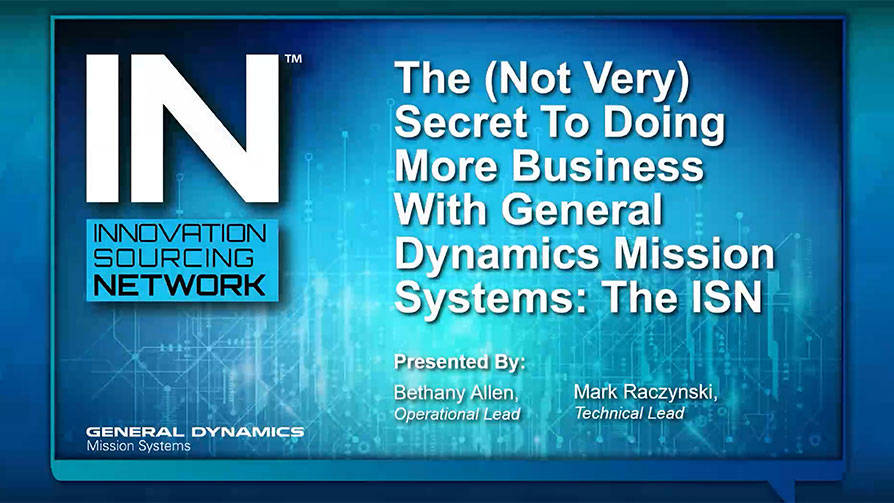 The (Not Very) Secret to Doing More Business with General Dynamics Mission Systems: The ISN | October 27, 2021
Open TechScouts
Our TechScout process communicates our needs and technical opportunities with your organization. TechScout is critical to our supply chain process to source potential outside solutions. We need your innovative approaches to build partnerships that solve our customers' greatest challenges.
View TechScouts from Previous 6 Months