Professional Development

Your Success is Important to Us
Find Your Next Challenge
Use the search fields below to tell us what you want to do, and where you want to work.
WE'RE COMMITTED TO MAKING THE BEST PROFESSIONALS EVEN BETTER
In the world of technology, if you're not moving forward, you're falling behind. That's why at General Dynamics Mission Systems, we offer a variety of leadership programs and professional development opportunities designed for all areas of our business. We are committed to building your skills so you're ready to grow your career as we build our business.
---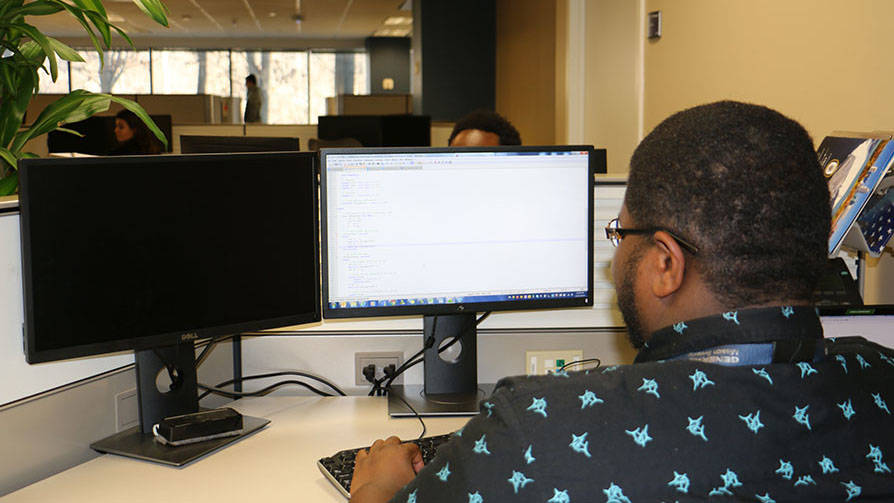 Engineering and Manufacturing Leadership Programs
Systems Engineering Architect Leadership Program
This 15-month program is a developmental opportunity for mid to senior level professionals interested in growing their capabilities to take on complex and strategic initiatives. Members of this program complete:
A 4-course graduate program in Systems Engineering & Architecture
Formal academic and leadership training
On job training experience
Cross facility/site exposure with extensive networking opportunities
Mentoring Program
Our career mentoring program allows employees to connect with one another across the company in their varying areas of interest. Mentoring relationships can benefit everyone from senior leadership to entry level engineers.
"The mentorship program is eye opening. Open and frank discussion about a mentee's career can help the mentor truly reflect on their own career and professional goals. It's never too late to determine whether you are in the right job and on the right path."


- Bill Patterson, Vice President & General Manager, Ground Systems Line of Business
Rotational Assignments
Employees are able to compete for rotational assignments in different departments. These assignments allow employees to explore their areas of interest and learn about each facet of the company rather than staying in one department. These are typically year-long rotations that allow you to immerse yourself in the new department and gain a real understanding of the work being done.
Tuition Assistance
As part of preparing and maintaining a world-class workforce and creating a great place to work, we provide assistance for the cost of pre-approved job related courses, strategic enterprise development programs, conferences and seminars that will improve employees' job-related skills or prepare employees to compete for reasonably attainable positions within the company to advance their careers.
Campus Ambassadors
The Campus Ambassador Program highlights our high-performing engineers to represent the company at our top-tier colleges and universities across the country. Ambassadors look to recruit and engage engineering students for internships and direct-hire engineering positions by engaging student groups, faculty and staff at their alma maters.
Mission Systems Leadership Program
This strategic leadership program accelerates the development of leaders each year who exemplify our leadership expectations and are committed to:
Inspiring, engaging and mobilizing a geographically dispersed and diverse workforce to achieve results.
Catalyzing cross enterprise understanding, networking and collaboration in order to leverage the full breadth and strength of General Dynamics capabilities to best address our customers' needs.
Sustaining and advancing their learning; serving as coaches and/or mentors to others and promoting learning within their areas of influence.
This program includes individualized project-based electives, networking and relationship building, formal leadership training (virtual and face-to-face) and ongoing coaching and mentoring.
Business Operations Leadership Program
Our Business Operations leadership program uses formal training, relationship development, personality profiling and feedback, and experiential learning to mature leadership awareness skills in selected employees across Business Operations (IT, Facility & Real Estate, Security). Participants are assigned to a project that challenges them with real world opportunities to drive the organization forward, apply their learning and strengthen their leadership skills. Participants then present their teams findings, recommendations and plans to address their challenge area to the executive leadership team.
Career Development Portal
As an employee, you'll have access to your Career Development Portal. It provides a comprehensive, one-stop-shop for development resources including a database of all General Dynamics Mission Systems positions. It's searchable. Interactive. Most important of all, it allows you to explore career opportunities at your convenience. Your success matters at here.
Leadership Academy
Brings high quality, high impact, instructor-led leadership skills to managers in core leadership competencies so that managers are skilled in and consistently model Leadership Expectations. The modules (virtual and face-to-face) are highly interactive, presented in micro learning segments (1-3-hour duration) and promote cross business/function participation, collaboration and networking. The Leadership Academy ensures managers have the ongoing development to excel in their role, progress in their career, engage their team and retain high performing/high potential employees.
Capture Manager Training Program
Our Capture Manager Leadership Program is a 4-week series of classes with a curriculum focused on improving your performance and skills. Participants are selected to participate after a nomination process. Using our Business Development Processes as the guidepost and through instruction and collegial interaction, attendees learn the fundamentals and craft of capture management. The fast-paced course improves the ability of the attendee to appreciate the dynamics of marrying customer engagement, behavior, and requirements, with a competitive and compelling offering to develop winning proposals for the continued growth and success of our company.