GEM One Encryptor Manager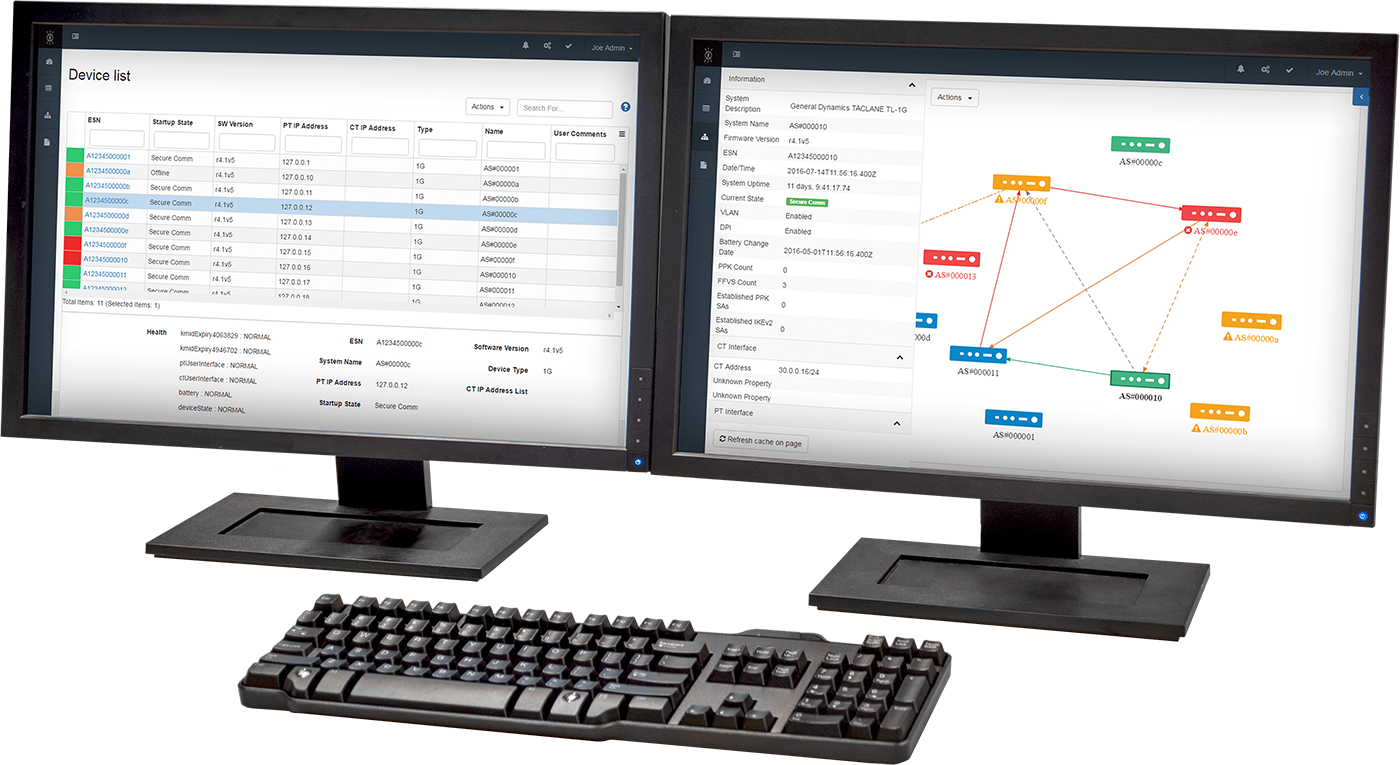 The Window to Enterprise Device Management
GEM® One is a robust, easy to use enterprise-level remote encryptor management solution. GEM One enables administrators to visualize and manage a network of dispersed encryption devices - including their health, status and connectivity – from anywhere in the network or remote login. This provides enterprise-level situational awareness, increased mission capability when remote control of devices is needed (unmanned/telework) and enhanced management of the ecosystem and all its moving parts.
Situational Awareness through Visualization
The topology view provided by GEM One enables administrators to quickly and easily see the status of the devices on their network all on one screen. By simply hovering over the device or the link between devices, users can instantly see critical device information including health indicators, network addresses and associations. This view enables users to see routing information in Layer 3 mode or VLAN configurations in Layer 2 mode. This visualization significantly increases efficiency when configuring connections and helps operators detect and respond to issues immediately.
New GEM One Release 2.0 NOW AVAILABLE!
A free version of GEM One is available to all TACLANE users. See below for details.
---
GEM One Standard Features
New Features Now Available with GEM One R2.0:
Expanded Device Support for TACLANE E-Series and Select Non-General Dynamics HAIPE Encryptors (KG-250X and KG-250XS)
Server Sync Capability
RESTCONF API for Integration with Commercial Network Monitoring Tools (Northbound Interface)
Other Features Include:
Key Manager - This feature allows the user to view details and status for every key on their network in one central location.
Role Based Access Control Enhancements - Administrators can now fine tune access to individual Enterprise Features on a per user basis.
User Session Configuration - Admins can view and configure user sessions including the global timeout value for all users and the ability to disable timeout altogether.
Enhanced Reporting - Users can now select up to 5 different reports to generate with over 60 unique parameters.
Remote management and real-time status of up to 1200 encryption devices
Enterprise-level management streamlines workflow
Plug-in architecture optimizes performance and enables timely management of new product releases
Visual representation of critical device and connections improves device and network situational awareness
Progressive display and page design improves operator efficiency, aids in troubleshooting
Supports up to 150 concurrent, remote users
Customizable dashboard and widgets contain summary information for quick reference
Remote audit log collection and archive for operations management
Enterprise device license management
TACLANE Trusted Sensor (TTS) Software Manager simplifies rule compilation, management and deployment
Automatic device discovery in combination with with Generic Discovery Server (GDS)
Integrates into existing enterprise infrastructures
Device Grouping simplifies device display and user access restrictions
Battery and key expiration health
Added Improved LDAP/AD Integration
Manage TACLANE, Sectéra vIPer, ProtecD@R Multi-Platform (KG-204) Data at Rest Encryptor, and select non-General Dynamics HAIPE encryptors (KG-250X and KG-250XS) from a single pane of glass
GEM One R2.0 available and shipping now!
GEM One Basic
GEM One Basic is a free version for users with smaller networks. Please review the chart below for comparing the GEM One Basic and Standard versions. To receive your FREE GEM One Basic software, please use this form.
Easy Upgrade for GEM X Users
GEM X Users currently under active warranty or maintenance can receive GEM One Standard for free. GEM One now offers the GEM X Porter feature which simplifies the upgrade to GEM One. The wizard-like tool extracts GEM X data, stores, then ports the data to the new GEM One installation making the upgrade quick, easy and efficient.
GEM One Basic

GEM One Standard

User Features

Device List, Logs (Event and Audit), Log Manager (SNMP, TFTP and HTTP support), Task Manager, Static Route Manager, File Manager, Device Software Manager (TFTP and HTTP support), Device Health, Link & Link Health, Dashboard, Topology, Enhanced Reporting, Automatically Recurring Tasks, Audit Log Deletion Option, Unified Display of Serial Number, Open Device Right-Click Menu Option, Remote Client Interface, Wizards

Basic Plus:
Device License Manager (TFTP & HTTP support), TTS Manager,
Key Manager (OOBKT & IBKT support), Manual SA Manager

Admin Features

User Mgmt, Certificate Mgmt, Remote Authentication, Password Rules, Consent Banner, System Configuration, Backup & Restore, TFTP Configuration, Plugin Mgmt, Global Session Timeout, Device Grouping, Enterprise RBAC, Device RBAC, Alert & Action System, Configurable Device Health, Performance Sliders, Enhanced Reporting

Basic Plus:
Session Mgmt, Per User Custom Session Timeout Configurability

Device Support

TACLANE-Micro (KG-175D) R3.5v5+, TACLANE-GigE (KG-175A) R3.5v5+, TACLANE-1G (KG-175G), TACLANE-10G (KG-175X), TACLANE-FLEX (KG-175F), TACLANE-Nano (KG-175N), TACLANE-C175N, TACLANE-ES10 (KG-185A), ProtecD@R Multi-Platform (KG-204) and Generic Discovery Server (GDS)

Basic Plus:


Sectéra vIPer Phone 5.2+

Scaling

35 Devices


10 Concurrent Users

1200 Devices


150 Concurrent Users

Additional Software

-



Generic Discovery Server
Specifications
PC/WINDOWS CONFIGURATION

For smaller networks: Intel® I5-Class PC; 4GB RAM
For larger networks: Intel I7-Class PC; 4-8GB RAM
Windows® 7 x 64, Windows 10 x64, Windows Server 2012
CD/USB drive to install GEM One Software
Java 8 Installed
Monitor with minimum 1280x1024 resolution

COTS SOFTWARE INSTALLED BY GEM ONE
PostgreSQL 9.6
TomEE 1.7.4
MANAGEMENT PROTOCOL
SNMPv3
INTEROPERABILITY WITH ENCRYPTION DEVICES

HAIPE Encryptors:

TACLANE-FLEX (KG-175F) Release 4.2v2+
TACLANE-Nano (KG-175N)
TACLANE-C175N CHVP
TACLANE-Micro (KG-175D) Release 3.5v5+
TACLANE-1G (KG-175G) Release 4.1v1+
TACLANE-10G (KG-175X) Release 4.1v2+
TACLANE-GigE (KG-175A) Release 3.5v5+
KG-250XS
KG-250X

EDE Encryptors:

Data at Rest Encryptors:

ProtecD@R Multi-Platform (KG-204)

Desktop Phones:

Sectéra vIPer Phone Release 5.2+

CLASSIFICATION LEVEL
Software and documentation are unclassified
Manage encryptors at all levels up through TS/SCI
Network workstations are classified at the same level as the network
`
24/7 Customer Support
You are never alone when you partner with General Dynamics to secure your critical information. With the largest deployed base of NSA-certified encryptors worldwide, General Dynamics is committed to support our customers worldwide with a 24/7 technical Help Desk.
Help Desk — Contact our technical Help Desk 24 hours a day/7 days a week:
877-230-0236
Our Infosec support page is designed to make it easy for customers to access the information they need. Please visit www.gdmissionsystems.com/infosecsupport for the following support features:
TACLANE® Encryptor Training
The TACLANE encryptor Operator Training course is a hands-on, four day course offered in both our Scottsdale, Ariz., and Linthicum, Md., facilities. The course combines classroom presentations and hands-on-exercises designed to teach you how to install, configure and maintain the TACLANE- family of encryptors in a practical operational environment. The course also includes a complete module of training on the GEM One encryptor manager. For more information please visit our TACLANE training homepage.
---