TACLANE-ES10 (KG-185A) Encryptor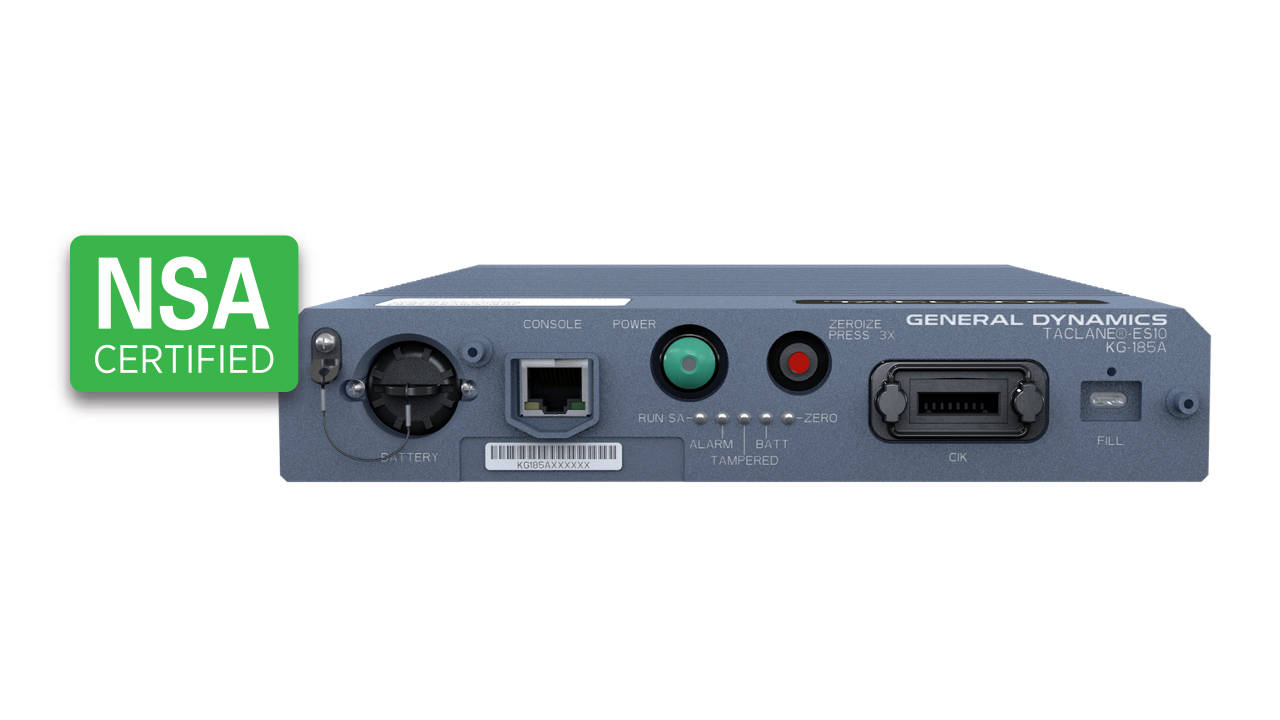 New TACLANE E-Series Ethernet Data Encryption (EDE) Compliant Product
Coming Soon to a Mission Near You
As the amount of data generated continues to grow, so does the requirement for high bandwidth encryption to secure critical information access, sharing and collection. That is why the TACLANE Portfolio is now expanding to include the new E-Series Ethernet Data Encryption (EDE) compliant products. The E-Series is designed to support the low latency, security and performance requirements of high speed layer 2 network backbones. The TACLANE-ES10 (KG-185A) is the first product in the E-series portfolio and supports network data rates of up to 20 Gb/s aggregate throughput. As part of the TACLANE family of high assurance encryptors, the new E-Series Encryptors will be manageable by the GEM® One encryptor management software.
Applications
Data Center and Campus Interconnectivity (Site to Site; Site to Branch)
High Bandwidth Applications (Database Replication, Data Transfer, Video)
Continuity of Operations (COOP) / Disaster Recovery and Backup
Trusted Point to Point Link for Protection of IP Traffic Routing
Big Data Processing and Cloud Application
NEW TACLANE-ES100 E-Series Security Platform – COMING SOON!
The new TACLANE-ES100 E-Series Security Platform is bringing scalable, high speed encryption in a modular design to the enterprise supporting 200-400 Gb/s aggregate throughput.
LEARN MORE ABOUT THIS PRODUCT
EXPLORING A HYBRID APPROACH TO ENCRYPTION
Explore the differences between IP Layer 3 and Ethernet Layer 2 encryption, when and why you would choose one over the other, and how they can be employed together to achieve data protection with optimal network efficiencies.
REQUEST WHITEPAPER NOW
---