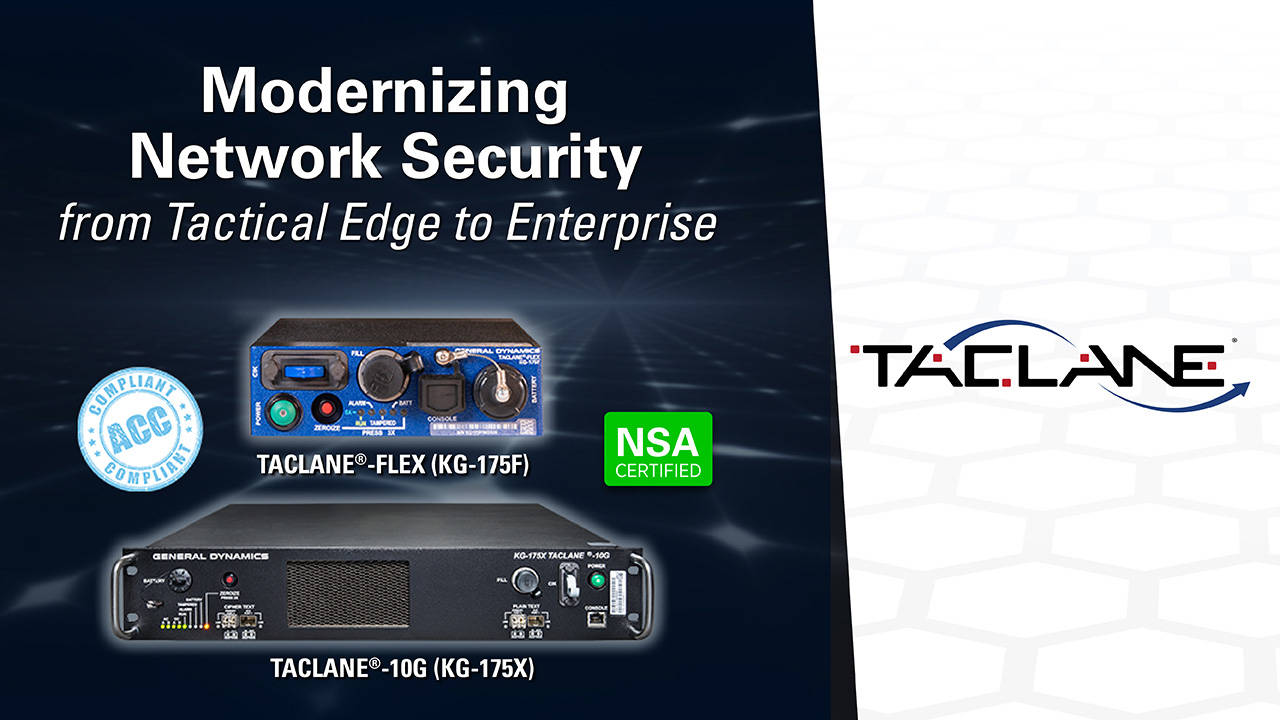 New enhanced functionality keeps TACLANE®-FLEX (KG-175F) and TACLANE-10G (KG-175X) encryptors outfitted to protect against new and evolving cyber threats missions face.
FAIRFAX, Va. – General Dynamics Mission Systems' trusted TACLANE portfolio has added enhanced functionality to two of its field-proven High Assurance Internet Protocol Encryptor (HAIPE®) Type 1 encryptors. The TACLANE-10G (KG-175X) and TACLANE-FLEX (KG-175F) encryptors are now certified Advanced Cryptographic Capabilities (ACC) and Key Management Infrastructure (KMI) Over-the-Network Keying (OTNK) compliant. This provides the addition of simplified keying and enhanced usability features.
The ACC functionality modernizes cryptographic algorithms to defend against modern and advanced cyber threats. KMI OTNK improves key management for faster, simpler, safer operations by enabling automatic and immediate key generation and delivery for HAIPE devices.
The TACLANE-10G Encryptor, the only HAIPE encryptor to offer simultaneous IP and Ethernet capabilities, and the TACLANE-FLEX, a customizable encryption platform providing flexibility and scalability, support today's advanced cyber security missions around the world. Both platforms are NSA certified and secure information classified Top Secret Sensitive Compartmented Information and below over government and commercial networks.
In addition to the ACC and KMI OTNK compliance certification, General Dynamics Mission Systems has released the Agile Performance Enhancing Proxy feature as an enhanced functionality for the TACLANE-FLEX. This optional software feature increases network availability and accelerates performance in disadvantaged networks like SATCOM. This feature is also supported in the mobile, small form factor TACLANE-Nano (KG-175N) encryptor, enabling feature benefits to be realized in missions with secure communications from end point to hub configurations.
These features, available in the new software Release 4.3, are both easily field upgradeable and backwards compatible with earlier platform releases.
TACLANE R4.3 is supported by the GEM® One Encryptor Manager. GEM One provides remote management of TACLANE HAIPE and Ethernet encryptors as well as Sectera vIPer Secure Phones and the new ProtecD@R® Multi-Platform (KG-204) Data at Rest encryptors from anywhere in the network and offers a holistic view and administrative capabilities for more detailed situational awareness.
For more information and resources to select the encryptor right for your mission, click here.
General Dynamics Mission Systems, a business unit of General Dynamics (NYSE: GD), provides mission critical solutions to those who lead, serve and protect the world we live in. General Dynamics Mission Systems is a technology integrator and original equipment manufacturer with deep domain expertise in ground, sea, air, space and cyberspace. Headquartered in Fairfax, Virginia, General Dynamics Mission Systems employs more than 12,000 people worldwide. For more information about General Dynamics Mission Systems' broad portfolio of capabilities, visit gdmissionsystems.com and follow @GDMS on Twitter and LinkedIn.