Sectéra vIPer Universal Secure Phone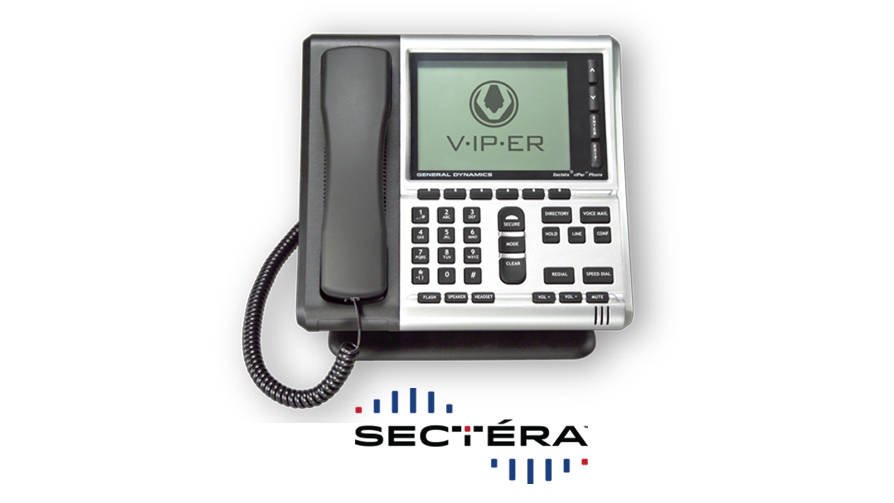 Modern Secure Phone for VoIP and Analog Networks
---
WEBINAR: Go Secure with the only Modern NSA-Certified & ACC-Compliant Solution for Type 1 Secure Conferencing
When matters of national security are on the line, mass-market communications solutions simply won't cut it. Two of the biggest names in communications — REDCOM and General Dynamics Mission Systems — have partnered to bring to market the only NSA-Certified and ACC-Compliant Solution for High Assurance Secure Voice Conferencing.
This webinar discusses the Sectéra product line, including the Sectéra vIPer Universal Secure Phone and the new REDCOM Sigma SVG-1200, which uses proven the Sectéra vIPer Universal Secure Phone and REDCOM technology to deliver secure multi-party conferencing for red and black networks.
Watch On Demand
Features
Secure end-to-end voice and data communications
ACC Compliant, modern secure phone
Ideal Replacement for STU and STE phones
NSA, JITC, TSG and CCSD approved solutions
Embedded security — no additional Fortezza card or CIK required
Easily switch between analog (PSTN) and VoIP (Cisco Skinny Call Control Protocol [SCCP] or Session Initiation Protocol [SIP]) networks
Black Digital Interface (BDI) supports interoperability with SATCOM handsets allowing secure calls anywhere in the world
High quality voice and low SATCOM latency
Embedded interface for direct connect fiber
Low power
Precedence and preemption
Simple to install, user friendly display
Interoperable with all government secure phones, DoD networks and devices (JITC certified), and commercial IP phones (Avaya and Cisco)
Soft Modem feature eliminates reliance on v.150 gateways
NEW Integrated Secure Voice Solution: Sectéra vIPer and REDCOM Secure Voice Gateway
Sectéra and REDCOM Laboratories bring to market an integrated Secure Voice Gateway - an ACC-compliant solution for Type 1 secure voice gateways and conferencing system.
Remote management via GEM® One
GEM One now supports the Sectéra vIPer Phone (R5.2+) allowing users to see and manage both TACLANE and vIPer devices from one location. This capability eases the deployment and management of a dispersed network of vIPer phones. From a central location, Network Administrators can now:
View multiple devices and status in one display
Manage device network parameters
Perform simple software upgrades
See on/off hook phone status
Sectéra and vIPer are trademarks of General Dynamics. Cisco, the Cisco logo, and Cisco Systems are trademarks or registered trademarks of Cisco Systems, Inc. and/or its affiliates in the United States and certain other countries. All other product and service names are the property of the respective owners.
Specifications
Non-Secure Call Features
Dialing
Corporate Directory (Cisco CUCM Directory - 200 entries)
Speed Dial (10 entries)
Inbound Call List (50 entries)
Outbound Call List (50 entries)
Last Number Redial
Visual Display
LCD display with backlight
Time and date (dependent on network)
Footstand adjustment for display angle
Audio Control
Selectable ringtone
Speakerphone
Headset capable
Volume controls
Mute
Hearing Aid compatible
Technical Specifications
Size
10" W x 3" D x 9.5" L (without footstand)
4.5 lbs (with footstand)
285 cubic inches
Power
Powered over Ethernet (802.3af) or AC power 110 to 240 VAC, 50-60 Hz
10.5 Watts maximum power
Environment
MIL-STD-810F (temperature, humidity, vibration, shock and altitude
Operational: 0ºC to +50ºC (32ºF to 122ºF)
Storage: –30ºC to +80ºC (–22ºF to +176ºF)
95% Humidity (non-condensing)
Altitude: Sea level up to 40,000 ft. (non-operating)
Sea level up to 10,000 ft. (operating)
Black Interfaces
10/100BaseT to LAN/WAN
10/100BaseT to Black Computer
100Base-FX Fiber Interface
- 1300/1310 nm wavelength LED
- 62.5/125 and 50/125 mm multimode
- LC type connector
USB port
Red Interfaces
RS-232 data port for DS-101 key fill and data transfer
USB port
Secure Data Rate
100+ kb/s
Speech Processing
Non-secure: G.7111, G.723.12, G.7262, G.729A
Secure: G.729D, MELP
Approvals
TEMPEST
Safety: CB Scheme - IEC 62368-1
EMI/EMC:FCC Part 15 subpart B, Class B, EN-55032 (IP modes)
TSG:
– VIPC Models: PSTN/VoIP approved
– VIPF Models: PSTN/VoIP approved
JITC:
– VIPC Models: PSTN/SIP approved; SCCP approval pending
– VIPF Model: PSTN/SIP/SCCP approval pending
Secure Dial
Transmit/Receive: Yes
VoIP Network Protocol Support
Cisco SCCP (Skinny Call Control Protocol)
SIP (Session Initiation Protocol)
DHCP, DSCP, RTP, TLS/SRTP, LLDP, DNS, TFTP, HTTP, TCP, UDP, MoIP, E.164, SDP
IPv4, IPv6
SIP Info

Avaya
Aura Application Server 5300 - MG3000 Gateway5
Avaya Aura Communication Manager (minimum release Aura 6.3 FP4)
G450 Media Gateway (with MP 160 media module)4
GENBAND
C20 Call Session Controller (min release SE17, EXPERiUS 11.2)
NET
SIP Server & Gateway platforms: VX900, VX1200, VX1800 (requires 4.7.4v17 or higher)
REDCOM
SIP Server & Gateway platforms: High Density Exchange (HDX C) SLICE® 2100™ (requires 4.0AR3P8 or higher)

SCCP info
Cisco Call Manager3
10.5.2 SU3 and higher recommended
Cisco Routers
2811, 2821, 2851 (requires IOS: 12.4(20)T14 or higher)
2911, 2921, 2951 (requires IOS: 15.1(4)M3 or higher)
3725, 3745 (IOS: 12.4(15)T14 or higher recommended)
3825, 3845 (IOS: 12.4(20)T14 or higher recommended)
3925, 3945 (requires IOS: 15.1(4)M3 or higher)
Certifications
NSA Certified for Top Secret/SCI and Below
ACC Compliant
TSG, JITC and CCSD APL
Cisco Gateway Cards
NM-HDv2-1 (T1/E1)
NM-HDv2-2 (T1/E1)
VWIC2-1MFT (T1/E1)
VWIC2-2MFT (T1/E1)
1 Both G.711 a-law and G.711 µ-law are supported
2 Not currently supported by Ciscon Call Manager
3 Use of this phone with a Cisco Call Manager System requires an additional license from Cisco
4 Advanced Enterprise Services image required
5 V.150.1 support for V.32 and V.34 modulations
24/7 Customer Support
You are never alone when you partner with General Dynamics to secure your critical information. With over 100,000 deployed NSA-certified encryptors worldwide, General Dynamics is committed to support our customers worldwide with a 24/7 technical Help Desk.
Help Desk — Contact our technical Help Desk 24 hours a day/7 days a week:
877-230-0236
Our Infosec support page is designed to make it easy for customers to access the information they need. Please visit www.gdmissionsystems.com/infosecsupport for the following support features:
Protect Your Investment with the Sectéra vIPer Trade-In Program
To assist users with upgrading to a more modern secure phone, General Dynamics is offering the following trade-in programs. Take advantage of these offers if you are looking to trade-in 200 or more STEs or SWT devices in a single order or if you are a current Sectéra vIPer Phone user wanting to upgrade your legacy "VIPC" model vIPers for a new "VIPF" fiber capable model at a discounted rate. Contact your INFOSEC Account Manager, infosec@gd-ms.com or call 888-897-3148 for details.
The Differences Between SVoIP and VoSIP Infrastructures
Secure Voice over Internet Protocol (SVoIP) and Voice over Secure Internet Protocol (VoSIP) infrastructures offer modern approaches to secure voice communications, but differ in security, interoperability, flexibility and usability. How do you ensure a secure voice solution? Evaluate this key criteria in our resources below and choose the secure voice solution that's right for your mission.
Test your knowledge with our online quiz
---