TACLANE-FLEX supports customer requirements for higher bandwidth applications, flexibility and low SWaP equipment.
FAIRFAX, Va. – General Dynamics has announced the expansion of its TACLANE® family of NSA certified inline network encryptors with the release of the TACLANE-FLEX (KG-175F). The first, multi-speed, user-customizable High Assurance Internet Protocol Encryptor (HAIPE®), TACLANE-FLEX supports high-speed, 100 Mb/s to 1 Gb/s throughput and is now certified by the National Security Agency (NSA). The NSA certification accredits the TACLANE-FLEX to secure information at the Top Secret/SCI level and below.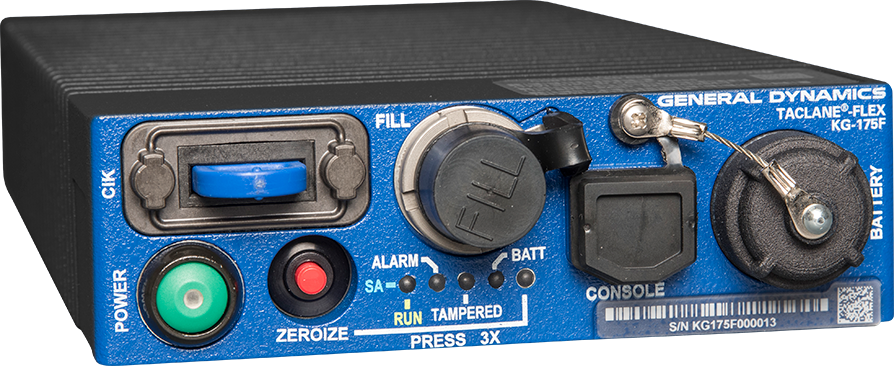 "We designed the TACLANE-FLEX to be scalable and customizable to meet the fluid demands of today's missions," said Mike Tweed-Kent, vice president and general manager of the Cyber and Electronic Warfare Systems line of business for General Dynamics Mission Systems. "TACLANE is the most widely deployed HAIPE encryptor in the world, and General Dynamics will continue to invest in and enhance this product family to ensure it addresses customers' requirements today and supports the unforeseen needs of tomorrow."
Built upon the market-leading TACLANE technology, the TACLANE-FLEX is the same form and fit of the TACLANE-Micro (KG-175D), allowing simple swap-out for customers in need of increased data rates and security features in a small form factor. The combination of its low size, weight and power (SWaP) and ruggedized design, provides users with the option to use the TACLANE-FLEX in tactical or strategic environments.
As bandwidth needs grow, and applications and environments change, TACLANE-FLEX offers a cost-effective approach that allows customers to tailor their security solution based on current needs and budget. The innovative design makes TACLANE-FLEX a delivery platform for future software-based capability upgrades, allowing it to scale to meet the dynamics needs customers will face in the years to come.
Customers are able to add functionality to TACLANE-FLEX through two optional software features, TACLANE Trusted Sensor Software and Agile Virtual Local Area Network (VLAN). TACLANE Trusted Sensor Software provides intrusion detection and prevention system capabilities that monitor network traffic, helping customers increase their knowledge of who and what is on their network. Agile VLAN allows users to simultaneously send and receive Layer 2 (Ethernet) and HAIPE traffic, helping to facilitate the flexible deployment of secure networks.
With an expected availability date mid-2017, GEM™ One, an enterprise-level remote encryptor management solution, enables users to configure and maintain a dispersed network of TACLANE encryptors, easing deployment and increasing network situational awareness. INEs are used extensively in the commercial and government sectors to protect critical networks and infrastructures.
"The diverse mission requirements of our customers warrant flexible products and solutions that address critical needs and are easy to use and deploy," said Paul Pittelli, NSA Chief, Information Assurance Capabilities. "The TACLANE-FLEX encryption platform enables customers to field a single device that allows for various levels of customization including its ability to support layer 2 communications while maintaining interoperability with currently deployed HAIPE devices."
General Dynamics' Customer Investment Protection Program encourages organizations protecting critical networks and infrastructure to maximize their investment and maintain their security posture by using General Dynamics' trade-in programs. A trade-in program will be offered for the TACLANE-FLEX, allowing users of the current HAIPE INEs to take advantage of the new customizable encryption platform's scalable speed and cybersecurity features. Call 888-897-3148 or email our team for additional information.
General Dynamics Mission Systems is a business unit of General Dynamics (NYSE: GD). For more information about General Dynamics Mission Systems, please visit gdmissionsystems.com and follow us on Twitter @GDMS.