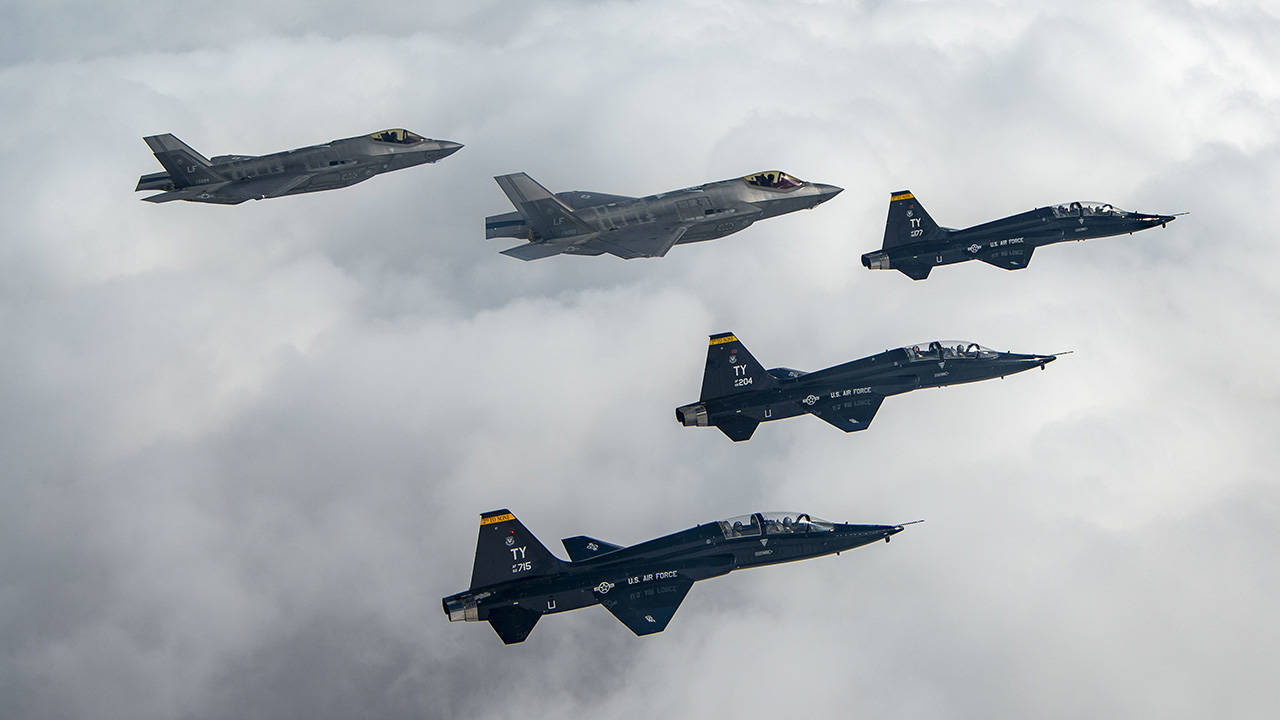 Fairfax, Va. – General Dynamics Mission Systems and GDIT will be at the Air Force Association's 2022 Air, Space & Cyber Conference to showcase innovation that enables multi-domain operations for the U.S. Air Force and U.S. Space Force, including the ability to interoperate with key allies around the world. Media are invited to visit our innovative solutions throughout the event.
WHEN: September 19-22, 2022 | Visit HERE for symposium hours and admission information.
WHERE: Booth 1535, main exhibit hall, Gaylord National Resort and Convention Center, National Harbor, Maryland.
MEDIA POINT OF CONTACTS:
General Dynamics Mission Systems: Tom Crosson, 202-309-7583, tom.crosson@gd-ms.com
GDIT: Oliver Nutt, 571-581-5567, oliver.nutt@gdit.com
SUBJECT MATTER EXPERT ENGAGEMENT:
At 3:10 p.m. on September 20 in room Potomac C, Dr. Ben Strasser, Principal Lead, Mosaic Autonomy Research, General Dynamics Mission Systems will join a panel of industry experts to discuss enabling manned/unmanned teaming.
At 1 p.m. on September 21 in room Potomac D, Michael Beltrani, Vice President, Strategic Mission Systems, General Dynamics Mission Systems will join a panel of industry experts to discuss nuclear modernization.
SOLUTIONS DEMONSTRATED:
TACDS® is General Dynamics' tactical cross domain solution (CDS) that enables information and communications to be shared across different security domains in austere tactical environments. TACDS is a low Size, Weight, Power and Cost (SWaP-C), rugged, tamper-resistant CDS that comes in two form factors, TACDS-Vehicle Mount and TACDS-Low Profile. The demo will showcase TACDS' ability to support over a dozen RTB compliant filters and protocols in support of various message formats.
ProtecD@R® high assurance encryption solutions are NSA certified to protect our Nation's most sensitive Data at Rest. Designed for manned and unmanned operations in a variety of environments, the ProtecD@R solutions are Inline Media Encryptors (IME) that operate between your system's core processor and storage media. Completely transparent to the end user, our products are high performance and standards compliant. ProtecD@R enables ease of handling and commercial transportation of encrypted storage media and can be tailored for unique mission needs. General Dynamics Mission Systems recently announced an award by the U.S. Air Force Cryptologic and Cyber Systems Division to design, develop and deliver a Classified Data at Rest high assurance Inline Media Encryptor (IME).
GPS Source Assured Position, Navigation and Timing (APNT) and GPS Data Transmission: APNT and GPS signal retransmission solutions such as the Mounted Assured PNT (MAPS GEN-1) solution and the ECHO-II Smart Repeater provide critical timing and position data in GPS denied and degraded environments. MAPS GEN-1, based on the GPS Source SENTRySCOUT™ system, provides valid and APNT data, independent of the availability or integrity of GPS signals. The core of the MAPS GEN-1 system, the ED3 PNT Hub, is widely utilized in a variety of ground vehicle applications and is the lead platform for Military GPS User Equipment (MGUE) making the ED3 your path to M-Code. When GPS indoor transmission is the primary concern, the ECHO-II is a reliable signal repeater ideal for ground vehicles, aircraft, and buildings when time-to-first-fix is critical.
URC-300 Transceiver: The URC-300 is a versatile platform that supports multiple waveforms and provides exceptional radio frequency (RF) performance to support ground-to-air, line-of-sight and other mission critical applications. It provides interference-free communications in highly congested environments and improves immunity to outside interference such as other airfield channels, Wi-Fi transmitters, and commercial FM broadcast towers. Users can operate multiple URC-300s as close as 6.5 feet apart without interference, an unprecedented capability compared to currently available tactical man-pack radios that require at least 50 to as much as 115 feet of separation. This close proximity capability enables rapid grab-and-go, multi-channel operations during emergency situations.
HOOK3 Combat Survival Radio: The HOOK3® Combat Survival Radio (CSR) provides direct, line-of-sight voice and encrypted two-way data communications that help combat search and rescue teams quickly locate and rescue downed pilots and isolated military personnel. The radio sends encrypted global positioning information, user identification and situation reports to provide rescue teams and aircraft operating in hazardous conditions with quick and accurate location information. The HOOK3 radio is significantly smaller, lighter and has better power efficiency than previous CSAR radios, allowing a crew member to carry a single radio as opposed to multiple pieces of equipment. Interoperable with all HOOK2® family radios, Quickdraw2 and SATCOM Base Station in use by U.S. and international customers, the HOOK3 CSR is ideal for unilateral or coalition operations.
Digital Engineering Environment (DEE): GDIT provides a secure "digital framework" to allow cross-functional teams to collaborate and make better decisions as they manage, create, and test digital prototypes before investing resources on live solutions. DEE allows its users to create more complete solutions to their problems, at lower risk and with long-term cost savings. DEE can transform applications ranging from weapons systems developments to enterprise IT.
Zero Trust: Zero trust is accelerating cybersecurity efforts across the federal government. Using technologies such as AI and automation, GDIT delivers advanced cyber capabilities, which drive a federated zero trust capability for enterprise and tactical deployments and protect agencies against current and emerging threats.
Identity, Credentialing and Access Management (ICAM): ICAM is DoD's premier access management solution and is foundational to zero trust implementation. GDIT has developed a federated ICAM solution that allows organizations to share identity information across an enterprise while maintaining local control and knowledge of who and what is on the network at any time. From the enterprise to the edge, GDIT demonstrates ICAM use-cases tailored for disconnected environments.
Badger Software Defined Radio: The Badger is a compact, two-channel software-defined radio that provides multiple independent levels of security for ship-to-ship and ship-to-shore voice and data communications. It is the only single radio available that provides high frequency (HF), very high frequency (VHF), ultra high frequency (UHF) and SATCOM Mobile User Objective System (MUOS) waveform capability to significantly enhance beyond line-of-sight, or satellite voice and data communications by connecting to the MUOS satellite network.
Multi-Domain Operations Multi-Level Security: General Dynamics Mission Systems delivers a Multi-Domain Operations Multi-Level Security (MDO MLS) Infrastructure that ensures the warfighter operates on the right information, at the right security level, in the right place, at the right time. This infrastructure provides a low SWaP (size, weight and power), ruggedized solution that enables MDO MLS operations from the Enterprise to the Tactical Edge. Our Tactical Edge infrastructure runs on our family of processors called Digital Backbone Nodes enabling mission display, communication, and sensor processing. This improves warfighter to warfighter collaboration and breaks down barriers to enable fast decisions, based on the right information, at the right security level, in the right place, at the right time.