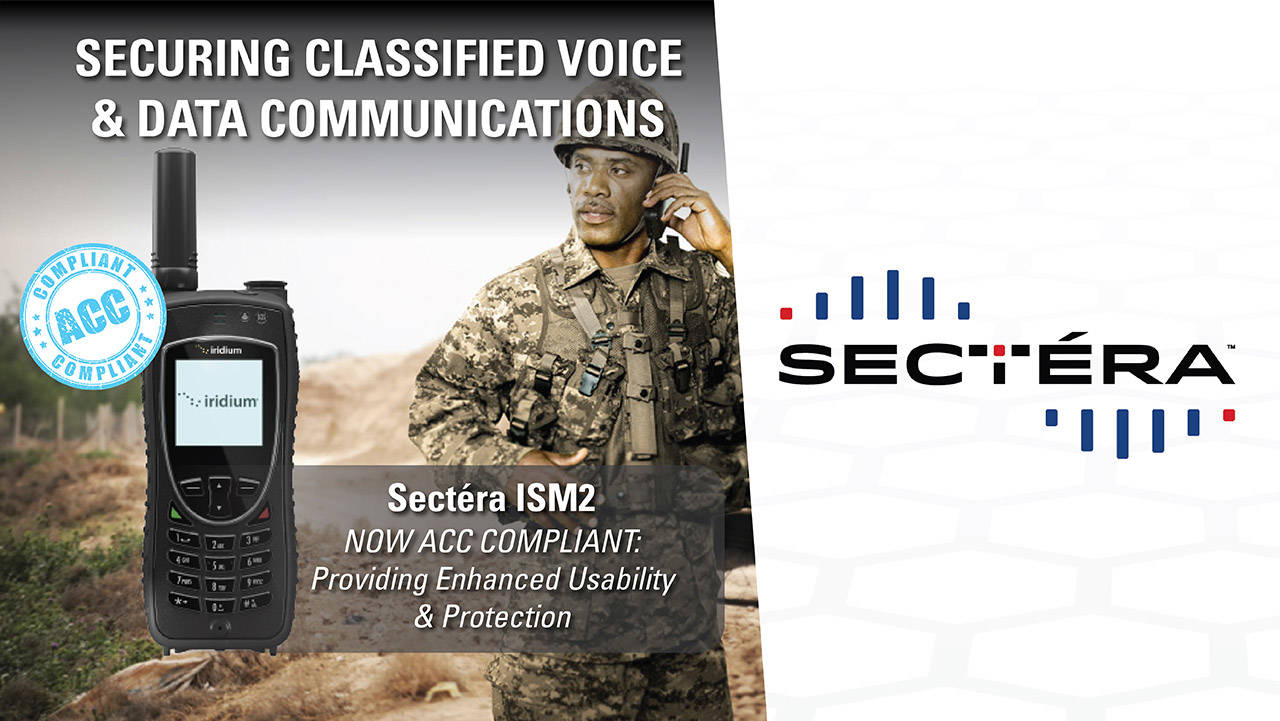 Added functionality provides enhanced usability and protection against cyber threats to the next generation of secure Iridium® satellite phones.
FAIRFAX, Va. – General Dynamics Mission Systems has added enhanced functionality to its Sectéra® Iridium Security Module 2 (ISM2), a small form factor encryption module that fits inside the Iridium 9575A handset. The security module provides NSA certified High Assurance (Type 1) end-to-end encryption to protect voice and data satellite communications classified top secret and below.
The ISM2 is now Advanced Cryptographic Capabilities (ACC) certified. The ACC functionality modernizes cryptographic algorithms to defend against modern and advanced cyber threats. In addition to modernized algorithms, the new release includes a number of user and feature enhancements including:
Secure Communications Interoperability Protocol (SCIP) compliance providing interoperability with over 300,000 government approved secure voice solutions including the Sectéra vIPer™ Universal Secure Phone.
Higher voice quality
Secure secondary dialing capability for access to users or conference bridges on red networks including the Defense Red Switch Network (DRSN)
Over the Air Rekey function enabling faster, simpler and safer operations
Secure Data capability enabling low data rate transfers
Releasable models for FVEY and COALITION
These features are available in the new R2.0 software upgrade. Current users can download the software via the government's website: www.iad.gov/securephone.
The Sectéra ISM2 is available for purchase. For more information or to obtain a quote, please contact 877.449.0600 or customer.service@gd-ms.com.
General Dynamics Mission Systems, a business unit of General Dynamics (NYSE: GD), provides mission critical solutions to those who lead, serve and protect the world we live in. General Dynamics Mission Systems is a technology integrator and original equipment manufacturer with deep domain expertise in ground, sea, air, space and cyberspace. Headquartered in Fairfax, Virginia, General Dynamics Mission Systems employs more than 12,000 people worldwide. For more information about General Dynamics Mission Systems' broad portfolio of capabilities, visit gdmissionsystems.com and follow @GDMS on Twitter and LinkedIn.
Editor's Note: The Sectéra ISM2 is the NSA Certified and approved product solution under US Space Force (USSF) (formerly DISA) Enhanced Mobile Satellite Services (EMSS) Follow On Secure Handset (FOSH) program.
Updated: 3/16/21