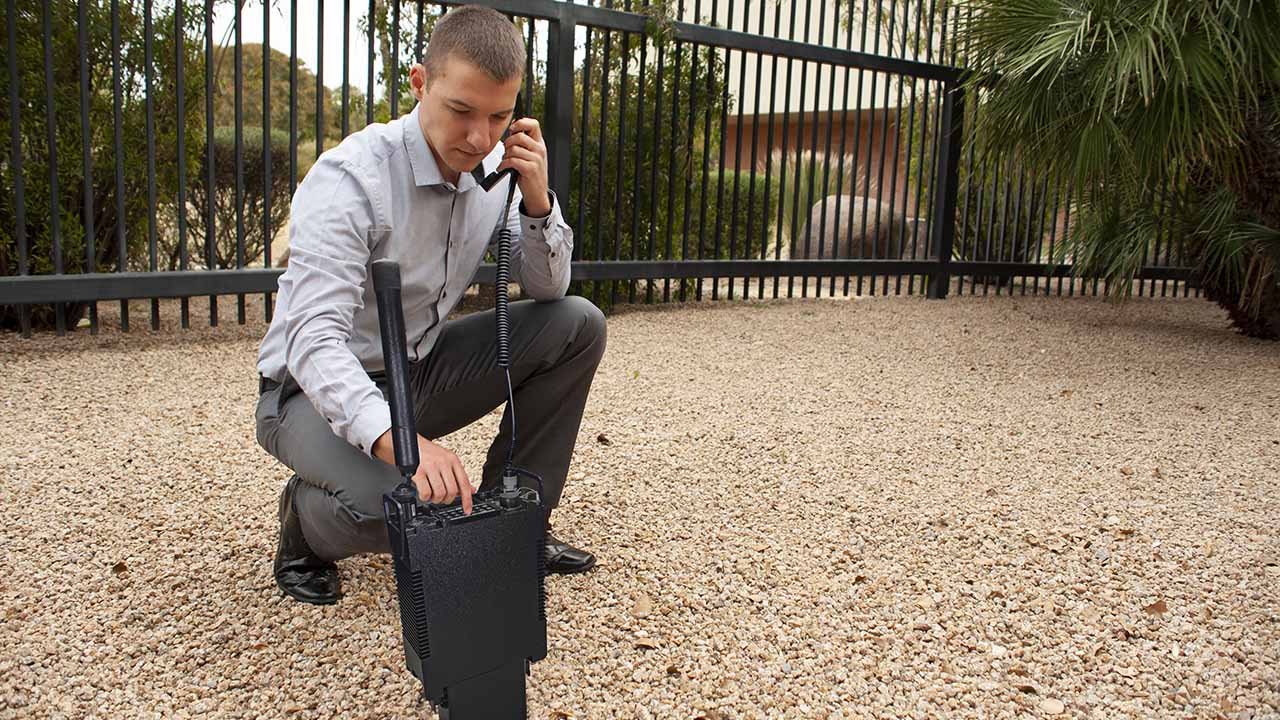 Dawn Bushnell, product manager of ground-to-air radio systems from General Dynamics Mission Systems discusses the latest URC-300 radio (pictured above) for air traffic control communications in any situation.
---
By:
Ben Sampson, Air Traffic Technology International 2021
The new URC-300 software defined radio (SDR) is a ruggedized, versatile platform that provides line-of-sight, two-way VHF and UHF communications for a variety of applications. The radio's exceptional radio frequency (RF) performance supports demanding Air Traffic Control (ATC) applications and other critical missions. It's a versatile platform, with a suite of accessories for grab-and-go scenarios, vehicular installations, rack mount installations, and deployed missions to austere and challenging environments. The transceiver radio supports two-way point-to-point RF communications and is capable of supporting multiple waveforms.

What are its main features and benefits to the user?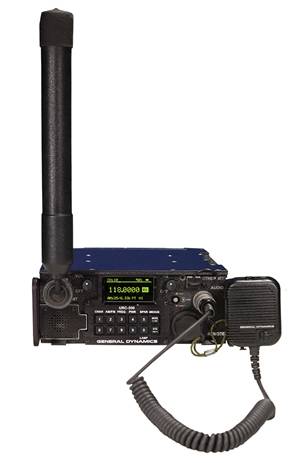 The URC-300 maximizes RF performance and provides clear communications in highly congested environments. As a result, it can support close proximity ATC operations and personnel can stand as close as 6.5ft apart, while operating the radios without interference. Typical man-pack portable radios require anywhere between 50-115 ft of separation to avoid interference.

In addition, the maximized RF performance improves immunity to RF interference sources such as other airport channels, mountaintop FM/TV broadcast stations, neighboring cell towers, and nearby Wi-Fi Transmitters. The radio features a new design that incorporates the latest in software defined technology and enables new features and functions to be added in the field via quick and simple software upgrade.

What enhancements have been made to make it easier for the operator?
The radio has a redesigned front panel that features a more functional display and a simple, intuitive interface that minimizes the need for training. The six most common functions are available on the main screen via a single button press, and the menu structure only goes two levels deep which makes programming and operating the radio quick and easy. The user interface is also Mission Oriented Protective Posture (MOPP) and glove-friendly, eliminating the problems inherent with touchscreen displays and a stylus.

It features IP command and control networking capability, SNMP V3 network management, and a browser-based GUI that greatly simplifies installation and maintenance. The SNMP V3 implementation enhances network security by preventing unauthorized access. The URC-300 also has a fully developed MIB making it easy to integrate radio control and monitoring capability into your existing SNMPv3 Manager.

The Web Maintainer Application allows the radio maintainer to connect to the radio using the radio's IP address via a common browser such as Chrome or Edge. This enables the user to control and monitor the front panel functions of the radio such as volume and squelch, as well as eliminating the cost and time of maintaining and distributing separate software.

Which standards does the radio meet?
The URC-300 is compliant with global standards and certifications. General Dynamics will obtain all required certifications in advance to eliminate purchase, deployment, and spectrum approval challenges for wherever you may operate. This is one of the biggest advantages for our global customers when purchasing the URC-300, as it enables them to streamline deployment without any certification delays.

General Dynamics understands the spectrum management process can be a highly complex process, especially outside the US. Attempting to purchase and deploy equipment without the required certifications can lead spectrum management authorities to shut down your operations– leaving you with equipment you can't use. Certifications obtained in advance by General Dynamics include CE Marking, which includes Radio Equipment Directive (RED), REACH, RoHS, and ETSI EN 300 676 compliance.

The radio is ready for worldwide 8.33kHz deployments and complies with ICAO Annex 10 Volume 5 standards. The URC-300 has Federal Communication Commission (FCC) certification for US civilian use and is certified for use in the US DoD Spectrum, J/F 12 / DD Form 1494 Frequency Allocation (USAF sponsored).
What makes the radio suitable for use in the field?
Just like our legacy radios, the URC-300 is MIL-STD-810 compliant which provides protection against shock, vibration, altitude, humidity and temperature. The URC-300 is smaller and lighter than the legacy URC-200 (V2), enabling two radios to fit side-by-side in a 19" rack, doubling the rack density for fixed-site installations. In addition, it can operate on a single battery versus two that are required for legacy radios, making it much lighter and more power efficient than its predecessor.

The URC-300 takes advantage of standardized BB-2590 Li-Ion batteries to ensure simplified logistics support for years to come. The URC-300 operates longer on a single battery than many legacy systems have with two batteries. The redesigned power supply and an added DC power input enables users to operate directly on DC power, or with an AC/DC converter accessory that is compatible with operating voltages and frequencies used around the world.

When operating on DC power, the battery charges simultaneously, which guarantees a fully charged, ready-to-go radio for emergency operations. This also eliminates the need for a separate battery charger or removal of the battery to charge. With automatic switchover to battery, one quick disconnect and you are ready for grab-and-go operations. The redesigned power supply offers improved power conditioning and better immunity to transients and noisy power. This can eliminate the need for the external power filters that were required in many legacy installations.

What was the goal of the redesign?
The URC-300 redefines the term "software-defined" as the radio uses a true software-defined platform with provisions that enable new features and functions to be added, in the field, via quick and simple software upgrades, without having to send the radio back to the manufacturer for hardware. This versatility makes the radio virtually "future-proof" against potential new standards and requirements.

What different options are available?
For our current initial release, we will have 19" rackmount applications for single and dual channel and man-pack grab-and-go option available. In addition, we have several features that will be available in the next fiscal year including FM voice, plain text / cipher text and operation in 30-90 MHz frequency band. We will also have a vehicular mount and remote control unit, and machine-based learning features such as noise reduction.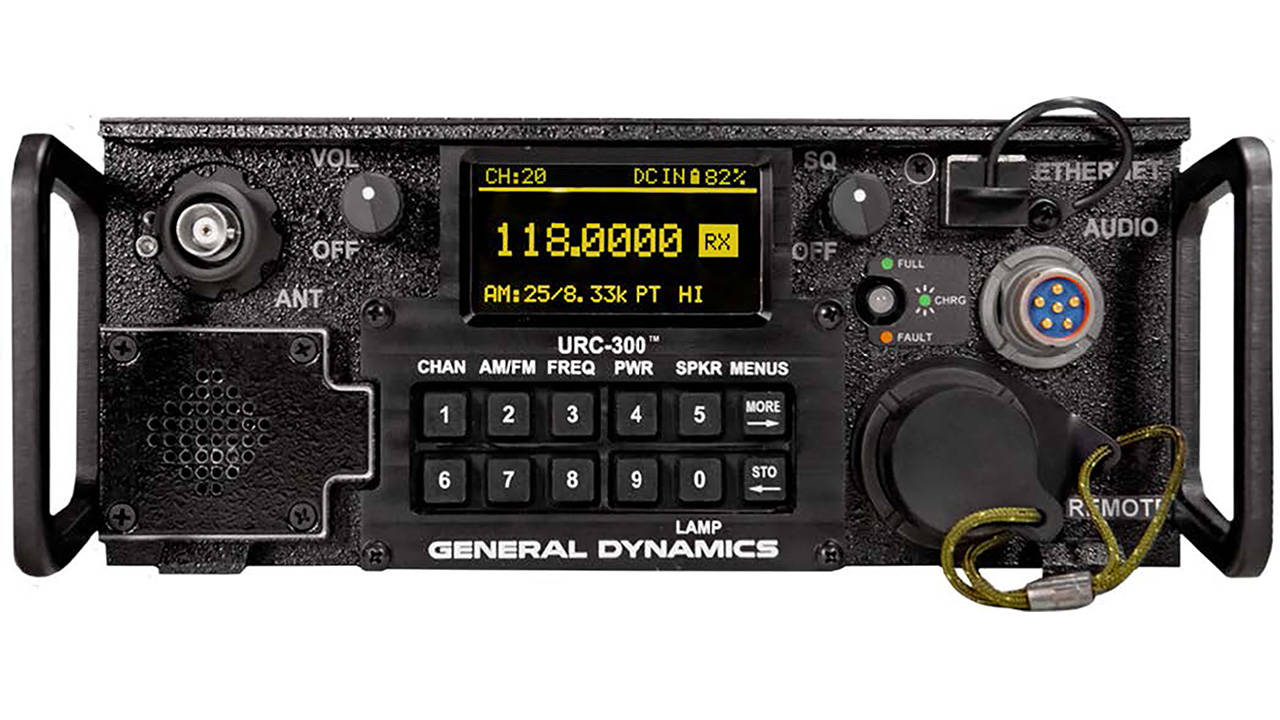 What do you consider the most innovative or useful feature of the radio?
Rather than a single feature, what is most innovative about the radio is its combination of software-defined core architecture and RF spectral purity in a rugged form factor making this radio unlike anything currently available.

Where does the URC-300 sit in your company's product range?
The URC-300 is the latest portable offering in our long line of ground-to-air and line-of-sight radio products which also includes the CM-300/350 (V2) rack-mount ATC radio. The CM-300/350 (V2) radio provides advanced, network-ready, ground-to-air communications to the Department of Defense (DoD) and Federal Aviation Administration (FAA) as part of the NEXCOM 2 modernization program to support the National Airspace System. We recently delivered the 20,000th CM-300/350 (V2) radio to our FAA, international, and DoD customers.

How does it compare to similar products from competitors?
The URC-300 transceiver is an exportable non-COMSEC controlled Item (CCI), in a ruggedized man-pack form factor that provides exceptional RF performance compliant to the international ATC standards. Currently available man-pack platforms are non-compliant to the same ATC radio standards. Easy operation in challenging environments is essential. Something as simple as a 10-digit keypad presents operational challenges with touch pad entry systems found on some radios.

What were the main drivers behind the URC-300 radio's development?
Our URC-200 (V2) is reaching End-of- Support next year and can't support the current stringent ATC standards. As a result, we needed to develop a new radio to meet the latest user requirements. In order to keep up with current market demands, we developed a new software-defined radio that meets future requirements and complies with to international standards.

How is the URC-300 better than its predecessor?
Being software-defined, the URC-300 is extremely versatile and enables future enhancements whereas the URC-200 is an obsolete, analog radio. The URC-300 also complies with all of the latest international standards.

What features does it share with its predecessor?
The URC-300 is still compatible with a large number of existing ancillary items from the URC-200 (V2), which reduces the per channel-cost to upgrade your existing install base. It has an easy-to-use, intuitive glove friendly front interface and is VoIP capable with external hardware.

How does the URC-300 meet the needs of its users? Compared to other options?
The URC-300 provides rackmount level performance in a much smaller form factor for space constrained environments. It complies with international ATC radio standards such as ETSI, CE, JF-12, RED, RoHs as mentioned previously. It also maximizes RF performance enabling clear communications during close proximity operations.

How will people use the URC-300 Radio?
The URC-300 can be used for a number of applications including air traffic control operations, back-up, emergency grab-and-go, vehicular and rackmount applications and line-of-sight communications. We have conducted a number of customer sponsored field trials in RF congested environments that have been extremely successful. Through these trials we were able to refine our final design of the radio to better meet our users' needs such as providing enhanced network security.

How do you expect the radio to be received by the market?
We have a well-established install base with our current URC-200 (V2) customers. The new URC-300 provides them with many of the features they've come to know in a new enhanced software-based design that enables future enhancements that are compliant with international standards, enabling exportability.
"The URC-300 will provide our customers with reliable and exceptional RF performance, to meet their needs for years to come." — Dawn Bushnell, product manager for ground-to-air radio systems
Note - This article was republished with the permission of Air Traffic Technology International.