TACLANE®-ES10 will be the first encryptor in the E-Series portfolio specifically designed to protect voice, video and data information classified Top Secret/SCI and below on high speed Layer 2 Ethernet networks.
FAIRFAX, Va. – General Dynamics Mission Systems will introduce a new TACLANE encryptor product line to meet the exponential growth of data requiring protection as it traverses across the network, from enterprise to the tactical edge. The TACLANE E-Series will support the low latency, security and performance requirements of high speed (20 Gb+) Layer 2 network backbones and mission applications that address data center and campus interoperability, cloud and Big Data processing.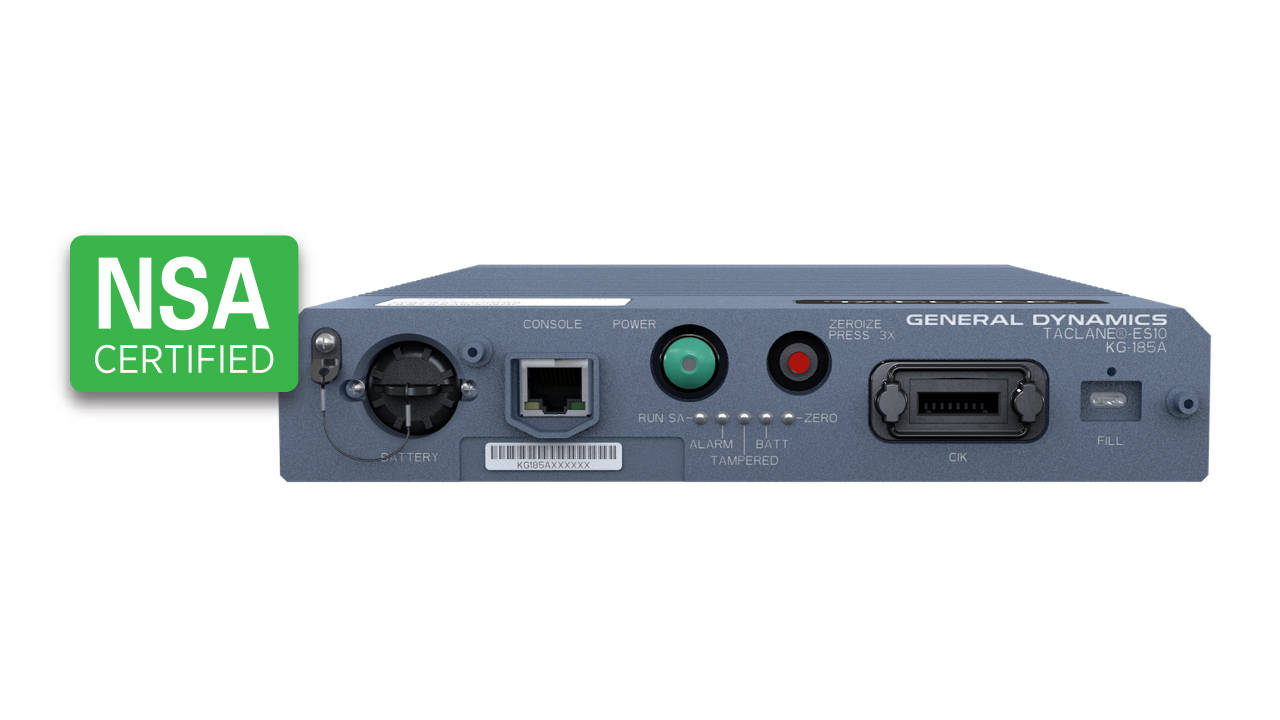 The first Ethernet Data Encryption (EDE) compliant product in the E-Series will be the TACLANE-ES10 (KG-185A). Ruggedized to withstand harsh environments, it will support network data rates of up to 20 Gb/s aggregate throughput, and manageable by the GEM® One encryptor management software.
"As the provider of the most widely deployed high assurance encryptors in the world, our customers depend on General Dynamics to develop, support and continuously enhance our product lines to meet their needs, and we've done just that with the planned introduction of the TACLANE E-Series line," said Brian Morrison, vice president of the Cyber Systems line of business for General Dynamics Mission Systems. "With TACLANE-Nano IP, we brought Type 1 encryption to the tactical edge. With the TACLANE-ES10, we are now addressing the much needed capability for high speed, high performance encryption to secure the enterprise backbone networks, extending our proven security to wherever data travels."
The TACLANE-ES10 is expected to be submitted to NSA for certification in the first half of 2020. Customers can see the first live demo of the TACLANE-ES10 at the Dynamic Connections® 2020 (DC20) cyber security conference and training event hosted by General Dynamics.
General Dynamics Mission Systems, a business unit of General Dynamics (NYSE: GD), provides mission critical solutions to those who lead, serve and protect the world we live in. We are a technology integrator and original equipment manufacturer with deep domain expertise in ground, sea, air, space and cyberspace. Headquartered in Fairfax, Virginia, General Dynamics Mission Systems employs more than 13,000 people worldwide. For more information about General Dynamics Mission Systems' broad portfolio of capabilities, visit gdmissionsystems.com and follow @GDMS on Twitter and LinkedIn.
Editor's Note: Dynamic Connections 2020 (DC20) has been postponed. For more information, click here.
Updated: 03/13/2020