Tactical Cross Domain Solution (TACDS)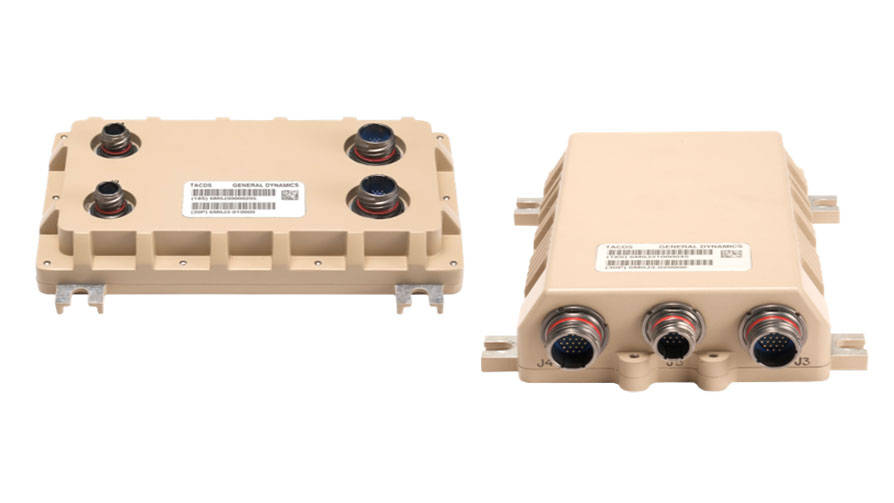 Enabling Secure Cross Domain Information Sharing at the Tactical Edge
TACDS® is General Dynamics' tactical cross domain solution (CDS) that enables information and communications to be shared and transmitted across different security domains in austere tactical environments. TACDS is a Low Size, Weight, Power and Cost (SWaP-C), rugged, tamper-resistant CDS that comes in two form factors, TACDS-Vehicle Mount (VM) and TACDS-Low Profile (LP). The flexibility and configurability of both form factors make them ideal for use in ground vehicles, mobile shelters, ground sensor systems, ships, aircraft and UAVs.
Achieve Confidence in Your Digital World™ with our architecture, integration and certification professional services designed to provide secure transmission of communications and information, and rapidly enhance cross domain capabilities for mission success.
On-Demand Webinar: Enabling Secure Cross Domain Information Sharing at the Tactical Edge
White Paper: Request TACDS: Ensure Mission Success through Secure, Fast & Automatic Transfer of Data Between Security Domain White Paper
Meets NSA's Phase 1 Raise the Bar Requirements
Lowest SWaP-C Tactical Hardware CDS in Production Today
Secret and Below Interoperability (SABI) Certified
Supports Dozens of Tactical Message Formats
---
See It In Action
Webinar: Raising the Bar and Setting the Record Straight on Tactical Cross Domain Solutions
Check out our webinar with TACDS® Technical Director, Sean McGaughey, and Solutions Architect, Tom Triebwasser, discussing the evolution of cross domain communications in the tactical battlespace and how utilizing a CDS specifically designed for tactical missions can act as a force multiplier in today's fight.
Watch Webinar On Demand
Features
TACDS® executes programmable rule sets that filter information, allowing individual messages or data fields within them to be selectively passed, blocked or changed. This innovative method ensures data security on both networks and automates the "man in the middle" screening of message exchanges thereby accelerating communications and reducing human error.
Ease of Use
Raise the Bar Compliant filters include: VMF, Configurable Binary, XML, SNMP, ICMP, MISD-C2, Full Motion Video, Link16/JREAP-C, USMTF, STANAG 4586, Google Protobuf, FDMP, SMTP, FTP
Architecture design allows Plug and Play filter components for multiple message formats
Additional filters roadmap includes development of DDS, JPEG2000
Custom filter components available upon request
User programmable rule sets
Autonomous screening of message exchanges; no operator required
Robust Security Architecture
Hardware enforced domain separation
Separate high and low data ports
Anti-tamper with device zeroization built-in
Full audit logging of all system, security and message events
Encrypted storage of rule sets and audit logs
Secure boot and trusted platform verification upon power up
Authenticated, role-based device administration through management port
Applications
TACDS® supports a wide variety of tactical deployments and systems. TACDS can process numerous mission-enabling tactical data and message formats to provide instant, secure access to real-time information for warfighters serving in today's tactical environment. With its broad capabilities, TACDS is specifically designed for diverse applications on the modern battlefield, including:
TACDS Applications

Situational Awareness (SA) and Command & Control (C2)

Real-Time Condition Based Maintenance

Real-Time ISR Data Collection & Dissemination

Unmanned Vehicle Control

Coalition Interoperability

Variable Message Format (VMF) Messages
SA & C2 Data
Position/Location Information (PLI)
MEDEVAC

Vehicle Health & Status Monitoring
Remote Maintenance & Vehicle Diagnostics
Fuel & Ammunition Level Monitoring

Unmanned Aerial Vehicle (UAV) Video
Unmanned Ground Sensors
Remote Sensor Video
Every Soldier as a Sensor
Vehicle-mounted Cameras
Soldier-carried Cameras

STANAG 4586 - UAV Platform and Payload Control
Cursor on Target (COT)
STANAG 3277 - Air Reconnaissance
Text Based Sensor Cueing Messages

STANAG 4677
Realtime SA & C2
ISR Video Collaboration
TACDS Datasheets

TACDS-VM Dimensions
7 in. x 4 in. x 1.75 in.
TACDS-LP Dimensions
7.6 in x 5 in. x 1.6 in.
Weight
1.75 lb
Power
12-33 VDC, 9 watts
Reliability
Predicted MTBF ≥150,000 hours

Network Ports

10 / 100 Ethernet
RS-232
USB Management Port

Protocols Supported

TCP, UDP
Unicast, Multicast, Broadcast
PPP, IGMP, ARP
IPv4, IPv6
TLS/SSL

Throughput/Latency

Message type and size dependent

Environmental
Operational Temperature: -40 °C to 70 °C
Storage Temperature: -51 °C to 85 °C
Operational Altitude: 0 - 65,000 ft. above sea level
Mechanical Shock: 40g, 11 msec, each axis
Vibration: Tracked and Wheeled Vehicle, Fixed & Rotary Wing Aircraft, Gunfire
Fluid Contaminations: Diesel, Hydraulic, Oil, Bleach
Relative Humidity: 10-95%
EMI/EMC: MIL-STD-461F, RE102, CE102, CS101, CS114, CS115, CS116, RS103
Power: 28 VDC, MIL-STD-1275E, MIL-STD-704F
Customer Support / Purchasing Information
While you support the warfighter, we support you. Please contact us with any questions, if you need assistance or would like purchasing information.
Our team is here to help you, and we look forward to connecting.
Email: Click Here
Phone: + 888-897-3148
February 13, 2020
TACDS-v3 meets the security requirements to connect networks at different classification levels across varying domains for the Department of Defense and the Intelligence Community.
---
May 3, 2017
General Dynamics Mission Systems has acquired the Electronics and Communications Division of Advatech Pacific that designs and manufactures tactical, cyber-secure and cross-domain products for the U.S. Department of Defense and international military customers. The TACDS® and CenturionCDS™ products will join the company's Cyber Security Product line.
---
Decrease time to action & provide assured communications
---