TACDS-Low Profile (LP)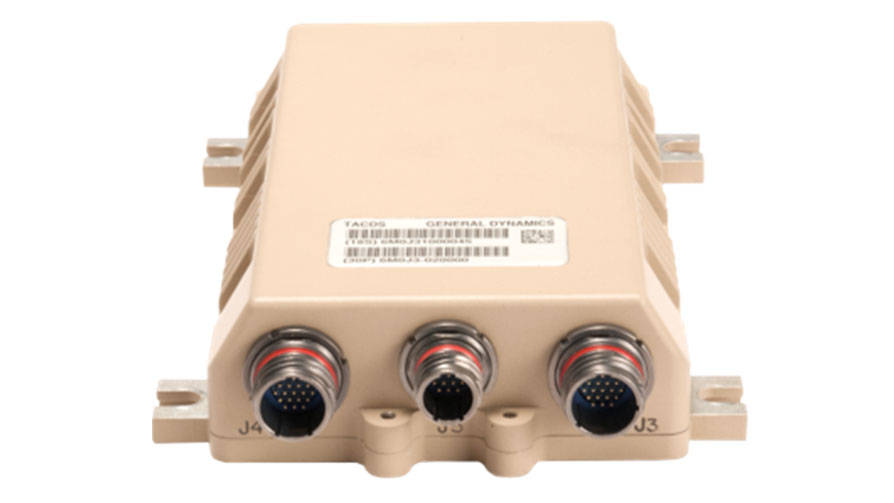 Enabling Secure Cross Domain Information Sharing at the Tactical Edge
TACDS is General Dynamics' tactical cross domain solution (CDS) that enables information and communications to be shared and transmitted across different security domains in austere tactical environments.
TACDS comes in two form factors: TACDS-Vehicle Mount (VM) and TACDS-Low Profile (LP).
TACDS-Low Profile (LP) is a 1U form factor, providing a small Size, Weight, Power and Cost (SWaP-C), tamper-resistant CDS that is ideal for rack mounted and embedded configurations in ships and wheeled/tracked vehicles, mobile command centers, ground sensor systems, aircraft or unmanned vehicle systems.
Dynamic Connections brings over 500 security experts together to discuss and discover how to best secure classified information at the highest level of security to defend against dynamic threats. Register today.
Meets NSA's Phase 1 Raise the Bar Requirements
Lowest SWaP-C Tactical Hardware CDS in Production Today
Supports Dozens of Tactical Message Formats
TACDS-Low Profile (LP) Features
---
See It In Action
Features
Authorized for both Secret and Below Interoperability (SABI) and Top Secret and Below Interoperability (TSABI) applications, TACDS® executes programmable rule sets that filter information, allowing individual messages or data fields within them to be selectively passed, blocked or changed. This innovative method ensures data security on both networks and eliminates the need for time consuming, advanced data filtering.
Ease of Use
Raise the Bar Compliant filters include: VMF, Configurable Binary, XML, SNMP, ICMP, MISD-C2, Full Motion Video, Link16/JREAP-C, USMTF, STANAG 4586, Google Protobuf, FDMP, SMTP, FTP
Architecture design allows Plug and Play filter components for multiple message formats
Additional filters roadmap includes development of DDS, JPEG2000
Custom filter components available upon request
User programmable rule sets
Autonomous screening of message exchanges; no operator required
Robust Security Architecture
Hardware enforced domain separation
Separate high and low data ports
Anti-tamper with device zeroization built-in
Full audit logging of all system, security and message events
Encrypted storage of rule sets and audit logs
Secure boot and trusted platform verification upon power up
Authenticated, role-based device administration through management port
RTB Compliant Filters
HD Full Motion Video with KLV metadata
Configurable XML
Configurable Protobuf
Configurable Binary
MIL-STD 6017 -/A/B/C VMF
MIL-STD 6016 Link 16/MIL-STD 3011 JREAP-C
STANAG 4586 Payload/Platform Control
USMTF
SNMP
ICMP
MISD-C2
PNC
UTAMS
TLS/SSL
FTP
SMTP
FDMP
TACDS Low Profile (LP) Datasheet

TACDS-LP Dimensions
7.6 in x 5 in. x 1.6 in.
Weight
1.75 lb
Power
12-33 VDC, 9 watts
Reliability
Predicted MTBF ≥150,000 hours

Network Ports

10 / 100 Ethernet
RS-232
USB Management Port

Protocols Supported

TCP, UDP
Unicast, Multicast, Broadcast
PPP, IGMP, ARP
IPv4, IPv6
TLS/SSL

Throughput/Latency

Message type and size dependent

Environmental
Operational Temperature: -40 °C to 70 °C
Storage Temperature: -51 °C to 85 °C
Operational Altitude: 0 - 65,000 ft. above sea level
Mechanical Shock: 40g, 11 msec, each axis
Vibration: Tracked and Wheeled Vehicle, Fixed & Rotary Wing Aircraft, Gunfire
Fluid Contaminations: Diesel, Hydraulic, Oil, Bleach
Relative Humidity: 10-95%
EMI/EMC: MIL-STD-461F, RE102, CE102, CS101, CS114, CS115, CS116, RS103
Power: 28 VDC, MIL-STD-1275E, MIL-STD-704F
No data source selected.
Is TACDS Easy To Use?
TACDS can be mounted on a platform and is very easy to use, install and operate. TACDS Filter Components are each designed to be customizable by the end customer in their application through a set of configuration files, security policy rulesets, and data format descriptions that can modify the behavior of the Filter Component without changing any of the filter software code itself. There are no special CDS ruleset customization tools required.

With no user input points or displays, TACDS can be installed in access limited locations. Once configured for a mission, there is no user interaction required for normal operation.
---
What is Raise-the-Bar Strategy?
Raise the Bar is a strategy for improving cross domain solution security and capabilities from a design, development, assessment, implementation, and use perspective. Raise the Bar is intended to apply to and address improving the cybersecurity of all cross domain solutions used to protect U.S. Government classified information and all cross domain solutions being sold for export.
---
Is TACDS a Controlled Product?
TACDS is not subject to handling and custody restrictions like a Controlled Cryptographic Item (CCI), and it is an unclassified device until connected to a classified network. The device does not store any user message data. There is no classification guide required for the product or any of its internal components.

TACDS is a TRL9 commercial product and is 100% developed by General Dynamics Mission Systems. The product line is wholly delivered and serviced by General Dynamics Mission Systems (hardware, software, training, integration, and repair/return warranty/non-warranty repairs).

TACDS is ITAR-controlled and subject to some export-related controls, as a defense-related article. Please contact us with any questions or concerns related to the acquisition or application of TACDS.
---
What is the TACDS System Certification?
TACDS is a low risk, TRL 9, NSA-approved, National Cross Domain Strategy and Management Office (NCDSMO) assessed CDS that is easily adaptable to systems. TACDS v3 is also compliant to the latest NSA Raise The Bar (RTB) requirements. TACDS has been on the NCDSMO baseline approved list since 2012.

TACDS-VM and -LP v3 are TRL 9, in full rate production and accredited for operation on various types of platforms and integrated tactical networks across the DoD and Intel communities, as well as with Five Eyes (FVEY) international partners.
Watch the Webinar Raising The Bar And Setting The Record Straight On Tactical Cross Domain Solutions.
---
Does TACDS Support Multi-Domain Operations?
TACDS facilitates the DoD's Multi-Domain Operations (MDO) doctrine. TACDS guarantees the integrity of mission critical data when transferred between security enclaves within and across operational domains. TACDS enables sharing between US networks, FVEY coalition networks, and military services during combined operations.

TACDS can process numerous mission-enabling tactical data and message formats to provide instant, secure access to real-time data convergence in an MDO environment and stimulate opportunities for improvement in speed of decision making.
For additional information, please watch the webinar Next-Generation Information Sharing And Data Protection For The Multi-Domain Battle.
---
Is Training Available?
Yes, General Dynamics Mission Systems offers hands-on training covering installation, operations, administration, scripting, data format customization and maintenance. Training will allow customers to perform Rule Set customization at their discretion. A 4-day training class is available at our Scottsdale, AZ campus for up to 10 people. The training can also be available on-site at customer locations.

We also provide on-site and remote field support and application engineering services.
Customer Support / Purchasing Information
As a Commercial off-the-shelf (COTS) item, all TACDS products, services and solutions are available for procurement directly from General Dynamics Mission Systems.

TACDS is also available for purchase through the U.S. Army's Common Hardware Systems-5 (CHS-5) IDIQ contract.
While you support the warfighter, we support you. Please contact us with any questions, if you need assistance or would like purchasing information.
Our team is here to help you, and we look forward to connecting.
For immediate assistance call 877-230-0236 or go to our Customer Support Center.
---