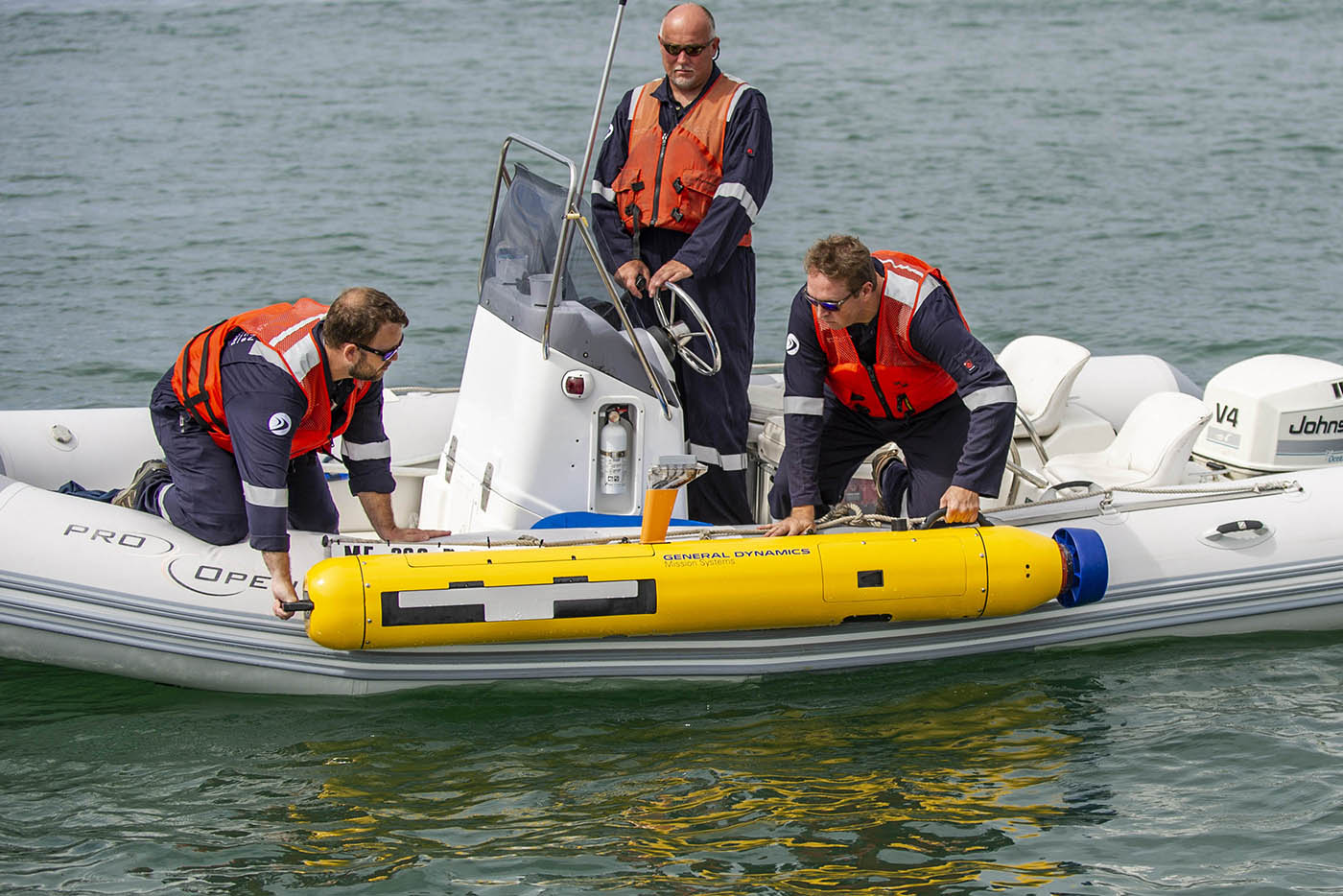 The completely redesigned Bluefin™-9 is the newest member of the Bluefin Robotics® family of autonomous unmanned underwater vehicle (UUV) products.
QUINCY, Mass. – General Dynamics Mission Systems today released the new Bluefin-9 autonomous unmanned underwater vehicle (UUV) at Oceans 2018 in Charleston, SC. The completely reengineered vehicle combines high navigational accuracy, outstanding sonar resolution, and precision manufacturing to deliver defense, commercial and academic customers highly-detailed subsurface data in minutes rather than hours. The two-man portable UUV provides the same data collection capabilities of larger UUVs, and can be deployed and recovered from piers, a rigid-hulled inflatable boat (RHIB) or other vessels of opportunity.
The Bluefin-9 includes a removable data storage module (RDSM) which stores high-definition images, video and sonar data that can be accessed within minutes of the vehicle's recovery. It delivers mission endurance of up to eight hours at a speed of three-knots, and can reach speeds of six-knots and dive to 200 meters. Because of its modularity, customers can exchange both the RDSM and battery to redeploy the Bluefin-9 in 30 minutes or less. These capabilities align with environmental surveying, water quality measurement, search and recovery, security, intelligence, surveillance and reconnaissance, and other tactical missions.
"General Dynamics has invested in the redesigned Bluefin-9 and a broad team of engineering experts has made significant improvements to the design, production quality, modularity and reliability of the entire Bluefin Robotics product family to deliver cost-effective UUVs with more mission capability and range," said Carlo Zaffanella, a vice president and general manager of General Dynamics Mission Systems. "We are proud to introduce this first product of a new generation of UUVs, designed to meet the dynamic operational challenges of our defense and commercial customers."
General Dynamics provides an 18-month product warranty on the Bluefin-9, as well as training for UUV operators. Watch the Bluefin-9 video to learn more about the product.
General Dynamics Mission Systems is a business unit of General Dynamics (NYSE: GD). For more information about General Dynamics Mission Systems, please visit gdmissionsystems.com and follow us on Twitter @GDMS.
# # #