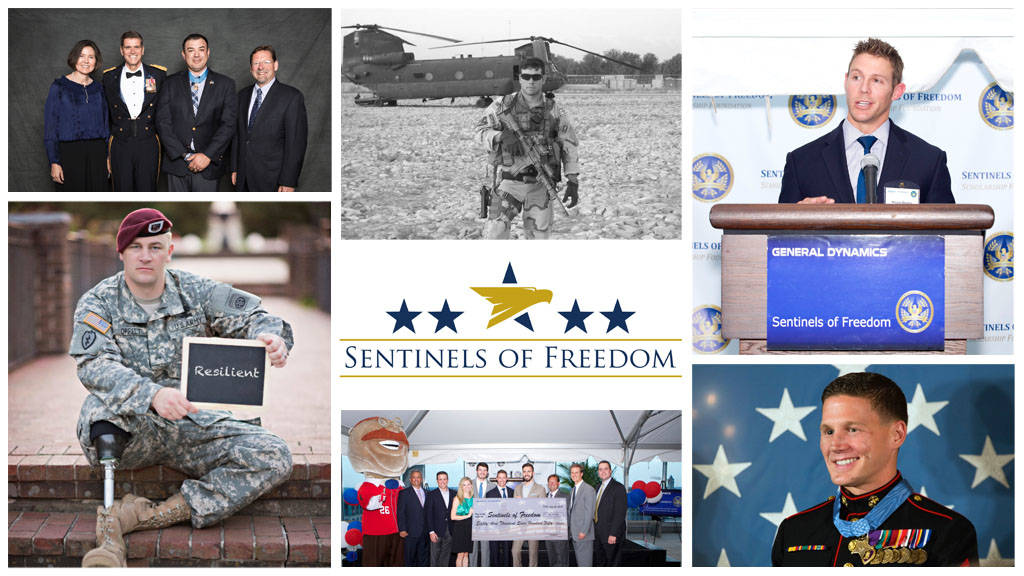 Industry partners and individual contributions help General Dynamics exceed $100K goal to support the Sentinels of Freedom
Earlier this year, General Dynamics Mission Systems committed to match all contributions made to Sentinels of Freedom up to $50,000. We are proud to announce that together we have raised $108,000 to help the Sentinels in their mission to assist wounded post-9/11 veterans as they transition back into civilian life.
We would like to especially thank our industry partners and all the individual donors for their generosity in supporting the Sentinels of Freedom. Your generous donations will help change the lives of deserving veterans by providing financial assistance and comprehensive personal support, including living and housing subsidies, financial coaching, career mentoring and transition assistance.
If you haven't had an opportunity to donate yet, please consider supporting Sentinels of Freedom. Your support will help veterans like Cpl Kyle Carpenter, SFC John Wayne Walding, and Sgt Lucas Oppelt transition to civilian life.
Learn More about the Sentinels of Freedom
Your Donations Help Sentinels Like…
Cpl Kyle Carpenter
In 2010, U.S. Marine Cpl Kyle Carpenter was severely wounded in the Helmand province of Afghanistan when he threw himself upon a live grenade to shield his friend and fellow Marine during a rooftop attack. Both were severely wounded but survived due to Kyle's bravery. In June 2014, Kyle received the Medal of Honor for his heroic actions that day, only the third Marine to receive the Medal of Honor from the wars in Iraq and Afghanistan.
Kyle, now 27, spent nearly two years recovering at Walter Reed National Military Medical Center. He has endured more than thirty surgeries to repair his teeth, jaw and arm and learned to adapt to the loss of his right eye. In 2013, Sentinels of Freedom awarded Kyle a 4 year scholarship for undergraduate studies at the University of South Carolina. In December of 2017, Kyle graduated with a bachelor's degree in International Studies. He also has a special interest in athletic training and has made his return to fitness a priority throughout his ordeal including running marathons.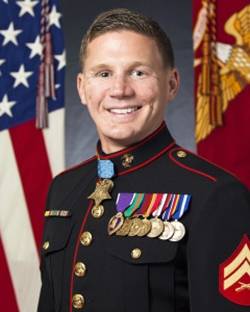 Sgt Lucas Oppelt
During a tour to Afghanistan in 2012, Lucas stepped on and detonated a pressure plate IED, losing his right leg below the knee and causing extensive damage to his left leg, arms and chest. Enduring 16 surgeries and countless hours of physical therapy, Lucas was ready to restart his life.
After meeting one of our Sentinels and hearing about how the program helped him succeed, Lucas knew what he needed to do. SOF provided him with the tools and resources to begin his dream of earning a bachelors degree in Mechanical Engineering from the University of Colorado. SOF is helping Lucas rebuild his life through financial support, mentoring and personal assistance.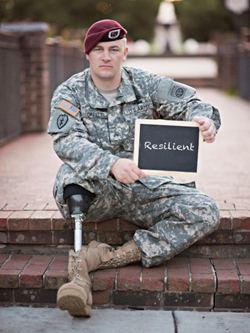 SFC John Wayne Walding
In 2008, U.S. Army SFC John Wayne Walding lost the lower half of his right leg to enemy sniper fire during an operation in the Shok Valley of Afghanistan. He continued to fight for four more hours earning him the Sliver Star, the Bronze Star and the Purple Heart. The incredible story of that six-hour fight is detailed in the book "No Way Out: A Story of Valor in the Mountains of Afghanistan."
Sentinels of Freedom helped John relocate to Texas and become an entrepreneur. They helped John start his business, 5 Toes Custom, specializing in unique custom firearms. John has made 5TC a welcoming place for veterans to transition into the workplace. Today, in addition to his very successful business, John trains police officers and travels the country speaking to veteran's organizations, corporations and the public about overcoming adversity.
Donate To Sentinels of Freedom