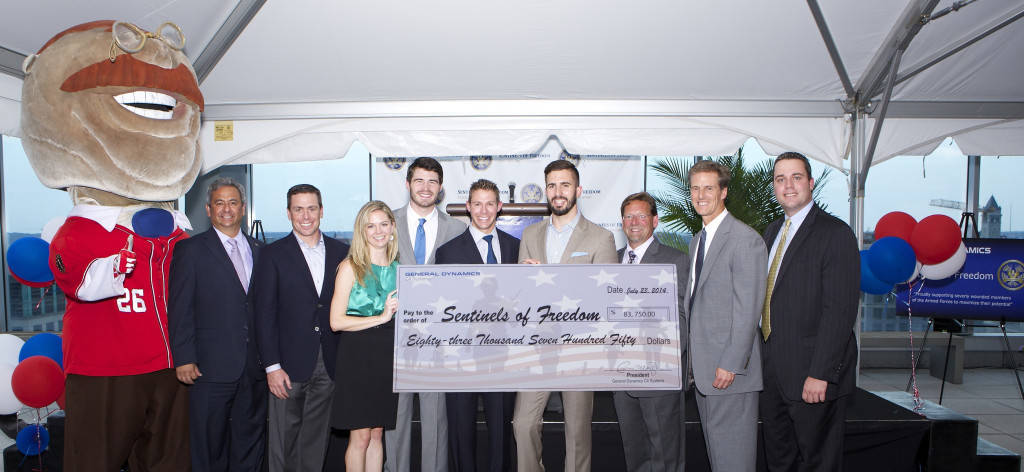 ---
On Wednesday, July 23rd at the 2nd Annual Sentinels of Freedom Reception in Washington, D.C., President and Sentinels Board Member Chris Marzilli and Senior Vice President Manny Mora presented a check for the amount of $83,750. The check was the culmination of a five month campaign, begun last March, to match donations made by our industry partners.
The event was held on the striking rooftop of the IBEW offices overlooking Washington, D.C., the Washington Monument, and U.S. Capitol. There could not have been a better place to recognize and support our nation's veterans. With roughly 100 in attendance, guests cooled off in the humid D.C. heat with beverages and light fare, they mingled, and had the opportunity to meet a few of the Sentinels graduates, learning more about who they are and how the organization accomplishes its mission.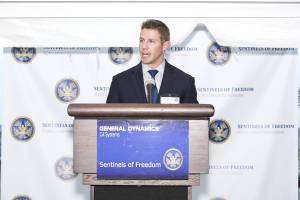 U.S. Army Capt. Wayne Waldon (Ret.) talked about the injury he sustained in Iraq and the support the received through the Sentinels program.
Sentinel Wayne Waldon, former U.S. Army Captain, gave a brief but poignant speech at the event in which he characterized the Sentinels as a unique community; one which challenged him and supported his efforts to get his MBA, return to sports, and find a job, despite severe injuries to his right leg while in action. The relationships that he has made professionally and with other Sentinels, he said, were fundamental to his recovery.
Last night was an opportunity for the GDC4S community and its industry partners to come together, to recognize the hard work and celebrate the success of our military veterans.
The support of a community is what enables Sentinels to accomplish their mission, and it is vital to this community that we give back to those who have made great sacrifices for our country and our safety. Thank you to all who participated in the matching campaign. We would like to especially recognize donations from: 110 Technology, LLC, Aeronix, Arma Global, Brocade, CDP Fastener Group, Concord Awning & Canvas, Curtiss Wright Company, Hardware Specialty Co, Inc., HEI, JMK, MJS Designs, Inc., Natel, Raytheon, and Sikorsky.
As Mike Conklin, founder of Sentinels of Freedom likes to say, Sentinels is a leg up, not a handout. The mission of the organization is to assist severely wounded military veterans as they transition back to civilian life. By providing veterans with scholarships so that they can afford to go to college, pay their bills, and network with business leaders, Sentinels is able to help veterans find good jobs and be productive, self-sufficient citizens with a high quality of life. Though Sentinels has assisted many veterans, over 100 in fact, it isn't for everyone. Sentinels invests in the potential of our U.S. military heroes, those who have a drive and are motivated to succeed despite the challenging obstacles of their oftentimes lifelong injuries.
If you would like to make a contribution or learn more about the Sentinels of Freedom, please visit their website www.sentinelsoffreedom.org and follow them on Twitter: @SentinelsVets.