Sentinels of Freedom

General Dynamics is a proud supporter of the Sentinels of Freedom
Sentinels of Freedom (SOF) is a national nonprofit organization that provides severely wounded post-9/11 veterans with comprehensive personal support and financial assistance as they complete their higher education and achieve success in their post-military careers.
Donate To Sentinels of Freedom
---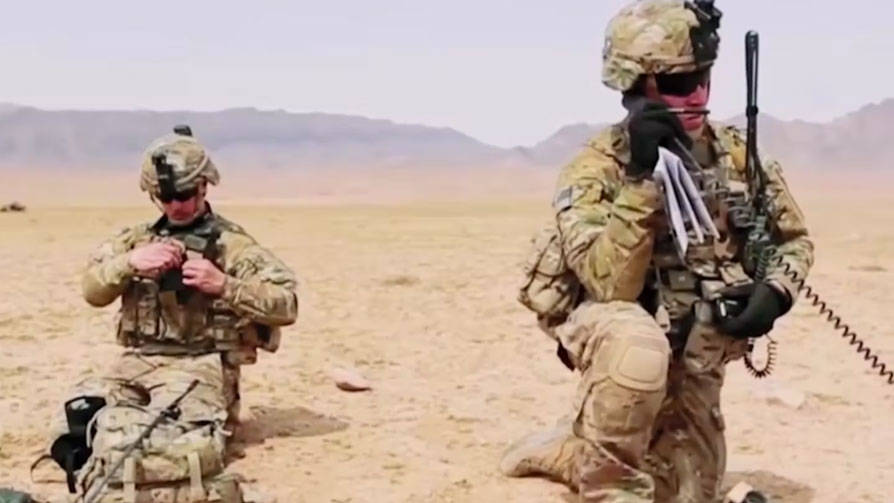 Donate Today And We Will Match It!
General Dynamics Mission Systems has committed to match all donations made to the Sentinels of Freedom Foundation, up to $50,000.
Make a life-changing gift today by clicking the donate button below.
Donate Today
Sentinels of Freedom Supports Wounded Veterans Like...
Jessica Maciejewski, Seabee Builder Petty Officer Third Class, U.S. Navy
Jessica spent 5 years in the U.S. Navy as a Seabee Builder Petty Officer Third Class (BU3). While deployed in a relief effort for a hurricane in Panama, FL, she was assisting with cutting back fallen trees when she jumped down and heard her ankle snap. Initially, she walked to get help due to the adrenaline of the incident - but was in immense pain. After multiple appointments, exams, scans, and trying other treatments such as physical therapy, she was finally diagnosed with nerve damage and torn ligaments. Unfortunately, due to not receiving an MRI right away and getting better treatment sooner, her condition developed into Complex Regional Pain Syndrome (CRPS) and scoliosis. The pain and issues initially began in her left leg, but ultimately spread to her right leg as well, leaving her wheelchair-bound for the foreseeable future.
After receiving a medical retirement and leaving the service in 2021, Jessica decided she was not done with her journey and shifted her focus to pursuing school. She finished her associate's degree at Mississippi Gulf Coast Community College and soon after was accepted to Louisiana State University where she is currently pursuing a Bachelor of Arts in International Studies with a focus on Global Diplomacy. Jessica will graduate in May 2024 and plans to continue her education with the pursuit of a law degree and desires to work in international relations or advocating for the disability community. It was a VA Representative at LSU who first told Jessica about Sentinels of Freedom and encouraged her to apply. Since her acceptance to the Bridge for Education Program in the Spring 2022 cohort, Sentinels of Freedom has proudly supported Jessica with financial support in the form of a monthly subsidy to assist with her living expenses, financial counseling and planning, mentoring, career guidance, access to partner programs, and specialized care of a case manager.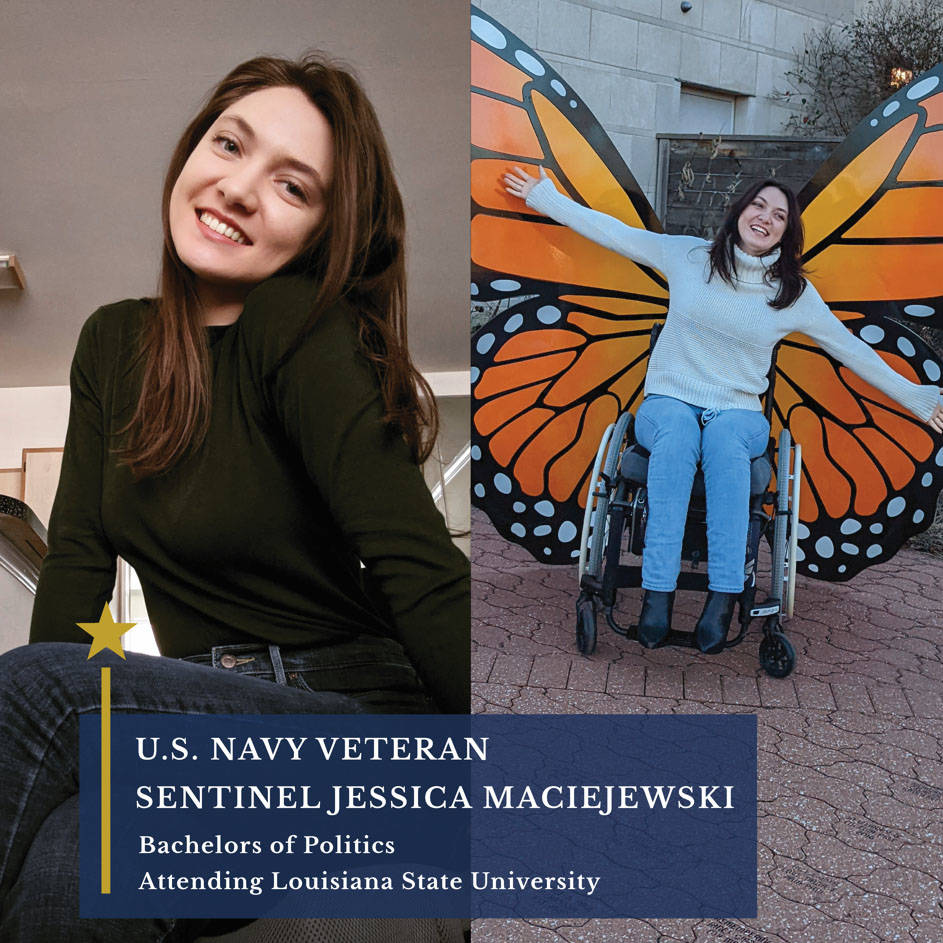 John Wayne Walding, Sergeant First Class, U.S. Army
John Wayne Walding, born on the 4th of July, was raised in Groesbeck, Texas. He spent nearly 12 years in the United States Army, including seven years in the prestigious 3rd Special Forces Group at Ft. Bragg, North Carolina. He has combat deployments to both Iraq and Afghanistan. On April 6, 2008, John lost his right leg to sniper fire during the battle of Shok Valley. He continued to fight alongside his brothers for four more hours earning him the Silver Star and Purple heart. The incredible story of that six-hour fight is detailed in the book No Way Out: A Story of Valor in the Mountains of Afghanistan by Mitch Weiss and Kevin Maurer. John's military awards and badges include the Silver Star as well as the Bronze Star, Purple Heart, Combat infantry badge, Airborne, Air Assault and Special Forces tab.
John was accepted to Sentinels of Freedom in 2011 and was provided mentorship and guidance in creating his own business as well as financial support during this transition. In 2012, John became the founder and owner of 5 Toes Custom, a Dallas-based company of unique custom firearms. The mission of 5 Toes Custom is to be a place for both transitioning and combat wounded veterans to come learn a craft and regain their north star in the company of fellow vets who understand that the battle never ends. In December 2017, John decided follow a new pursuit and founded Gallantry Global Logistics, providing freight forwarding and logistics specializing in shipment of consequence. He also travels the country speaking to veterans' organizations, corporations and the public about leadership, excellence, overcoming adversity using his motto "Lean Forward, Fight Hard". John strongly believes his biggest accomplishment is marrying his beautiful wife, Amy, and having their four wonderful children: Emma, Sam, Andie, and Hannah. They reside in Little Elm Texas.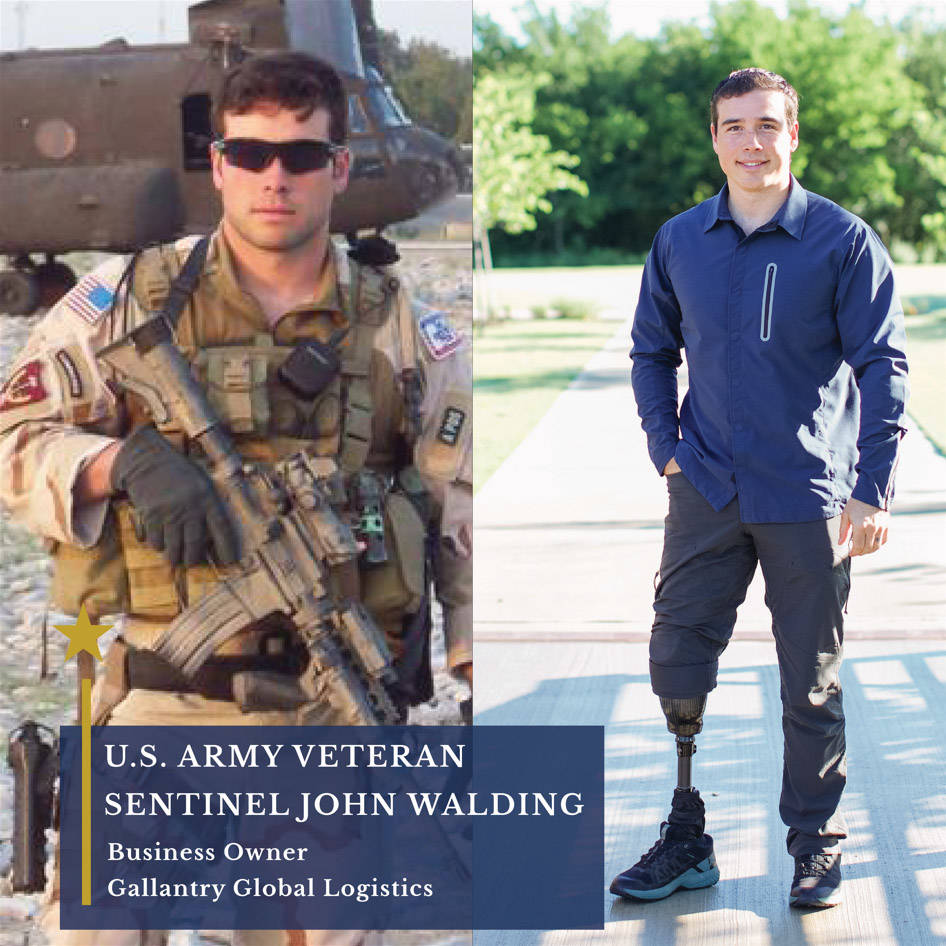 Eric Ballester, Master Sergeant, U.S. Air Force
Coming from a family with a strong military background, it was an easy decision for Eric to join the armed forces, and he enlisted in the U.S. Air Force after high school. His decision to continue his career was reaffirmed after the attacks on 9/11/2001. During his 20 years in the service, he deployed 10 times to multiple countries. It was during these deployments he suffered injuries that would affect the rest of his life. Transitioning from active duty to civilian life was a struggle, but with the help received by attending rehab for brain injuries, counseling, and other programs, Eric continued to grow throughout his recovery and adjustment to retirement. During his time with USSOCOM, he was told about Sentinels of Freedom and how they help veterans like himself.
Eric was accepted to SoF for the fall 2021 cohort and received financial support and counseling, networking connections, mentoring connections, and the support of a case manager while he attended the University of Arizona for his MBA. SoF was also able to assist Eric's wife, Sandra, with a connection and resources for employment. She was subsequently hired to work with veterans and their families with the Arizona Coalition for Military and Families, Be Connected. Eric graduated in December 2022 and currently lives in Arizona with his wife and son. He is currently continuing to build the non-profit he co-founded and serving as he board treasurer for Shields and Stripes, an organization that assists disabled veterans and first responders with retreats that focus on healing through multiple naturopathic therapies and activities.
"The Sentinels of Freedom Bridge for Education Program doesn't just say they care; they have the best staff of professionals who are engaged and truly care about my welfare and my family's health… My family and I are grateful for the opportunity to be accepted to the Sentinels of Freedom family. I'm thankful to the patriots that donate to this cause, and please pass my gratitude to them; they've made a positive impact by helping me return from war."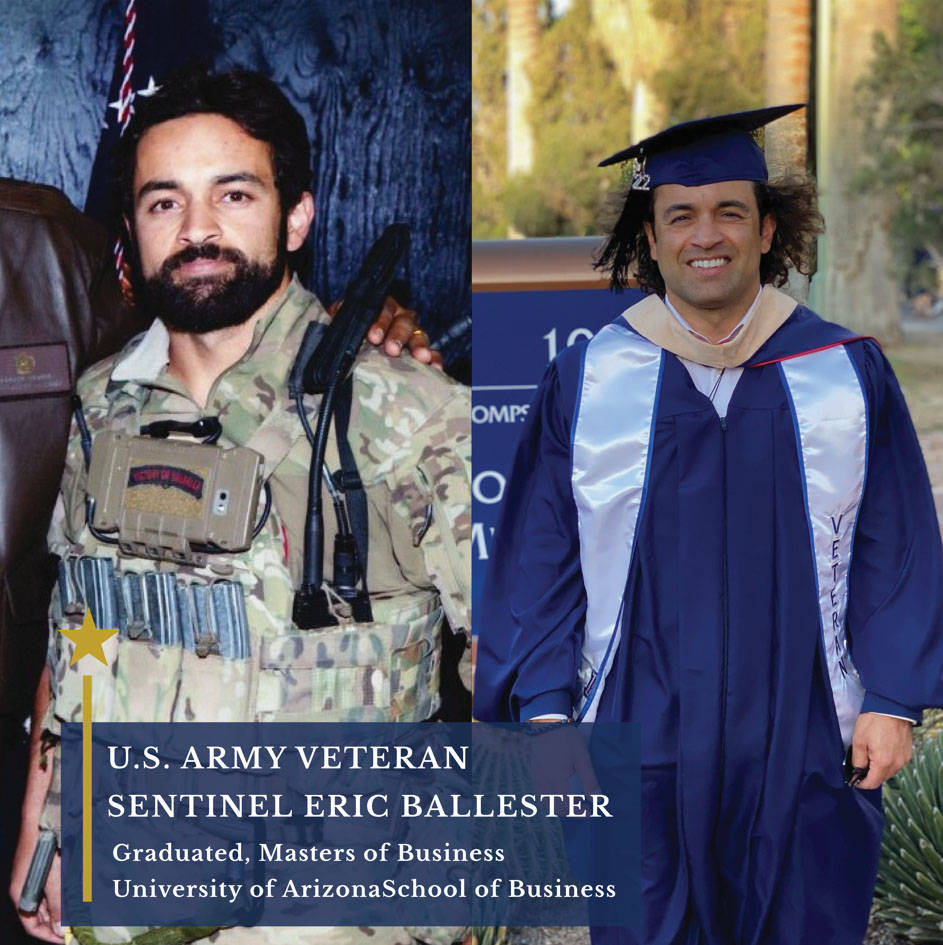 Content provided by the Sentinels of Freedom.
---