Today's first responders need instant access to secure voice and data networks to communicate critical information anytime, anywhere. Unfortunately, emergency scenarios and disasters can wipe out existing communications networks at the very moment they are needed most. Public safety professionals need an exclusive network so they can communicate without interruption. With General Dynamics' 4G LTE technology, first responders have reliable, high-speed access to voice, video and data when they need it, at their fingertips.
FirstNet's Nationwide Public Safety Broadband Network
General Dynamics is proud to be a member of the FirstNet team led by AT&T that will design, develop and deliver the Nationwide Public Safety Broadband Network. We bring decades of proven systems integration and program management experience, broadband engineering skills, public safety-focused applications, deployable telecommunications assets and cybersecurity resources to the FirstNet team led by AT&T.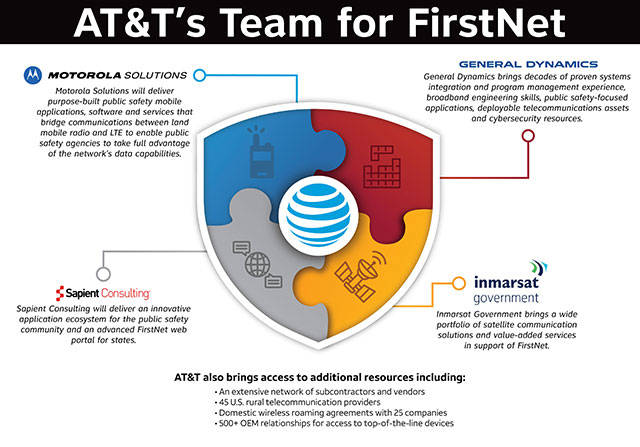 While responding to a natural disaster, accurate, reliable and timely communication is critical. General Dynamics has built, equipped and secured private networks for decades, and have the expertise and breadth of capabilities, products and integrated solutions for your mission critical communications. With our communications technology, first responders have the information they need when they need it, right at their fingertips.
Our public safety networks are also FirstNet-Ready. FirstNet is a federal initiative. Its public safety mission is to provide first responders with the first nationwide broadband network dedicated to public safety. We delivered the first local 4G LTE network authorized by FirstNet for public safety officials at the Adams County Communications Center (ADCOM911) in Colorado. This network is already connecting and delivering on-demand and real time information to law enforcement, firefighters, first responders and public safety personnel operating in the most challenging environments.
Adams County Launches FirstNet 4G LTE Public Safety Network
Our public safety capabilities also enable us to deploy "Cell on Wheels" units with eNodeB LTE base stations to provide unlimited bandwidth and dedicated links for public safety data during natural disasters and at large public events. These flexible, scalable, and ruggedized solutions ensure that first responders will have reliable access to secure communications without reliance on commercial carrier networks, which can fail during disasters or become overwhelmed by civilian data traffic.