Sectéra BDI Terminal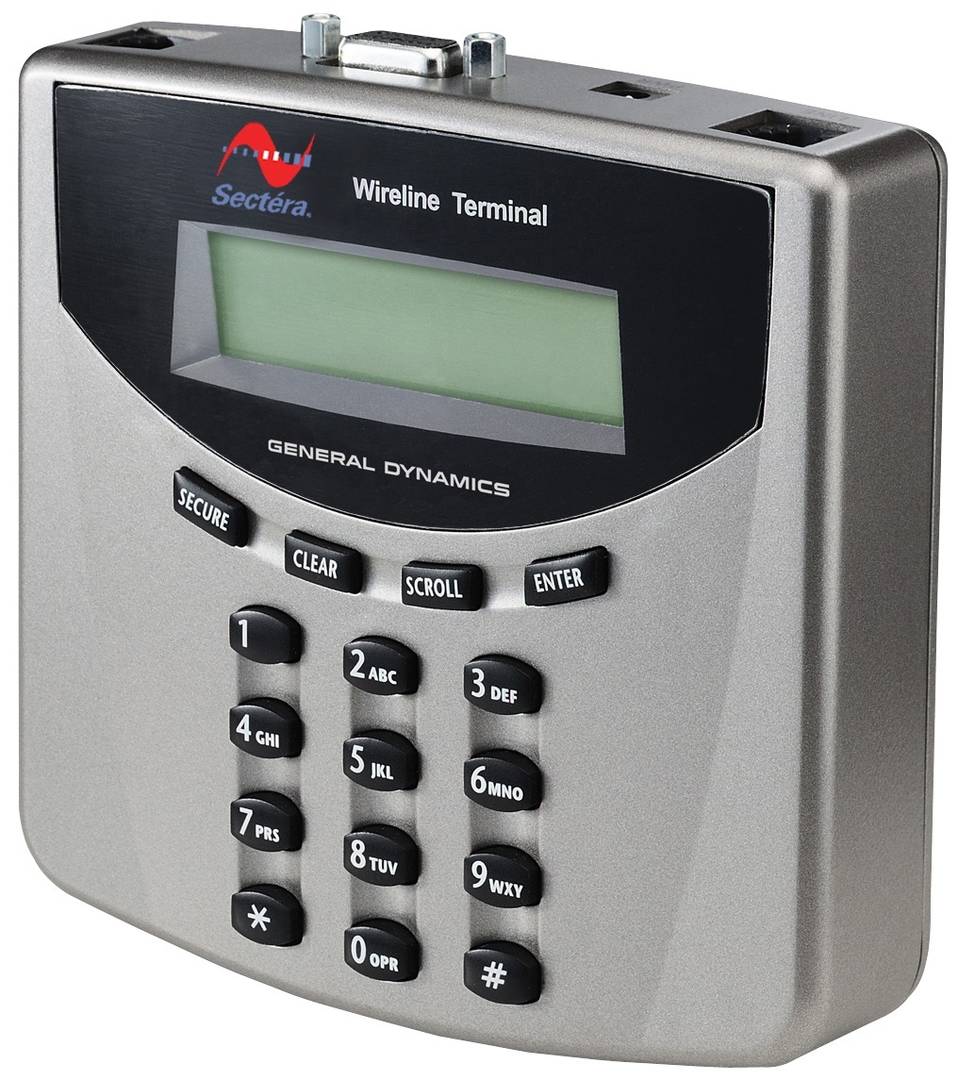 Secure Voice & Data Communications via Satellite, Phone, Fax and PCs
When high assurance secure communications is required in remote areas where terrestrial communications are not available, the Sectéra® BDI (Black Digital Inferface) Terminal provides end-to-end voice and data security for digital communications.
Analog or digital encryptor for voice, data, and fax
NSA certified for Top Secret codeword and below
Small, portable, compact and lightweight
The Sectéra Wireline Terminal is currently available for sale in limited quantities. Contact our INFOSEC Team for more details.
Features
Analog or digital encryptor for voice, data, and fax
Secure communications for Iridium®, Inmarsat®, Globalstar and Thuraya satellite phones
NSA certified for Top Secret codeword and below
High quality voice for secure and non-secure calls
Small, portable, compact and lightweight
Non-Type 1 AES version available
Software upgradability allows users to incorporate latest enhancements
Contains security and authentication display and voice prompts to assist with security setup
TSG and TEMPEST approved
Sectéra is a registered trademark of General Dynamics.
Specifications
Sectéra BDI Terminal Data Sheet
View Document
Motorola Iridium Portable Satellite Phones Supported
9500, 9505, 9505A, 9522
Size
5" W x 1.3" H x 4.6" D
Weight: 10 oz.
Volume: 30 cu in
Black Interfaces
PSTN: RJ11
RS530/RS232: 25 Pin custom
Red Interfaces
Phone: RJ11
RS232: 9 Pin RS232
Modem
V.32/V.34/V.90
Black Analog Data Rates
Up to 56,000 BPS*
Black Digital Data Rates
Up to 128 KB/s (depending on underlying network)
Secure Dial
Transmit/Receive: Yes
Speech Processing
Toll Quality:
6.4 KBPS — G.729D
2400 BPS — MELP
Power
AC Power: 110 to 220 VAC
DC Power: 9 VDC +/- 5% (< 6 Watts) (supplied by battery pack)
Environment
Tested for Thermal Shock, Vibration, Shock and Temperature
Operational: 0° C to 50° C (32° F to 122° F)
Storage: -20° C to 70° C (-4° F to 158° F)
Approvals

TSG and TEMPEST Approved

Connection (Telecom):
ANSI/TIA-968-A-2002 (US) CTR21 (EU)
IS CS-03, Issue 8 (Can)
AS/ACIF S002:2001 (AUS)
PTC200: ISS2 (NZ)

Safety:
UL 60950, EN60950, IEC60950

EMI/EMC:
FCC Part 15 subpart B, Class B
EN55022/EN55024
Literature
For Pricing and Information on How to Order call 888-897-3148 or email infosec@gd-ms.com.
24/7 Customer Support
You are never alone when you partner with General Dynamics to secure your critical information. With over 100,000 deployed NSA-certified encryptors worldwide, General Dynamics is committed to support our customers worldwide with a 24/7 technical Help Desk.
Help Desk — Contact our technical Help Desk 24 hours a day/7 days a week:
877-230-0236
Our Infosec support page is designed to make it easy for customers to access the information they need. Please visit www.gdmissionsystems.com/infosecsupport for the following support features:
---
Related Products