KIV-78 — Mode 4/Mode 5 IFF Crypto Appliqué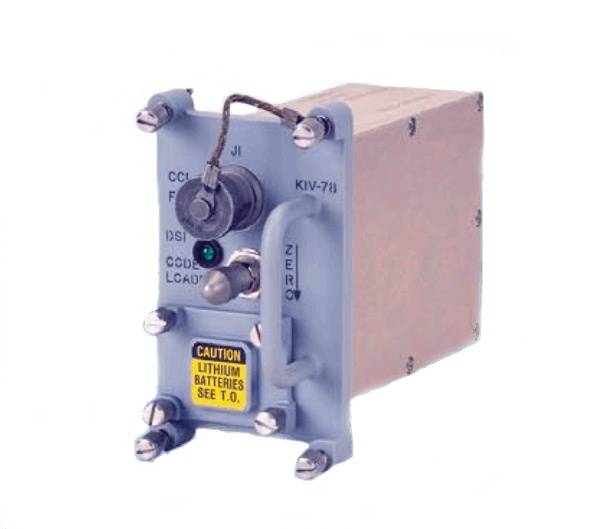 Identification Friend or Foe Crypto Solutions
The KIV-78 is the next generation Type 1 NSA-certified COMSEC for IFF (Identification Friend or Foe) that meets the new DoD standards. KIV-78 provides cryptographic and time-of-day services for a Mark XIIA (Mode 4 and Mode 5) IFF Combined Interrogator/Transponder (CIT), individual interrogator, individual transponder or IFF system deployed to identify cooperative, friendly systems.
Appliqué form-factor supports easy removal & storage without host impact
Mark XIIA (Mode 4 and Mode 5)
AIMS 04-900 compliant, NSA certified
Simultaneous Mode 4/5 interrogate and transpond support
Software upgradeable
Features
Small appliqué design, removal leaves host equipment unclassified
Capable of concurrent Mode 4/ Mode 5 operations as well as concurrent interrogator/transponder operations
Performs black key management supporting up to three months' worth of keys for Mode 4 and Mode 5 IFF and stores these keys in encrypted format, allowing black key recovery
Capable of both battery powered (Cold Load) and prime powered (Warm Load) key loading via DS-101
Compatible with both the CYZ-10, PYQ-10, KIK-20 and other EKMS308/608 compliant DS-101 key load devices
Time-of-day services, status reporting, and host key management services
KIV-78 interface is specified in the Department of Defense AIM 04-900 document and is NSA-certified
General Specifications
AIMS 03-1000
AIMS 04-900 Option A
STANAG 4193
EKMS 308/608
MIL-STD-810F
MIL-STD-461E
Modes of Operation
General Dynamics' KIV-78 supports three power modes of operation:
Storage Mode — minimum of eight years in benign environments
Key Retention (Code Hold/Cold Load) Mode — minimum of six months
Prime Power Mode — IR & XP simultaneously
IFF Crypto Support Tools
Emulator: Performs Mode 4 and Mode 5 interrogate and transpond functions that are compliant to 04-900 Option A with respect to interface voltages, waveforms and timing. However, this emulation does not use actual cryptography, and therefore is not a CCI device.
STE: Performs closed box confidence testing on KIV-78 and emulator to verify unit is functional. The STE can also be used to collect crypto status, verify QKEK, check for low battery, and confirm which image versions are loaded.
Specifications
KIV-78 Crypto Appliqué Datasheet
View Document
Modes (all simultaneous)
Mode 4: Encrypt/Decrypt
Mode 5: Encrypt/Decrypt
Size & Weight
3.4" x 4.7" in. x 2.1"
24 oz.
Interfaces
Mode 4: Legacy video IAW AIMS 97-900
Mode 5: Serial IAW AIMS 04-900 (LVDS standard)
Keying: EKMS 308/608, DS-101, cold load
Temperature
-40°C to +91°C (-40°F to +196°F)
Altitude
78,000 feet (23774.4 meters)
Vibration
5 to 50 Hz (20 g's 90 minutes each axis)
10 to 2000 Hz (0.2 g2/Hz random each axis)
Relative Humidity
0% to 100%
Shock
≥40 g's 8 ms each axis
Acceleration
≥ 16 g's
Reliability (MTBF)
≥ 10,000 hours at 91ºC
Power
Primary Power Input: +15 Vdc ±1.0 Vdc
Max. Continuous Current: 200 mA
Max. Surge Current: 400 ma (3 sec)
Battery Power: +7.8 Vdc
Normal Code Hold Current: <300 μA
Cold Load Current: <20 mA
Battery Life: >6 months under nominal temperature environment
---