Disruptive Radio Technologies
Accelerating Future Radio Capabilities
In today's modern battlefield, the U.S. military needs to maintain networked communications in and under contested and congested electromagnetic spectrum environments. They need non-traditional waveforms and technologies that are less detectable and susceptible to interference and jamming attempts of the radio's transmission by adversaries. To respond to these needs, our experts build new radios and waveforms and quickly get them into the hands of soldiers.
Contact Us
Custom-Built Small, Simple & Adaptable Radios
Waveforms for software-defined radios often cost to much and take too long. General Dynamics is quickly responding to warfighter needs by conducting rapid prototyping and testing services of key domain technologies that lead to affordable radio-waveform-network modernization.
---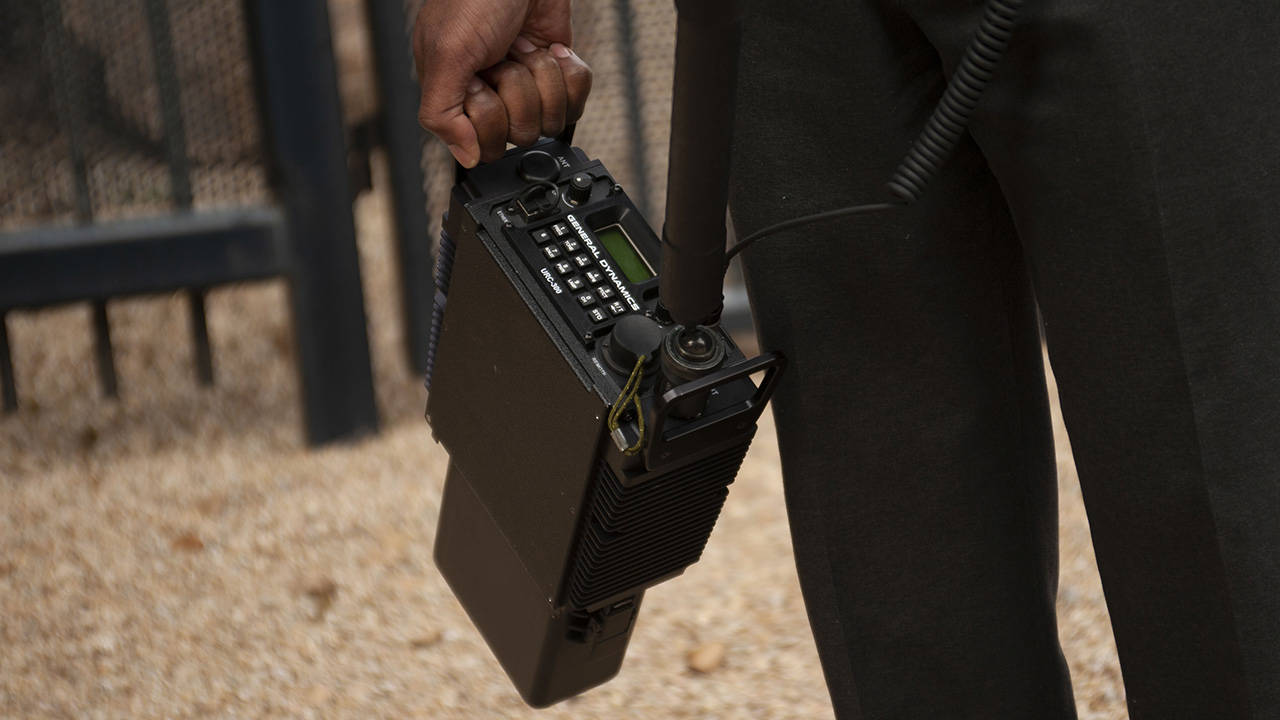 Our Approach
To meet the challenges of delivering reliable technology quickly in a changing environment, we focus on continuous integration and deployment with a DevOps approach for radio and waveform:
Shorter development and integration cycles
More reliable operation
Increased deployment
Near continuous integration and test (I&T)
Agile alignment to meet customer's rapidly evolving needs
Portability, upgradeability and extensibility from the start
Ability to rapidly conduct multiple try-and-adapt cycles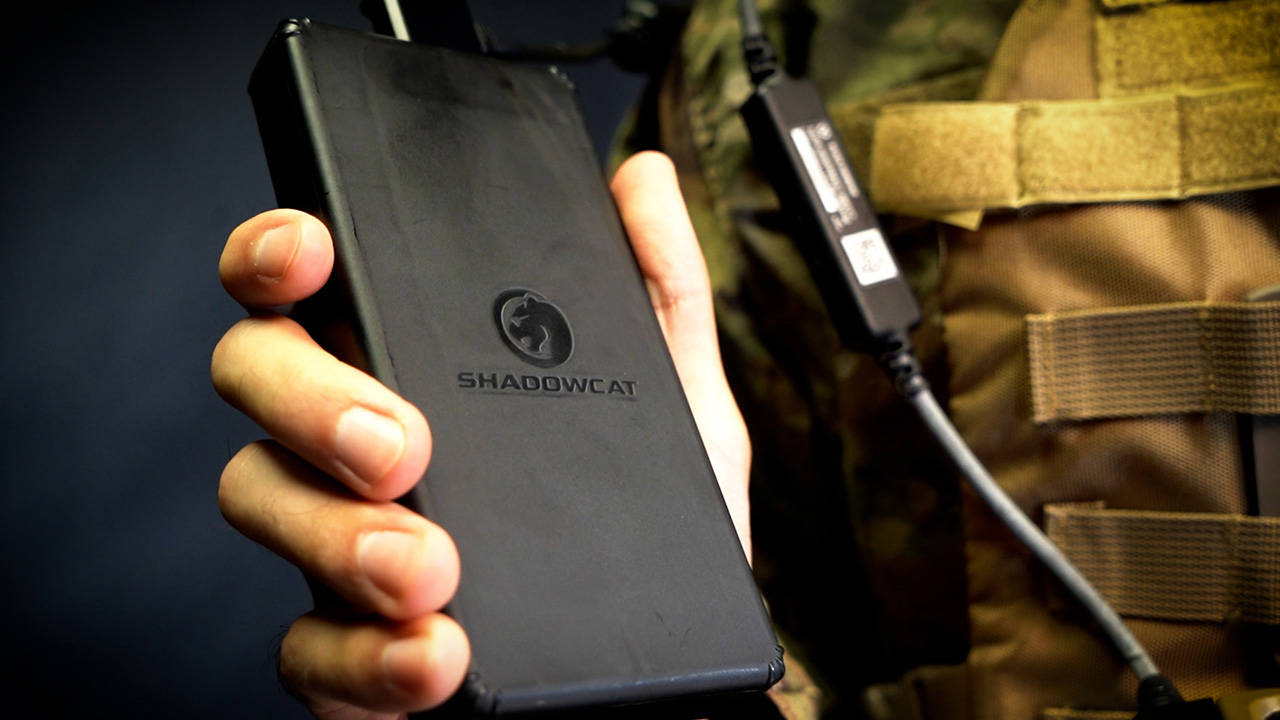 Introducing the Shadowcat™ Radio – Resilient Communications for Contested Environments
The new Shadowcat radio is a modern, affordable, resilient radio for squad level communications in contested environments. The radio's advanced RF technology minimizes the susceptibility to jamming and interference of the radio's transmission by adversaries. As additional Shadowcats are added to the network, they work together offering the resilience of distributed cooperative beamforming that increases the effective signal power, increases communication range, and provides directional diversity to overcome physical obstructions, e.g. foliage, buildings, and jamming. This provides highly robust and resilient communication for contested environments.
LEARN MORE ABOUT SHADOWCAT
ABOUT OUR DISRUPTIVE RADIOS TEAM
The DiRT DOGS® Disruptive Radios Team is an innovative startup venture within General Dynamics Mission Systems that is organized to be focused, agile and responsive.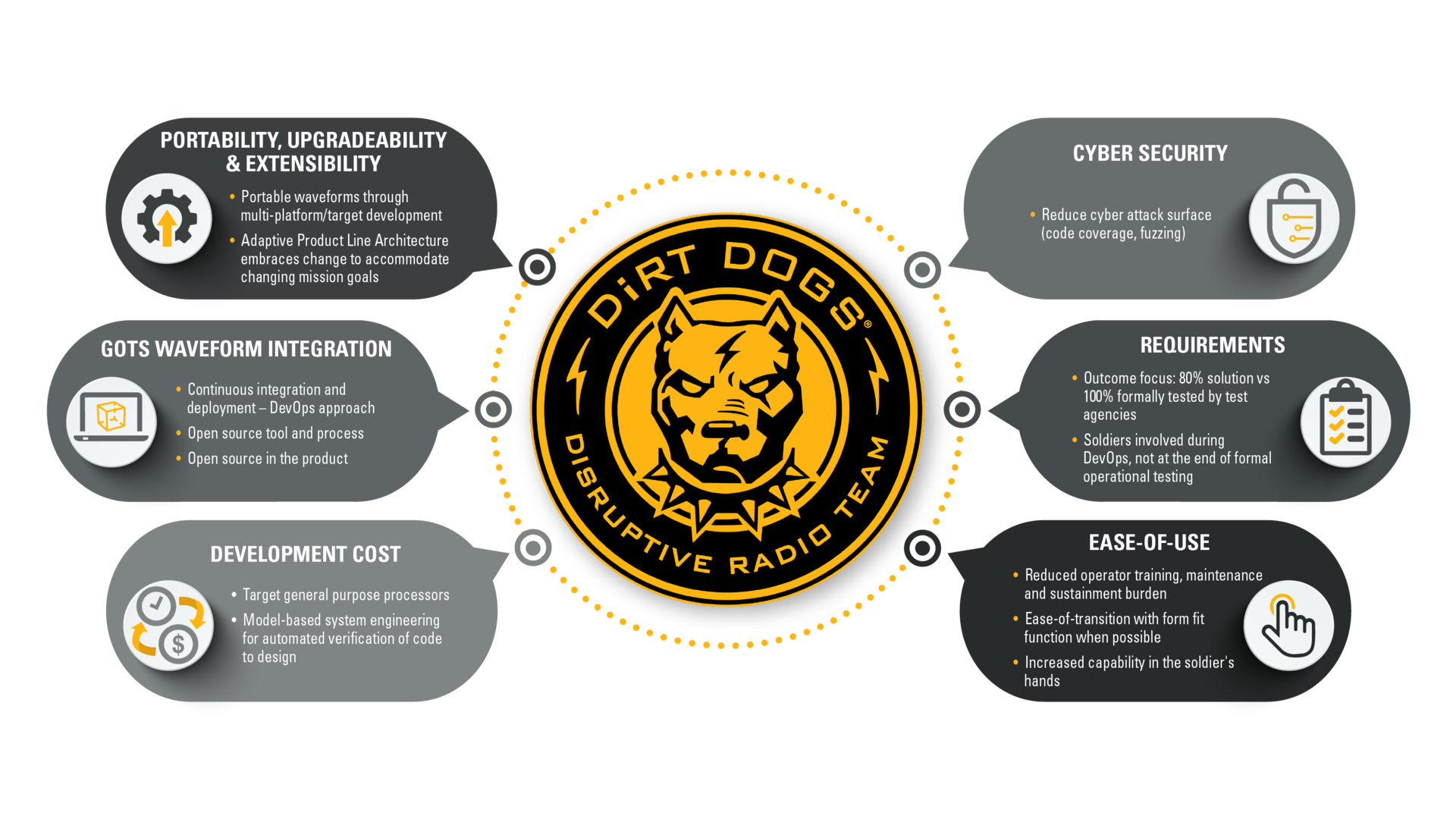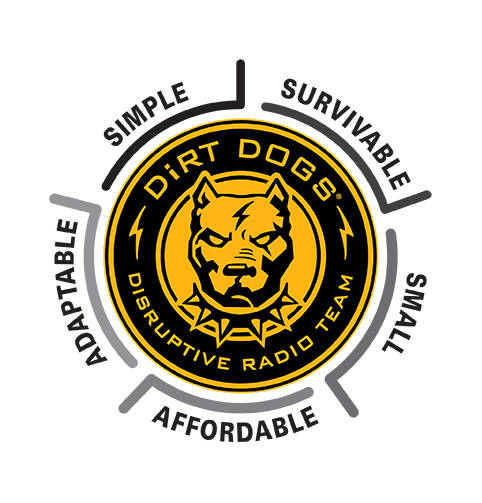 Proven Legacy of Software Defined Radios and Waveforms
Below is a sample of the radios and waveforms the DiRT DOGS personnel have developed and maintained.
Software Defined Radios
SPEAKeasyII – U.S. Air Force
Digital Modular Radio (DMR) – U.S. Navy
Cluster 5 (Handheld Manpack Small Form Factor (HMS) – U.S. Army
Blue Force Tracking (BFT) 2.5 – U.S. Army
Dismounted Distributed Tactical Beamforming System (D2TBS) – U.S. Army
Waveforms
UHF SATCOM – U.S. Navy
Mobile User Objective System (MUOS) – U.S. Navy
Wideband Networking Waveform (WNW) – U.S. Army
Blue Force Tracking (BFT) 2 – U.S. Army
AM - Ground-to-Air
Download Brochure
---