Quickdraw2 Handheld GPS Interrogator flight certified by the U.S. Navy for use aboard F-35 aircraft
Scottsdale, Ariz. – General Dynamics Mission Systems' Quickdraw2 Handheld GPS Interrogator has completed electromagnetic compatibility testing and has been flight certified by the U.S. Navy for use aboard F-35 Lightning II aircraft.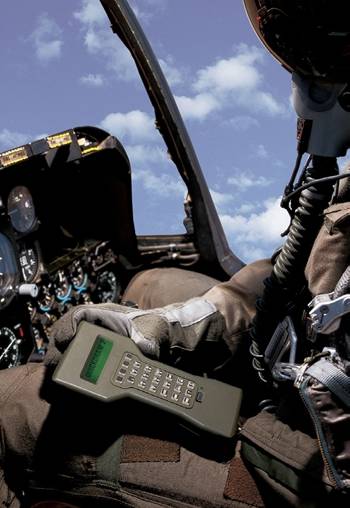 The Quickdraw2 Handheld GPS Interrogator is part of the General Dynamics HOOK Combat Search and Rescue System and is designed to quickly locate and rescue downed pilots and isolated military personnel. The Quickdraw2 can be quickly attached via a single cable to the existing intercom system of the F-35 without modifying the aircraft's electronics, transforming it instantly into a Combat Search and Rescue (CSAR) aircraft. Used by 65 different types of fixed and rotary military aircraft including the A-10 Thunderbolt II, F-16 Fighting Falcon and F/A-18 Hornet, the QuickDraw2 transmits a message to the HOOK2 or HOOK3 Combat Survival Radio being used by the survivor on the ground, which then automatically responds with the radio's GPS location. Once located and identified, the recovery portion of the rescue mission can be executed.
"Time is one of the most critical factors during a Combat Search and Rescue mission, and the Quickdraw2 provides the Navy with the flexibility to quickly turn any F-35 into a CSAR aircraft," said Ryan Orth, Vice President of RF Systems at General Dynamics Mission Systems. "Unlike interrogators that are built into the aircraft, the Quickdraw2's plug-and-play capability enables it to be easily moved from aircraft to aircraft as missions change, resulting in significant time and cost savings."
The Quickdraw2 is the latest version of the QuickDraw family that has been in service for over 20 years. The Quickdraw2 is currently used by over 41 nations including all branches of the U.S. military, NATO and Coalition partners and eight APAC nations.
General Dynamics Mission Systems, a business unit of General Dynamics (NYSE: GD), provides mission-critical solutions to defense, intelligence and cyber-security customers across all domains. Headquartered in Fairfax, Virginia, General Dynamics Mission Systems employs more than 12,000 people worldwide. For more information about General Dynamics Mission Systems' broad portfolio of capabilities, visit gdmissionsystems.com or follow @GDMS on Twitter.
Updated: 8/10/21