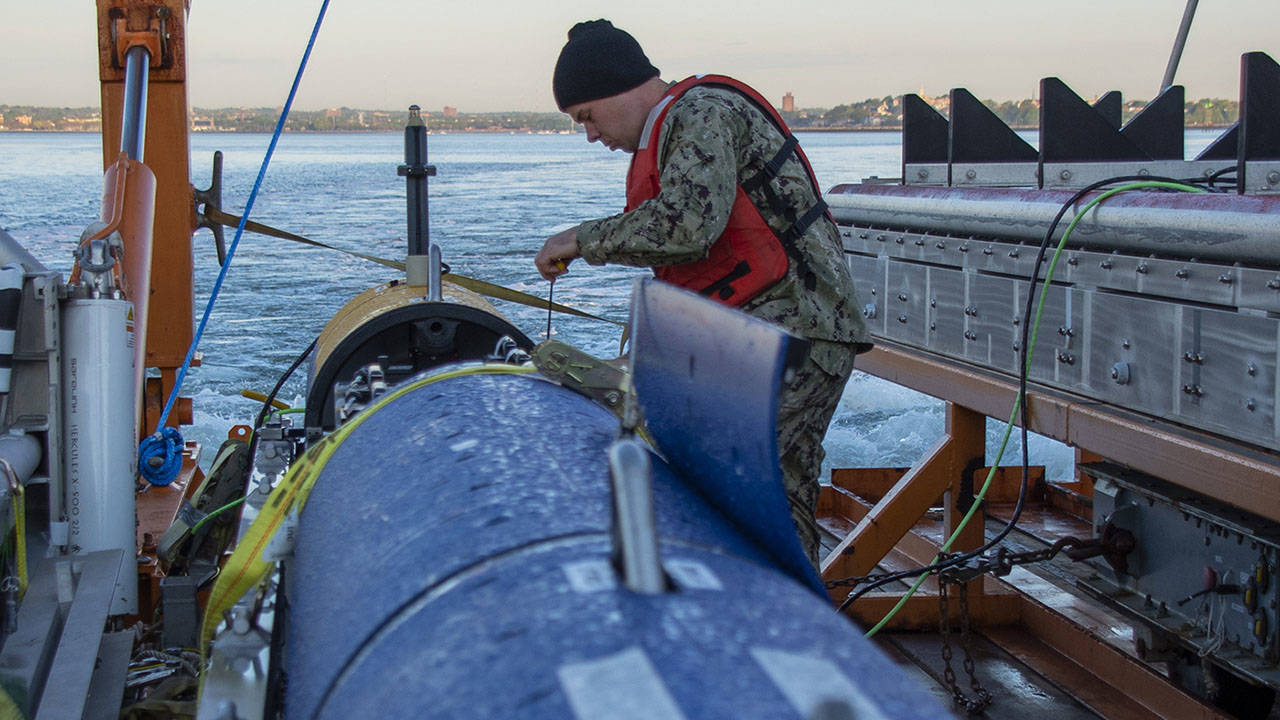 Mineman 3rd Class Matthew Popovich-Judge, from Littoral Combat Ship Crew 205, performs maintenance on the Knifefish UUV during an operational test conducted by members from Operational Test and Evaluation Force (OPTEVFOR). Image Credit: U.S. Navy
---
Knifefish is the U.S. Navy's medium-class mine countermeasure unmanned underwater vehicle (UUV) intended for deployment from the littoral combat ship and other Navy vessels of opportunity. Knifefish reduces the risk to personnel by operating within minefields as an off-board sensor while the host ship stays outside the minefield boundaries. Based on the Bluefin-21 autonomous UUV, General Dynamics Mission Systems designed Knifefish using an open architecture concept that can be quickly and efficiently modified to accommodate a wide range of missions. We spoke with senior program manager Mike Enright about his experience with the Knifefish Surface Mine Countermeasure (SMCM) program and the future of UUVs.
Tell us a little about yourself – how did you get involved with General Dynamics Mission Systems' Bluefin Robotics team?
I've had a long career in the Defense Industry, working on development manufacturing and production programs for the Air Force, Army, and Navy that includes navigation, communication, weapon delivery, radio frequency and infrared countermeasures, and surveillance systems. I was excited to be selected to lead the Knifefish Program for the Block 0 Low Rate Initial Production (LRIP) contract. It was a great opportunity to use my experience on a strategic program for General Dynamics and for the U.S. Navy. I love the challenge of making something that didn't exist before or making that product perform better.
What has it been like to work on the Knifefish UUV?
At the time of my hire, the Knifefish SMCM UUV was fairly mature, having been through the structured DoD Directive 5000 acquisition process, and completing "Milestone C" but the next challenging part was to execute LRIP at the same time as we were completing a fairly significant performance upgrade to the Block 0 configuration that included design, prototyping, and test concurrent with all the start-up challenges of a new production program. These four items (design, prototyping, test, and production) are usually separate aspects of a program that are worked in series, rather than parallel to each other. Working this program is reminiscent of a time that I was working a fast-track weapons integration program just before Desert Storm, where we simply had to find a way to accomplish the job and lead the team to successful completion. While the challenge has been great, we have a great team working on the program and we have an excellent relationship with our U.S. Navy customer. The collaboration has been very productive, and we have been able to overcome all obstacles. With this team, the harder the challenge, the greater the feeling of accomplishment.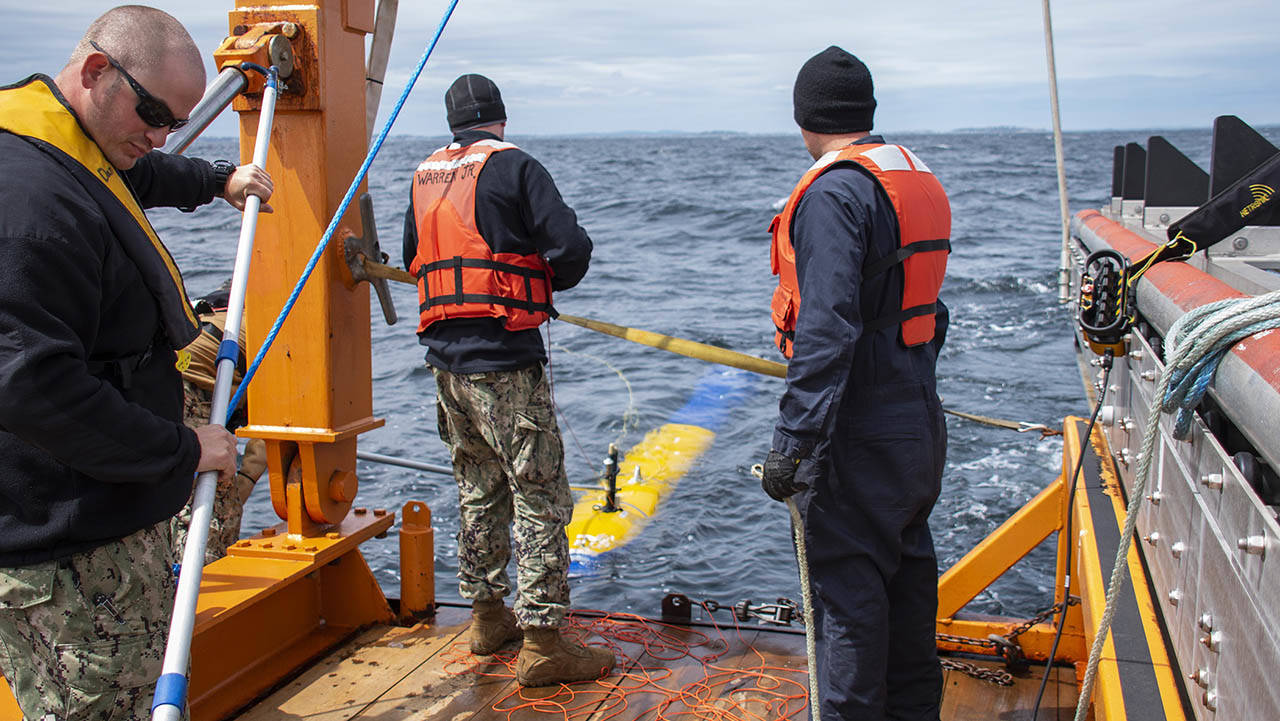 Sailors assigned to the Knifefish UUV test team assist in the recovery of the Knifefish UUV during an operational test conducted by members from Operational Test and Evaluation Force. Image Credit: U.S. Navy
---
How does unmanned mine clearance increase the efficiency and success of the Navy's critical mine countermeasure mission while reducing risk for U.S. service members?
Mine countermeasures enable the U.S. Navy to perform their missions while reducing the threat of damage to ships or potential loss of life to sailors. Unmanned undersea vehicles are a critical aspect of the MCM mission and are easier to maintain and safer to operate than other manned, tethered, towed, marine mammal, or man-in-the loop systems. These attributes add value to the U.S. Navy while increasing mission effectiveness. The accomplishments of the Knifefish program provide a very capable asset for this current mission and are the baseline for the next stages of advancements. The Knifefish system is fully autonomous with full navigation, data collection, and analysis capability to perform the mission with a very high degree of accuracy, in very challenging environments, and from a variety of vessels.
How do you expect the capabilities of UUVs to develop in the future, considering the Knifefish SMCM UUV is based on the General Dynamics Bluefin-21 deep-water autonomous undersea vehicle?
UUVs can already perform many undersea missions. Bluefin Robotics is a great example of how commercial UUVs can be adapted to provide capable and extendable building blocks to enhance and meet the very challenging mission requirements of the United States and International Navies. The Bluefin®-21 was a commercial product that General Dynamics, in collaboration with the U.S. Navy, transformed into the high-performing Knifefish platform to deliver on its specific military mission. General Dynamics Mission Systems has a rich history of delivering quality defense products to the U.S. government to meet the challenges of DOD-D-5000 acquisition requirements; it's in our DNA.
Because of this business vision and capability, the Bluefin-21 UUV can be adapted for a variety of future military missions via a changeable payload section that can be integrated and tailored around specific requirements for mission objectives. Defense customers do not have to compromise to a purely commercial platform that may or may not be a direct fit for the mission. Likewise, the already rigorously tested subsystems of Knifefish can be modified or enhanced through technological advancements, through General Dynamics' Internal Research and Development activities, and continued partnering with our customers.
---
Subscribe To News Updates On UUVs