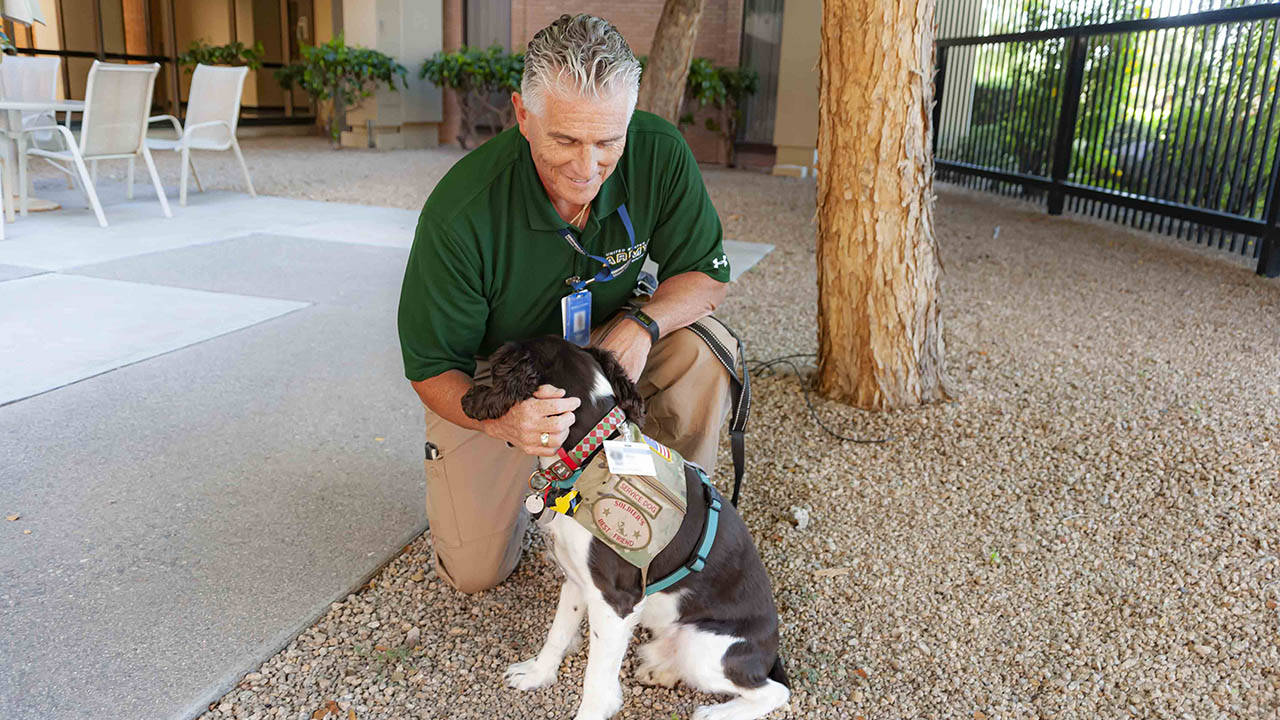 After serving in the U.S. Army, Mike Garcia and his service dog Niko are now part of the General Dynamics Mission Systems team.
---
In 2001, Mike Garcia, a manufacturing operations manager in Scottsdale, Arizona, was a part-time Army Reserve soldier working in the hospitality industry. "The scariest thing I had to worry about was dealing with the bride and mother of the bride when hosting wedding functions," Mike jokes. But when the first plane hit the World Trade Center on Sept. 11, 2001, Mike's life trajectory changed.
"I felt a real sense of calling to go on active duty after 9/11 to help support the defense of my nation," Mike says. "So from 2001 to 2017, I volunteered to serve where I felt I could provide the most support to our warfighters."
His commitment to our country resulted in two tours to Iraq, two tours to Afghanistan, a tour in Kuwait standing up the counter-ISIS headquarters, two tours to Korea, one tour to Germany and his final tour where he retired from the Defense Intelligence Agency.
As part of his retirement, the Army sent him for a complete physical that included a psychological evaluation. "At the time, my wife kept saying that I had changed, but to me, it was the new normal, so I thought nothing of it until I started answering the psychologist's questions," Mike says. "It honestly frightened me how much I had actually changed."
"The truth was that whether I wanted to face it or not – I had been through a lot," Mike says. "I remember clear as day when I first arrived in Mosul, Iraq, in 2004, because I was completely overwhelmed and scared to death, and nothing really shakes that feeling."
"And unfortunately, there is no amount of training that can really prepare you once you arrive in a combat zone, and I had programmed myself to turn off emotions and focus on the mission at hand – protecting lives," Mike says. "Staying focused keeps one alive, and as I prepared for all my future deployments, I would instinctively turn off my emotions and take on a hardened persona."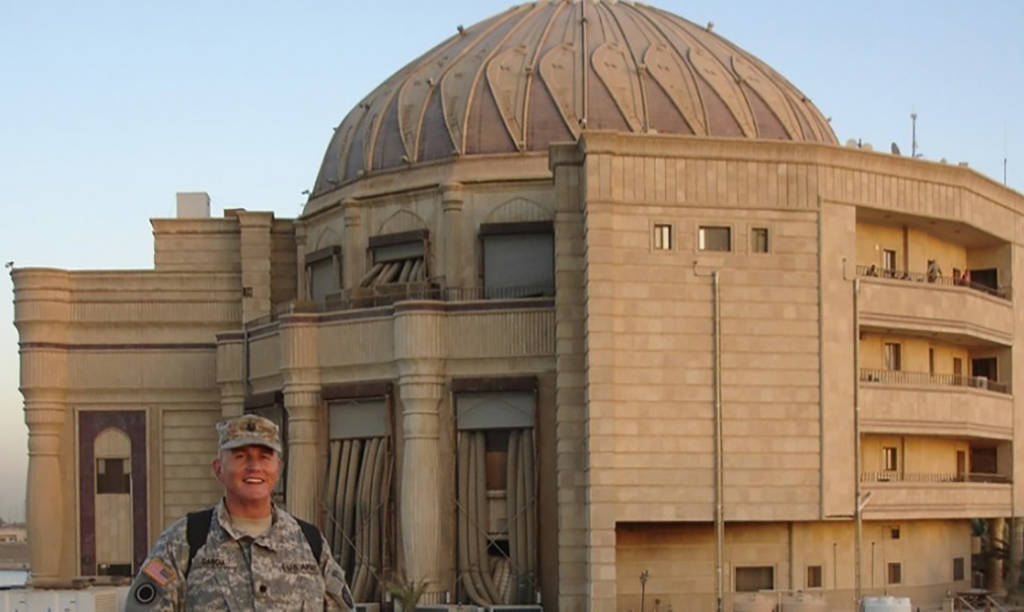 Mike, pictured in Baghdad, Iraq, outside of the Perfume Palace, which housed the senior intelligence general officer and all three-letter agencies' intelligence analysts.
---
Once Mike realized the extent of the trauma he had faced, he knew that he needed to take steps to be a better person for the people he loved the most, especially for his wife and his daughter, Ava. After his official retirement, he took a position working as a cyber subject matter expert supporting the Marines out of Twentynine Palms, California. "The position allowed me to work remotely 80% of the time and offered me the opportunity to join Soldiers Best Friend (SBF), which connects veterans living with combat-related post-traumatic stress or traumatic brain injury with service or therapeutic companion dogs, and I was offered the opportunity to receive service dog training."
It Wasn't Love at First Sight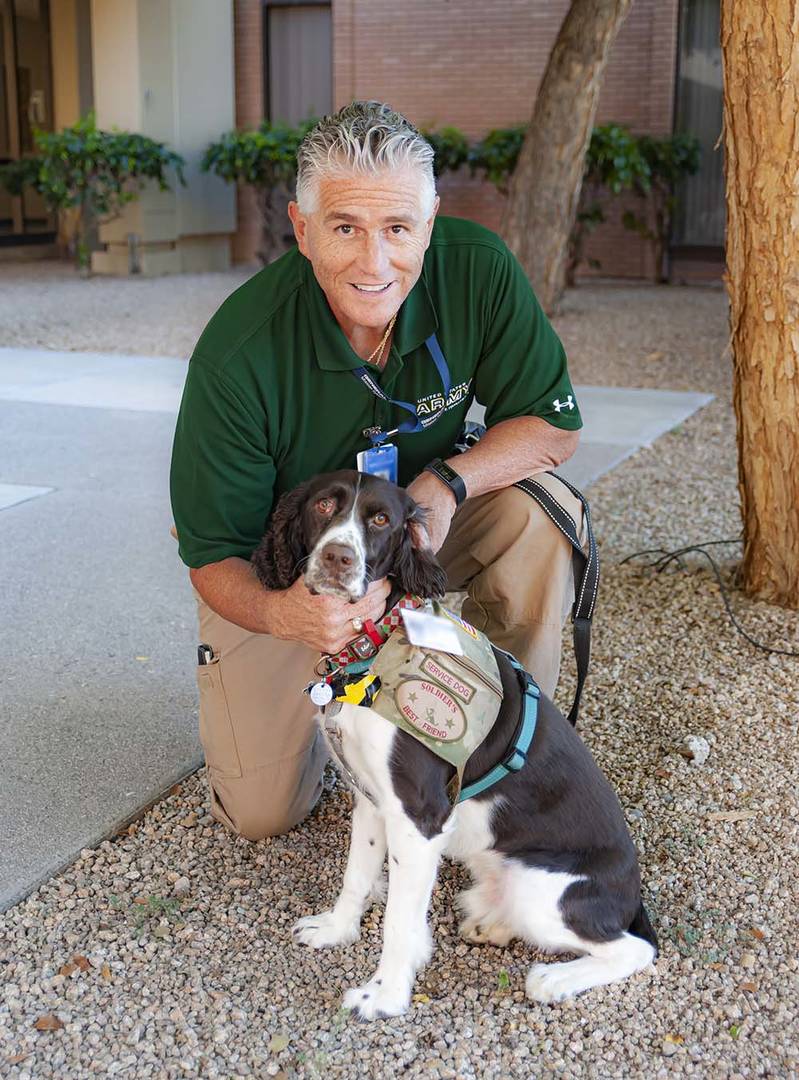 "The first few months were very stressful for Nico and me," Mike says. The training consisted of hourlong, weekly, one-on-one training and hourlong, weekly, group service dog training. After each training session, both he and Nico would be mentally drained. "But, we worked through it, and after eight months, we graduated in April of 2019."
As their bond grew, the two became inseparable, and when Mike was offered a full-time role with General Dynamics Mission Systems at the Scottsdale facility, Mike's anxiety grew about working in a large facility. "At the time, I was working from home as a defense contractor, which allowed me the flexibility to work with Nico by my side, in the comfort of my own home," Mike says. Making the move to working in a completely different environment was a tough decision for Mike. He was grateful that Tom Woodburn, senior manufacturing operations manager, and Mike's boss, welcomed both Mike and Nico to General Dynamics, giving Mike the opportunity to leverage his more than 30 years of expertise to help General Dynamics bring our mission to life.
For his first few days as a new employee, Mike didn't bring Nico because he wanted to make sure that he understood his surroundings and completed a RECON of the facilities. "In addition, I connected with another colleague who also sits in Scottsdale and has a service dog, just to get his perspective, which helped ease some of my anxiety of bringing Nico to work with me."
"From day one, many of my fellow colleagues have been very welcoming and accepting of Nico and so many have gone out of their way to make Nico and me feel comfortable in our new work setting.
An Inclusive Environment Where Veterans Can Thrive
Providing an environment where our service men and women can transition to civilian life with ease is a top priority for General Dynamics Mission Systems because our veterans bring unique perspectives to the table that allow us to successfully build solutions for our customers. Who can better understand our customers' needs than those who have actually served on the battlefield and experienced the realities of war like our veterans? That's why General Dynamics Mission Systems is committed to a culture where all employees feel welcomed and supported, as Mike and Nico do.
"Sometimes it's very hard for veterans to accept that they have disabilities that have changed their day-to-day lifestyle," Mike says. "Working for General Dynamics has allowed me to use my skillset, have my service dog by my side, all while continuing to provide support to the defense of our nation – something that is so important to me."
Mike is proud to be a part of the General Dynamics Mission Systems family and is passionate about his work because "I've seen firsthand that superior technology can truly help save American and coalition lives."