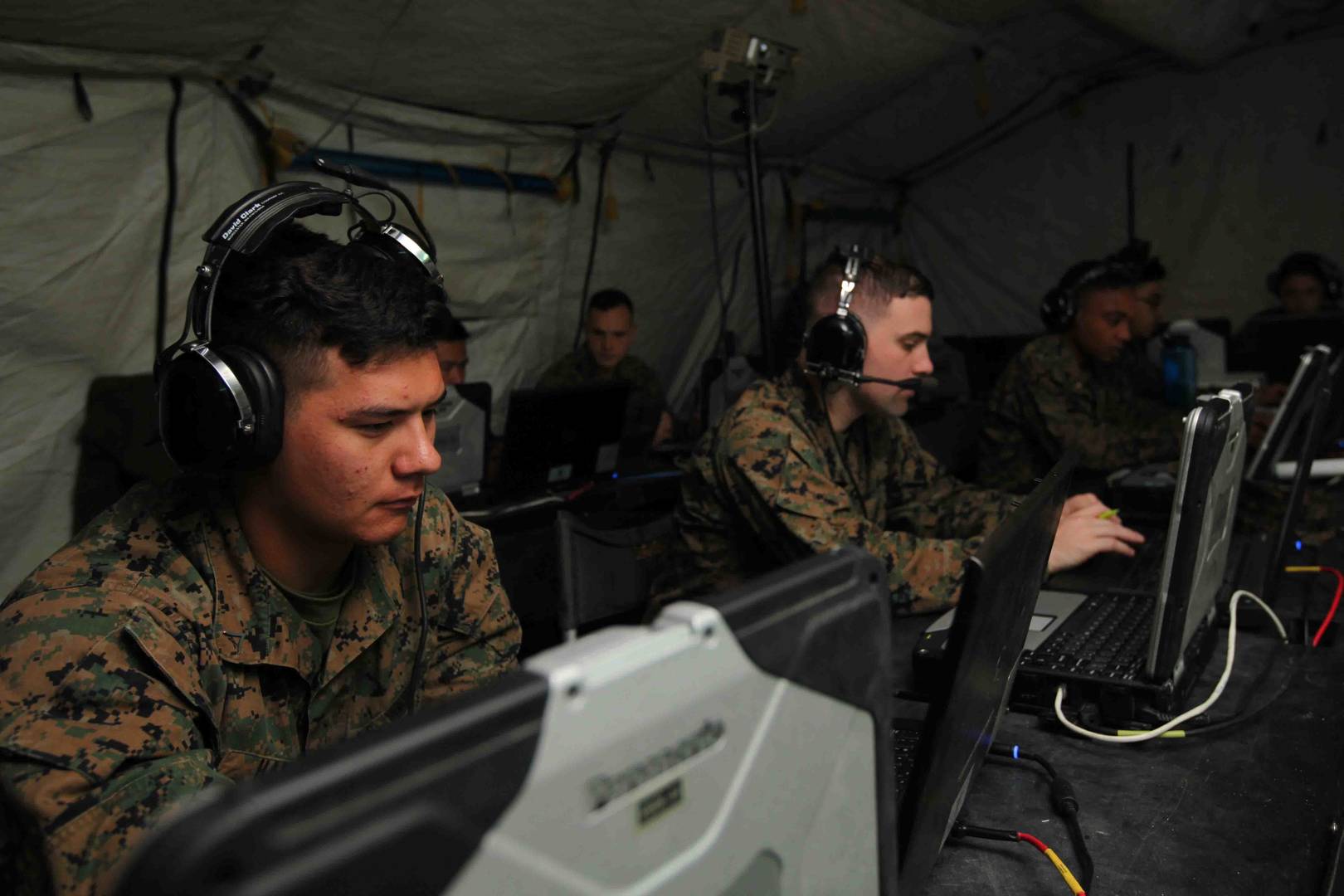 Technological innovations are redefining what's possible on the battlefield. For the Marine Corps, advancements in communications technology allow for better coordination between air and ground units, and for Marine aviators to receive more information than ever before—all in real time. Marine commanders need updated command and control systems to effectively manage the rapid pace of modern combat and increase the information available to all warfighters on the battlefield.
After an intensive two-year process, new technology developed by General Dynamics Mission Systems is helping meet this need. The company's Marine Corps Program team in Scottsdale, AZ, is bringing the Common Aviation Command and Control System (CAC2S) to the Marine Corps, making efficient, real-time information sharing possible.
CAC2S integrates data from a constellation of applications, systems, and sensors. Taken together, this information enables a "common operating picture" that gives Marine Air-Ground Task Force commanders a birds-eye view of the battlefield. As CAC2S is integrated throughout the Marine Corps, it will enable Marines at all levels to plan and execute their missions with greater speed, adaptability and efficiency, powering success.
The program has already begun fielding to an operational unit at Marine Corps Air Station Cherry Point. Over the next six months a common software baseline, or operating system, will be distributed to additional USMC units in preparation for receiving the initial 16 CAC2S systems in just under a year. And CAC2S will soon be used in major training exercises on both coasts.
In just under two years, CAC2S went from design to a fielded product. This rapid fielding is the result of a fast-paced approval process managed by the Marine Corps, paired with the outstanding efforts of the General Dynamics team. This deployment demonstrates General Dynamics' efforts to create network-centric systems that work for warfighters at all echelons of command.
CAC2S Impact on the United States Marine Corps
Marine Corps Air-Ground Task Forces are traditionally organized with both aviation and ground forces. These are overseen by a command element that relays information to ground and air forces, coordinating support for troops on the ground. By design, this close coordination between ground and aviation units provides the Marines an advantage in almost any situation, with quick access aviation resources. Successful coordination of complex operations between aviation and ground forces requires precision down to the second.
CAC2S facilitates this precision, to acclaim by Marines in the field. Col. Don Gordon, CAC2S Program Manager, described the feedback from Marines who have trained on or used the system as "overwhelmingly positive."
"Part of what CAC2S has done is modernize Marine air command and control capabilities," said Col. Gordon. He also noted that CAC2S will maintain the Marines' competitive advantage on the battlefield by incorporating Fifth Generation capabilities.
Viewed through this lens, CAC2S is the beginning of an effort to integrate information from more and more battlefield systems to make the Marines more effective. Systems like CAC2S seamlessly integrate data from many inputs. That allows Marines in one corner of the battlefield to transmit critical information from their sensors to other Marines who have the capability – but not the information – to advance the mission.
How CAC2S Works
The core of CAC2S is a software baseline, akin to a commercial operating system like Microsoft Windows. Unlike Microsoft or Apple, CAC2S operates in battlefield environments. The baseline employs sophisticated algorithms that allow applications to interact seamlessly and in military real time, measured in milliseconds.
Mission Systems incorporated an open architecture approach into CAC2S, allowing it to run some 200 applications. Each application is designed to make Marines in the air and on the ground more effective. That includes software tools that track and predict the movement of assets around the battlefield. Command staff can also run simulations of operations for ongoing training and scenario planning.
CAC2S consolidates seven separate systems into a single platform, with less supporting infrastructure required. Less and lighter equipment means Marine Air Ground Task Forces are more agile and have a smaller logistical footprint. For example, CAC2S uses direct air cooling for its computer components, instead of bulky air conditioning or mobile refrigeration units. That allows the systems to operate at 140-degree temperatures without added cooling units. Improvements like these mean Air-Ground Task Forces can carry less equipment with more capability, thus reducing logistical burdens.
These upgrades are the result of rigorous testing from the Marine Corps and General Dynamics Mission Systems. The Marine Corps wanted their next-generation command and control system to improve timeliness in all aspects of the mission. CAC2S met over 1900 specific standards in testing, including the system's quick setup time and ability to track inputs from a multitude of sensors. During testing, CAC2S surpassed the Marine Corps' standards for setup time and input tracking at a level more than 100 times that of previous systems. Only after passing these marks did CAC2S begin fielding.
General Dynamics and CAC2S
With full rate production of CAC2S under way, General Dynamics is continuing its longtime partnership with the Marine Corps. General Dynamics is excited to be working with our armed forces, with more than 1,000 employees from Mission Systems, suppliers and partners working together on this project. Together, all are proud to contribute to such a key element of the Marine Corps' command and control capabilities.