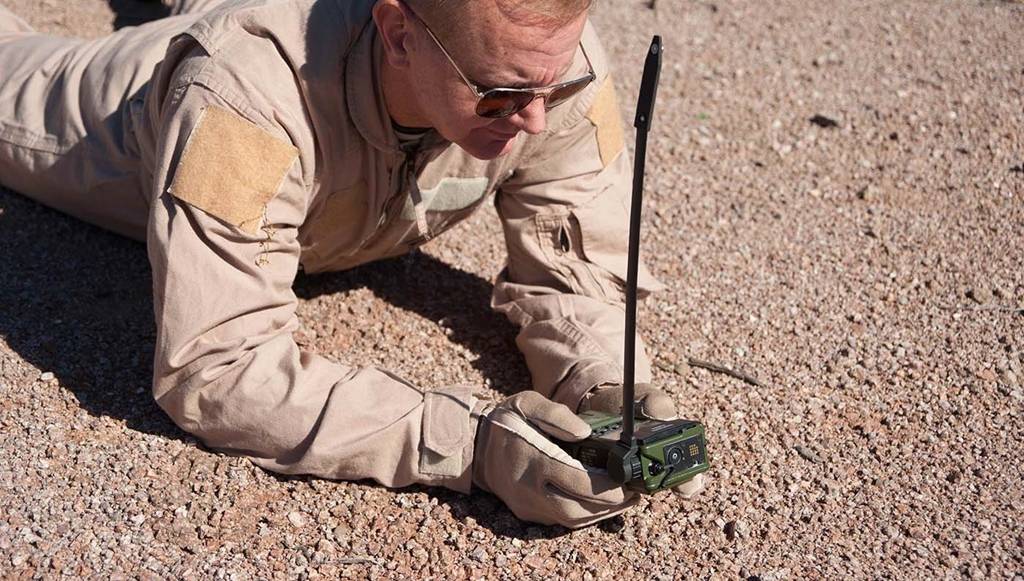 The new HOOK3 radios are significantly smaller and lighter than the HOOK2 radio and activate automatically in extreme G-Force and salt water environments.
---
SCOTTSDALE, Arizona – General Dynamics Mission Systems introduces the new HOOK3™ Combat Survival Radio (CSR). The new radio provides direct line-of-sight voice and encrypted two-way data communications to help combat search and rescue teams quickly and accurately locate and rescue downed pilots and isolated military personnel. The HOOK3 was designed using feedback from military personnel who rely on a survival radio in emergency situations. The new radio automatically activates and securely transmits location data when specific G-Force or the presence of salt water is detected by the radio.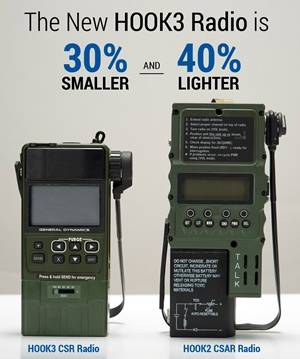 "General Dynamics has delivered more than 36,000 combat search and rescue radios to 36 countries over the past 30 years. These radios have helped save the lives of military personnel isolated or in harm's way during a mission," said Paul Parent, a vice president of General Dynamics Mission Systems. "The HOOK3 provides military personnel in emergency situations a highly reliable, easy-to-use, secure radio critical to their successful recovery."
The HOOK3 radio is 30 percent smaller and 40 percent lighter than the HOOK2® radio, and has a smaller, longer lasting battery. In addition, the embedded GPS module has 32 channels enabling a faster position acquisition time, more accurate position reporting and better performance under forested or densely vegetated areas or near structures. The radio transmits encrypted GPS, user identification, situation reports and other critical information to rescue teams and aircraft in short bursts to reduce the risk of detection. The radio can also use multiple Global Navigation Satellite Systems (GNSS).
The General Dynamics HOOK3 radio is interoperable with all HOOK2 family radios, Quickdraw2® and SATCOM Base Station currently used by U.S. and international military personnel. The HOOK3 is ideal for coalition operations, and the user-friendly transceiver is software-defined, enabling new features, waveforms and software upgrades to be added as they become available.
For additional information on the HOOK3 radio please visit gdmissionsystems.com/HOOK3.
General Dynamics Mission Systems is a business unit of General Dynamics (NYSE: GD). For more information about General Dynamics Mission Systems, please visit gdmissionsystems.com and follow us on Twitter @GDMS.
# # #