Small Deep Space Transponder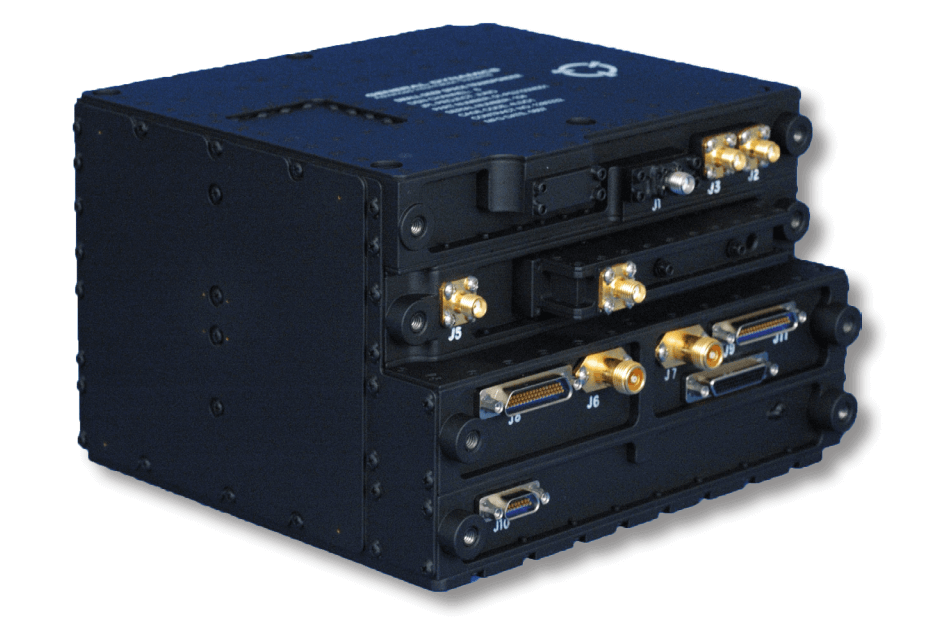 Reliable X-Band and Ka-Band Deep Space Transmission
The Small Deep Space Transponder (SDST), developed by General Dynamics and NASA's Jet Propulsion Laboratory, is a spacecraft terminal for X-Band and Ka-Band telecommunications with the NASA Deep Space Network (DSN). Making extensive use of MMICs, multichip modules, and a new signal processing ASIC, the SDST's flexible design provides the capability to meet the telecommunication needs of nearly every deep space mission.
NASA's Deep-Space Network (DSN) Compatible
Radiation and SEU Tolerant
MIL-STD-1553 Interfaces – Standard and Low Power
Option for Ka-Band downlink (independent of X-band Functionality)
Watch Cody Wilkinson Discuss The Mars 2020 Mission
General Dynamics Deputy Program Manager Cody Wilkinson was interviewed by FOX10 about his team's role in NASA's Mars 2020 Mission.
Our Small Deep Space Transponder provides a crucial communications link directly between the Perseverance rover and Earth. The transponder is used to send the stored rover data via the Deep Space Network at high data rates, relaying all data and instructions on how to drive the rover and data from the rover's instruments to NASA.
Current Missions
The Small Deep Space Transponder (SDST) is currently flying on multiple deep space missions totaling over 1,000,000 in-flight operational hours including:
Dawn
Deep Space-1
Deep Impact
Kepler
InSight
Mars Odyssey
Mars Reconnaissance Orbiter
Mars Rovers: Curiosity, Perseverance
Messenger
OSIRIS-REX
Phoenix
Spitzer Space Telescope
Future Missions
Past Missions
Spirit Mars Rover
Opportunity Mars Rover
Features
The SDST has two configurations. The X/X configuration consists of an X-band receiver and an X-band 880F1 exciter. The X/X/Ka configuration consists of an X-band receiver, an X-band 880F1 exciter and an X-band 840F1 exciter. The 840F1 exciter drives an external x4, X-to-Ka-band multiplier mounted to the user's Ka-band power amplifier, allowing interconnection by coaxial cable rather than waveguide. The SDST is designed for use with our 15 watt X-band Solid State Power Amplifier (SSPA) and other customer supplied X and Ka-band power amplifiers. The 15 watt X-band SSPA is designed to supply telemetry signals that can be connected directly to the SDST to make a complete transmitter/receiver with a single MIL-STD-1553B data interface.
Deep-Space Network Compatible
Redundant I/O for Cross-Strapping
X-Band Receiver, X and Ka-Band Exciters
2.1 dB Typical Noise Figure @25°C
-158 dBm Typical Sensitivity @ 25°C
Temp Compensated Receiver VCO
Low Exciter Spurious, Phase Noise, and Allan Deviation
Radio Science Mode (using USO Input)
6 ns Typical Ranging Delay Variation
30 Mbps Max TLM Symbol Rate
0.5 ns Typical Carrier Delay Variation
MIL-STD-1553 Interface – Standard and Low Power
External Power Converter Synchronization Capability
Operates Under Launch Environments
Radiation and SEU Resistant
Internal Telemetry Modulation Encoder
Internal Command Detector with External Baseband Input
Mounting in Either of Two Axes
Firmware Options:

Carrier Tracking Loop Bandwidth
Command Detector Subcarrier Frequencies and Data Rates
Custom Command/Telemetry Interface Format
Custom POR state
Specifications
Small Deep Space Transponder Data Sheet

Mass
7.0 lbs (3.2 kg) maximum
Input Supply Voltage
22 to 36 VDC, or ±11 to ±18 VDC
Input Supply Power
Receiver Only: 12.5 W nominal
Receiver + X-Band Exciter: 15.8 W nominal
Receiver + X and Ka-Band Exciters: 19.5 W nominal
Envelope Size
7.13"L x 6.55"W x 4.50"H
External Synch Frequency
125 kHz nominal
Radiation Total Dose
50 krads (Si) (part level), 100 krad optional
Operating Temperature
-40 to +60° C
---