Sentinel Lite M-Code GPS Receiver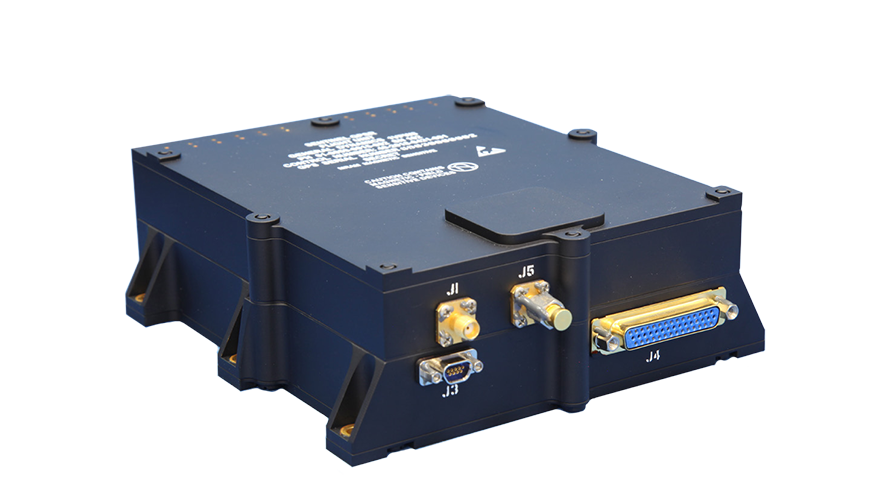 Accurate M-Code certified positioning service in space
General Dynamics' Sentinel® Lite M-Code GPS Receiver provides Precise Positioning Service position, velocity, and time information for Low Earth Orbit (LEO) and Geostationary Earth Orbit (GEO), and Medium Earth Orbit (MEO) applications. HEO orbits is also available. Performance and satellite visibility are enhanced through the use of dual antennas; each of the 64 GPS channels can be assigned to either antenna.
Design Based on Legacy Monarch™ GPS Receiver Space-Qualified Digital Design
Affordable solution for short-term missions with the same Superior performance as our Standard Sentinel product
1,000+ Equivalent Years of Accumulated Trouble-Free DoD Space Heritage: > 6M Orbits
Same Reliable Position, Velocity, Time, Pseudorange and Carrier Phase @ 10 Update Range
Optional Relative Navigation Position, Velocity, and Time Modes
RS-422 I/O Interface and Control, Protocol similar to our Legacy Viceroy® C/A Receiver
Features
LEO, GEO capable with MEO and HEO option
GEO Sidelobe Acquisition and Tracking Algorithms enable continuous PNT availability
Fast Acquisition Processor enables rapid COLD start capability
Integrated Anti-Jam Technology and anti-spoof algorithms enable superior performance in GPS contested and denied environments
64 Channels, L1 and L2 Capable
C/A, P(Y) and Modernized M-Code, with optional L2C civil signal
Provides Near Real-time Position, Velocity and Time Measurements for Superior User Performance
Relative Navigation Capability Allows for Differential Position, Velocity and Time Determination Between Co-orbiting Spacecraft (Optional)
Precision Time Stamping Allows Unprecedented Accuracies in Space
Precise Position Service Key Management Supports All Selective Availability Anti-spoof Module (SAASM) Unique Keying
Single or Dual Antenna Capability Allows the Spacecraft User Installation Flexibility and Performance
Qualified and Tested for the Space Environment: Pyrotechnic Shock, Random Vibration, Thermal-vacuum and EMI/EMC (Tailored Mil-Std-461F)
Specifications
Sentinel Lite M-Code GPS Receiver Data Sheet

Receiver Architecture
64 Channels PPS-GPS C/A, P(Y), M-Code Channels, L2C available as an option
Dual Antenna – any channel to either antenna
Frequencies & Codes: L1 & L2, C/A Code, P(Y), M-Code, L2C optional
Narrow Bandwidth Acceleration-Aided Carrier/Code Tracking
Tracking and Navigation Algorithms based on Monarch-M GPS Receiver
Kalman Filter-based navigation solution with integrated high fidelity orbit propagator bridges gaps between GPS outages
On-Orbit Software Reprogrammable
Input / Output
RS-422, Follows Legacy Viceroy Receiver ICD
One Pulse per Second (GPS, UTC, or Measurement Epoch Time)
Time Stamp Input Signal, measures the time of an external pulse
LEO Solution Accuracy
Autonomous Position: 4.0 meters, 1 sigma, < 1 meter typical
Autonomous Velocity: < 2 cm/sec, 1 sigma, < 0.5 cm/sec typical
Clock and 1PPS Absolute: <20 ns 1 sigma, < 5 ns typical
Time Strobe Input: < 50 ns, 1 sigma
Optional Relative PVT Mode: 0.5m, 0.5 cm/sec, 4 ns (1 sigma)
GEO Solution Accuracy
Autonomous Position: 25 meters, 1 sigma, < 5 meter typical
Autonomous Velocity: < 2 cm/sec, 1 sigma, < 0.5 cm/sec typical
Clock and 1PPS Absolute: < 50 ns 1 sigma, < 5 ns typical
Time Strobe Input: < 50 ns, 1 sigma
Cold Start Time to First Fix (self-test complete & assumed keyed)
LEO < 10 minutes, 67% probability, 4 min Typical
GEO < 15 minutes, 90% probability, 8 min Typical
Orbital Dynamics
Altitude: LEO, GEO (200 km – 45,000 km), MEO & HEO optional
Velocity: up to 16,000 meters/second
Acceleration: 1G
Optional and Custom Features
External Reference Oscillator or Internal Precision EMXO
GEO Sidelobe Acquisition and Tracking Software
High Dynamics Acquisition & Tracking
Physical/Environmental
Radiation: 50 Krads
Single Event Upset: < 1 per year
Single Event Latchup: Immune
Reliability: 0.95, 5 year, 30°C Baseplate, 100% duty cycle
Vibration: 16.6 Grms
Pyro Shock: 2000 G
Temperature: -34°C to +71°C
Size: 180 x 160 x 60 mm-Envelope
Weight: < 2.5 kg
DC Power: < 9w typical LEO (dual antenna), < 8w typical GEO (single antenna)
The Next Generation of Secure Position, Navigation and Timing Technology Whitepaper
The Department of Defense is now focused on satisfying the need to provide assured position, navigation and timing (PNT) – or assured PNT – and General Dynamics is answering that call by developing new antenna designs, power amplifiers, receivers, waveform generators and related capabilities that are more resilient to threats.
Download The Whitepaper
---