HRT150 Ku-Band Transmitter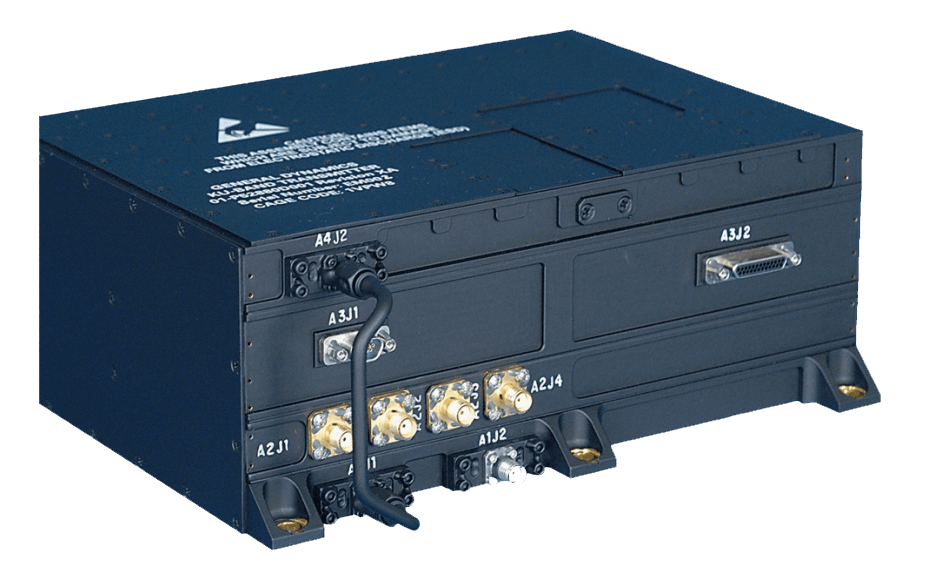 This product has been discontinued
General Dynamics' HRT150 Ku-Band Transmitter provides a solution for delivering large amounts of data from a spacecraft in one small package. Standard operation is TDRSS Ku-Band, with options available for X-Band and Ka-Band. The transmitter is compatible with NASA's TDRSS KuSAR high-rate return link receiving systems.
Designed for Moving Large Amounts of Data Efficiently
High Reliability, Space Qualified
Optional Ka- and X-Band Output Frequencies Support TDRSS or Direct-to-Earth Applications
Features
The transmitter design makes use of years of General Dynamics research in high-rate bandwidth-efficient modulation and the latest FPGA, ASIC and GaAs MMIC technology. These strengths, combined with space-proven designs from our line of transponders, results in a high-performance and reliable unit with very small size and mass. The internal frequency source is a DRO loop derived from a TCXO, which develops an extremely stable, very low phase-noise carrier source. The transmitter includes an integral 2 Watt Ku-Band solid state power amplifier to provide needed drive for antennas and high power stages.
High-Rate, 150 Mbps SQPSK Modulation for Space Applications
Compatible with TDRSS KuSAR Ground Station Equipment
Ku-Band Frequency: 15.0034 GHz
Optional Ka- and X-Band Output Frequencies Support TDRSS or Direct-to-Earth Applications
Designed for Moving Large Amounts of Data Efficiently
High Reliability, Space Qualified
Forward Error Correcting Encoders Included

8-parallel rate-1/2 Convolutional
Reed-Solomon

Direct X-Band Modulation for Small Size and Weight
Internal DRO/TCXO Frequency Source
Radiation and SEU Tolerant
Mass Less than 5 Pounds
Envelope Less than 169 Cubic Inches
Qualified over -34 to +71°C
Internal High Efficiency Power Converter Accepts 22 to 34 VDC Input Range
Internal 2 W Power Amplifier for Driving Phased-Array Antenna or High-Power Amplifier

Optional Higher Power Available
Specifications
HRT150 Ku-Band Transmitter Data Sheet

RF
Output Frequencies: Ku-Band: 15.0034 GHz
Optional X-Band and Ka-Band capability
Output Power: 2 Watts minimum
Modulation: SQPSK
Data Rate:

150 Mbps R-1/2 convolutional code only
125 Mbps R-1/2 convolutional plus Reed-Solomon coded

Convolutional Code
8-parallel inner code compatible with NASA TDRSS, SNUG 450,
DG2 mode, alternating I/Q, rate-1/2, k=7
Reed-Solomon Code
(255/223) Reed-Solomon outer code with interleave depth I=5.
Code can be selected at time of manufacture to any code (255-i/223-i) for any integer i=0 to 222, and to any interleave depth I = 1 to 8.
Framing ASM Word
1A, CF, FC, 1D hex
Frame Length
1115 bytes data, 160 check bytes (frame length can be modified
if alternate Reed-Solomon code is chosen)
Optional Code
Near Earth (8158,7136) Low Density Parity Check (LDPC) Code
Formatting
Independent NRZ-L to M conversion on I and Q
Pulse Shaping
Custom analog pre-modulation filtering
User Interfaces
Data Inputs: Differential ECL data & clock, SMA-F
RF Output Connector: SMA-F
DC Input Connector: 9-pin receptacle, micro miniature-D
Telemetry Output Connector: 25-pin plug, micro miniature-D
Telemetry Content: Voltage, forward power, temperature, PLL lock, TX on/off
Input Power
Operating Voltage: 22 - 34 VDC
Input Power: 47 W max; 1.2 W standby
General
Mass: 5 pounds maximum
Size: 8.0"L x 6.6"W x 3.2"H maximum envelope
Temperature: -34° C to +71° C (Qualification) -24° C to +61° C (Acceptance)
---