Secure Data Fabric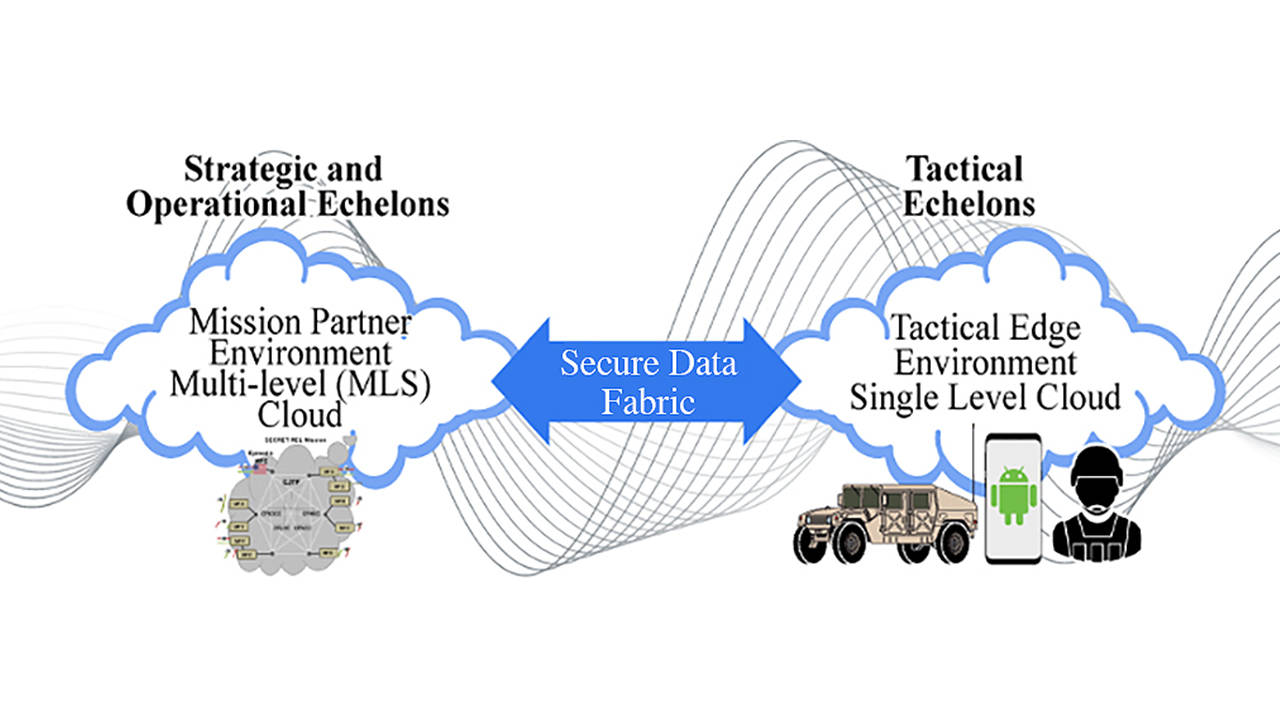 Distributed Data Infrastructure for Warfighters
Secure Data Fabric (SDF) integrates General Dynamics' proven tactical data management and Multilevel Security (MLS) Enterprise Cyber Security products and experience, creating a unified data environment for the formation's echelons regardless of the source and security level of the data. Secure Data Fabric is a field-tested information service that allows units on the edge of the network to request, publish and subscribe to information in a tactical network environment.
Hosted on current Army tactical network & hardware (TSI stack, edge devices, Android)
Deploys from Corps to Battalion and below
Supports Enterprise, Command Post, Mounted, and Soldier CE
---
Features
Our Secure Data Fabric (SDF) is:
Survivable: Data is stored and managed resiliently across Strategic, Operational and Tactical echelons. Data is replicated across the architecture on demand for operational survivability and resiliency.
Disconnect, Intermittent, Latent Network-Tolerant: Every node remains mission capable across network disruptions. Disconnected LANs remain operational. Data edits and requests made while disconnected will be automatically satisfied when reconnected.
Bandwidth Efficient: Efficient publish/subscribe mechanism only sends delta change information and only for data that you have requested.
Open Standards-Based: REST, JSON, XML, WebSockets, GraphQL.
SDF provides standard PaaS infrastructure and interfaces that leverage both a trusted Operating System and Relational Database that provides MLS versions of productivity and collaboration tools. The MLS environment is approved for Protection Level 4 deployments. Leveraging the PaaS tools and services, customers can rapidly build and deploy C2 and other mission critical applications and data services securely. SDF based solutions are:
Unified: Data is shared and managed in a single information space to support applications that provide multi-domain mission and administration capabilities.
Agile: Design, development, deployment and accreditation of new applications/capabilities is fast, low-risk and affordable.
Secure: The system is safe/accreditable, accountable to the highest standards expected by warfighters.
Other Key Features
Hosted on current Army tactical network & hardware (TSI stack, edge devices, Android)
Deploys from Corps to Battalion and below
Supports Enterprise, Command Post, Mounted, and Soldier CE
Simplifies integration of 3rd party applications through open APIs
Supports interoperability between systems and applications
Makes data visible, discoverable, accessible and understandable
Incorporates access control capability
Seamlessly connects Army systems and mission partner environment
Efficiently uses bandwidth, memory and processors
Supportable by unit-organic resources with minimal FSR support
Protects against insider threats
Unit organic and centralized system monitoring and management via a dashboard
---