Explorer GPS Receiver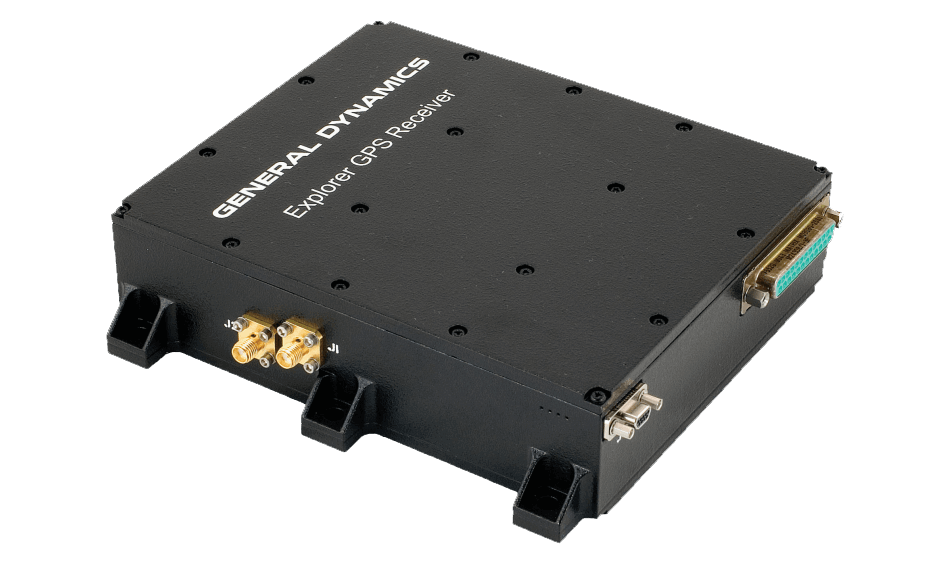 Building On The 100+ Years Of On-Orbit Viceroy™ Performance
General Dynamics' Explorer Global Positioning System (GPS) Spaceborne Receiver provides position, velocity, and time information for Low Earth Orbit (LEO) and Geostationary Earth Orbit (GEO) applications. Performance and satellite visibility are enhanced through the use of dual antennas; each of the 12 GPS channels can be assigned to either antenna. The design supports RS-422 or MILSTD-1553 bus interfaces.
Design based on legacy space qualified digital design
20 years of trouble-free spaceflight heritage
Same reliable position, velocity, time, pseudorange and carrier phase at 1Hz
Same form-factor and interface control as heritage Viceroy receiver
Features
The Explorer GPS Receiver includes all the features of our heritage Viceroy GPS Receiver. The Explorer supports user selectable parts level to tailor the mission life and cost to meet most mission needs.
Space Qualified Digital Design
Full Spaceborne Capability
Autonomous Operation
Pseudorange and Integrated Carrier Phase at One Second Rate
One PPS Clock Output Synchronized to GPS Time
Radiation Tolerant Design
12 Receive Tracking Channels
Only 56 Cubic Inches
20 to 34 VDC Operation
Improved Radiation Tolerant Digital Electronics
12 Channels Support All-in-View Tracking
Dual Antenna – Any Channel Assigned to Either Antenna
Fast Cold Start Mode Simplifies Integration and Autonomous Operation
Low Signal Acquisition and Tracking Supports GEO Sidelobe Tracking
Enhanced Resolution 1 Pulse per Second Output
Tailorable parts level
Specifications
Explorer GPS Receiver Data Sheet

Receiver Architecture
12 channels with enhanced fast acquisition processor
Dual antenna – any channel to either antenna
L1: 1575.42 MHz, C/A code
Carrier-aided code tracking
Based on legacy Viceroy architecture (hardware and software)
Input/Output
RS-422 serial I/O
X.25 protocol with ECEF position, velocity, time, longitude, latitude,
pseudorange, carrier phase
One pulse per second (GPS, UTC, or Measurement Epoch Time)
9-pin male Micro-D for prime power
25-pin female Sub-D for command and telemetry
Solution Accuracy
Autonomous Position: < 15 meters, 1 sigma
Autonomous Velocity: < 0.05 meters/second, 1 sigma
1PPS time: < 100 ns, 1 sigma
Time to First Fix
LEO: 3 minutes, cold start
GEO: 10 minutes, cold start
Orbital Dynamics
Altitude: LEO to GEO (200 km – 45,000 km)
Velocity: up to 16,000 meters/second
Acceleration: 1G+
Optional and Custom Features:
Contact Factory
Serial Port – Mil-Std-1553B
Time Strobe Input: < 100 ns, 1 sigma
Precision internal reference Ovenized Crystal Oscillator (OCXO)
Additional channels up to 24
Enhanced Radiation Hardening
Antenna
Active microstrip patch antenna (LEO), 0.4 lbs
High gain multi-element antenna (GEO), 1.0 lb
Power supplied by Explorer
SMA female connection on receiver and antenna
Physical/Environmental
Size: 6.3 x 5.2 x 1.7" (160 x 132 x 43 m)
Weight: 2.5 lbs (1.2 kg) max
DC Power: 7 W max steady state tracking (22-36vdc)
Vibration: 17 grms
Shock: 3000 G
Temperature: -20°C to +60°C
Radiation Tolerant Design
Single Event Latch-up Immune
Features

Features

The Explorer GPS Receiver includes all the features of our heritage Viceroy GPS Receiver. The Explorer supports user selectable parts level to tailor the mission life and cost to meet most mission needs.

Space Qualified Digital Design
Full Spaceborne Capability
Autonomous Operation
Pseudorange and Integrated Carrier Phase at One Second Rate
One PPS Clock Output Synchronized to GPS Time
Radiation Tolerant Design
12 Receive Tracking Channels
Only 56 Cubic Inches
20 to 34 VDC Operation
Improved Radiation Tolerant Digital Electronics
12 Channels Support All-in-View Tracking
Dual Antenna – Any Channel Assigned to Either Antenna
Fast Cold Start Mode Simplifies Integration and Autonomous Operation
Low Signal Acquisition and Tracking Supports GEO Sidelobe Tracking
Enhanced Resolution 1 Pulse per Second Output
Tailorable parts level

Specifications

Specifications

Explorer GPS Receiver Data Sheet

Receiver Architecture
12 channels with enhanced fast acquisition processor
Dual antenna – any channel to either antenna
L1: 1575.42 MHz, C/A code
Carrier-aided code tracking
Based on legacy Viceroy architecture (hardware and software)
Input/Output
RS-422 serial I/O
X.25 protocol with ECEF position, velocity, time, longitude, latitude,
pseudorange, carrier phase
One pulse per second (GPS, UTC, or Measurement Epoch Time)
9-pin male Micro-D for prime power
25-pin female Sub-D for command and telemetry
Solution Accuracy
Autonomous Position: < 15 meters, 1 sigma
Autonomous Velocity: < 0.05 meters/second, 1 sigma
1PPS time: < 100 ns, 1 sigma
Time to First Fix
LEO: 3 minutes, cold start
GEO: 10 minutes, cold start
Orbital Dynamics
Altitude: LEO to GEO (200 km – 45,000 km)
Velocity: up to 16,000 meters/second
Acceleration: 1G+
Optional and Custom Features:
Contact Factory
Serial Port – Mil-Std-1553B
Time Strobe Input: < 100 ns, 1 sigma
Precision internal reference Ovenized Crystal Oscillator (OCXO)
Additional channels up to 24
Enhanced Radiation Hardening
Antenna
Active microstrip patch antenna (LEO), 0.4 lbs
High gain multi-element antenna (GEO), 1.0 lb
Power supplied by Explorer
SMA female connection on receiver and antenna
Physical/Environmental
Size: 6.3 x 5.2 x 1.7" (160 x 132 x 43 m)
Weight: 2.5 lbs (1.2 kg) max
DC Power: 7 W max steady state tracking (22-36vdc)
Vibration: 17 grms
Shock: 3000 G
Temperature: -20°C to +60°C
Radiation Tolerant Design
Single Event Latch-up Immune

Literature
---