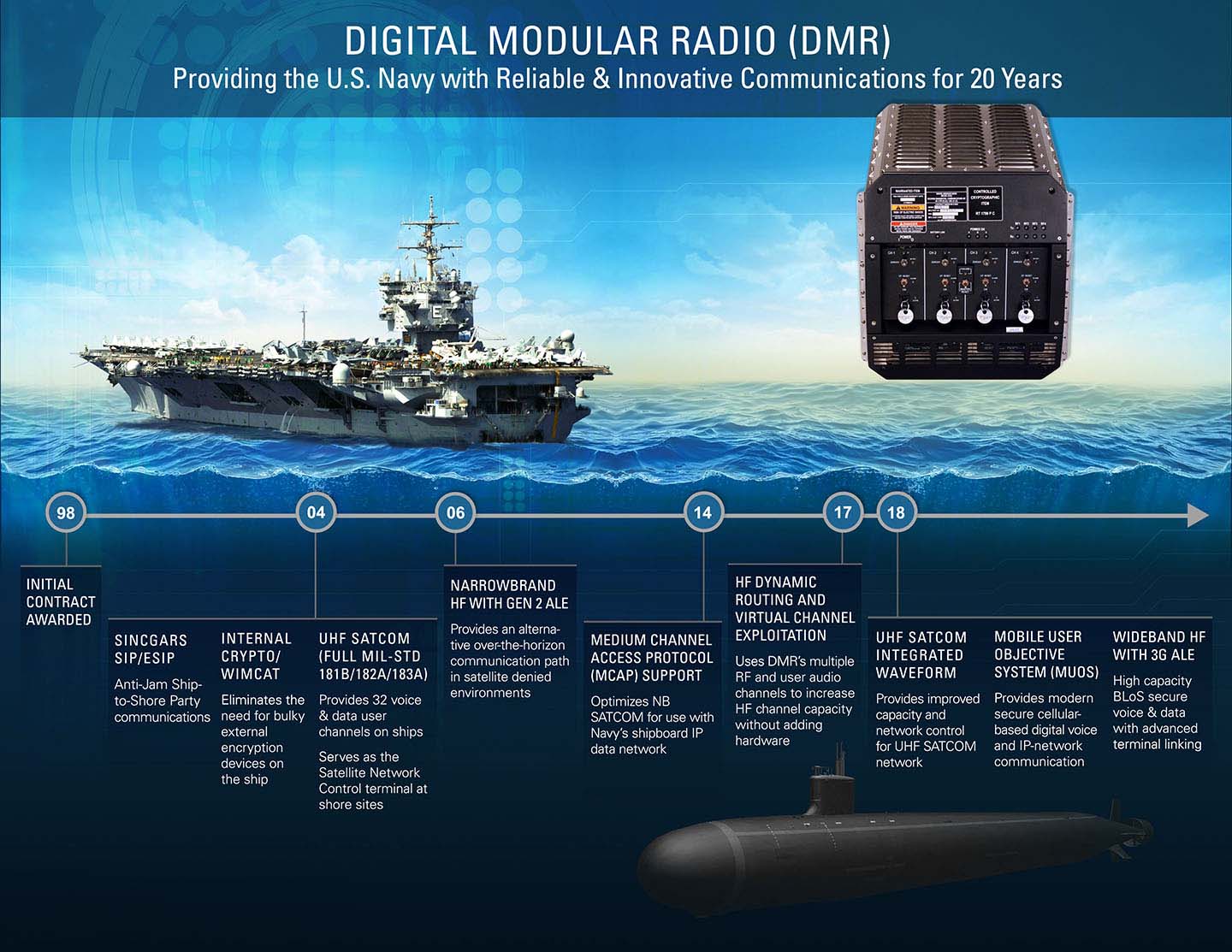 General Dynamics continues evolving radio technology to provide secure voice and data communications for U.S. Navy ships and submarines.
SCOTTSDALE, Ariz. – The U.S. Navy awarded General Dynamics Mission Systems a five year, $208 million indefinite delivery, indefinite quantity contract for the continued procurement, testing and delivery of the AN/USC-61(C) Digital Modular Radio (DMR). DMR provides multiple communication waveforms and multi-level information security for secure tactical voice and data transmissions aboard U.S. Navy ships and submarines. The four-channel DMR is the first software-defined radio to become a communications standard for the U.S. Navy.
"With more than 700 DMR radios deployed across the U.S. Navy's fleet, General Dynamics continues its commitment to provide the Navy with new and innovative radio technologies, developing next-generation communications that support the ever-evolving mission needs of sailors operating around the world," said Paul Parent, a vice president of General Dynamics Mission Systems.
The latest DMR improvement increases transmission rates while reducing static and other audio noise for crisp, clear voice communications. The Mobile User Objective System (MUOS) waveform was added to DMR in 2012 to significantly enhance the Navy's beyond line-of-site, or satellite voice and data communications by connecting to the MUOS satellite communications network. Since the original contract award in 1998, the DMR has evolved from its initial offering of UHF SATCOM to provide a full spectrum of mission critical communications capabilities including, MILSATCOM satellite network controller, beyond line-of-sight High Frequency (HF) with Automated Link Establishment (ALE), VHF Single-Channel Ground and Airborne Radio Systems (SINCGARS), UHF HAVEQUICK, and other communication waveforms.

The radios are also equipped with General Dynamics' Advanced Infosec Machine (AIM) encryption chip, certified by NSA to handle classified information at the Type 1 – Top Secret level and below. The radios also communicate simultaneously at multiple levels of security, on each of the radios four channels.
General Dynamics Mission Systems is a business unit of General Dynamics (NYSE: GD). For more information about General Dynamics Mission Systems, please visit gdmissionsystems.com and follow us on Twitter @GDMS.
# # #