SCOTTSDALE, Ariz., – The U.S. Navy awarded a contract modification to General Dynamics Mission Systems to improve high-frequency (HF) communications for the Navy's four-channel, AN/USC-61(C) Digital Modular Radios (DMR). The 3G High-frequency 3rd Generation Automatic Link Establishment (ALE) increases transmission rates from radio to radio by 24 percent and reduces static and other noises that hinder clear, crisp voice communications quality. It also improves communications among U.S. and coalition forces and can supplement satellite communications (SATCOM) when SATCOM networks are overloaded or unavailable.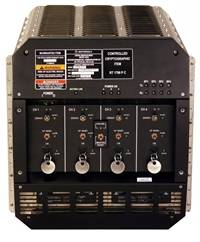 "This improved HF capability gives sailors and their commanders a communications advantage with improved communications reliability and higher data capacity, particularly when beyond line of sight networks are unavailable," said Paul Parent, a vice president of General Dynamics Mission Systems. "DMR also provides a more effective alternative to satellite communications in locations where satellite connectivity or capacity is limited or unavailable."
The General Dynamics' software-defined DMR radios are the Navy's mission critical communications hub for Navy vessels and submarines. They provide a wide spectrum of military voice and data communication channels including Ultra-High Frequency satellite networks, Very High Frequency and Line of Sight radios, single-channel Ground and Airborne Radio Systems (SINCGARS) and other tactical radios. The radios are also equipped with General Dynamics Advanced Infosec Machine (AIM) encryption chip, certified by NSA to carry classified information at the Type 1 – Top Secret level and below. The radios also communicate simultaneously at multiple levels of security, on each of the radios four channels.
The MUOS waveform was recently added to DMR to significantly enhance the Navy's beyond line of sight voice and data communications by connecting to the new Mobile User Objective System satellite communications network.
General Dynamics Mission System's radio products deliver secure voice and data communications for U.S. and international military and government agency customers. The business also provides long-term evolution (LTE) broadband communication networks for law enforcement, emergency first responders and others who need the ability to connect and communicate anywhere, anytime.

General Dynamics Mission Systems is a business unit of General Dynamics (NYSE: GD). For more information about General Dynamics Mission Systems, please visit gdmissionsystems.com and follow us on Twitter @GDMS.
###