Below is an except from an article published by the Association for Unmanned Vehicle Systems International (AUVSI) that takes a closer look at our new Bluefin SandShark autonomous underwater vehicle — to read the full story, visit auvsi.org.
---
General Dynamics SandShark to Start Swimming This Fall
By: Andrew White
U.S. Naval Special Warfare teams could soon be operating a Micro Autonomous Underwater Vehicle designed by General Dynamics Mission Systems, which is due to be unveiled to the market in the fall.
According to company executives, the SandShark MAUV would comprise a manpackable solution for SEAL teams seeking a capability to covertly conduct strike missions and surveillance/reconnaissance tasks at reach in the littoral and maritime environments.
Weighing a total of 15 pounds minus payload, the SandShark MAUV has a tail section housing propulsion, power, control and open software systems; a mast section fitted with a Wi-Fi antenna, GPS, visible and infrared strobes and status LEDs; and lithium-Ion battery pack providing protection against extreme voltages and currents.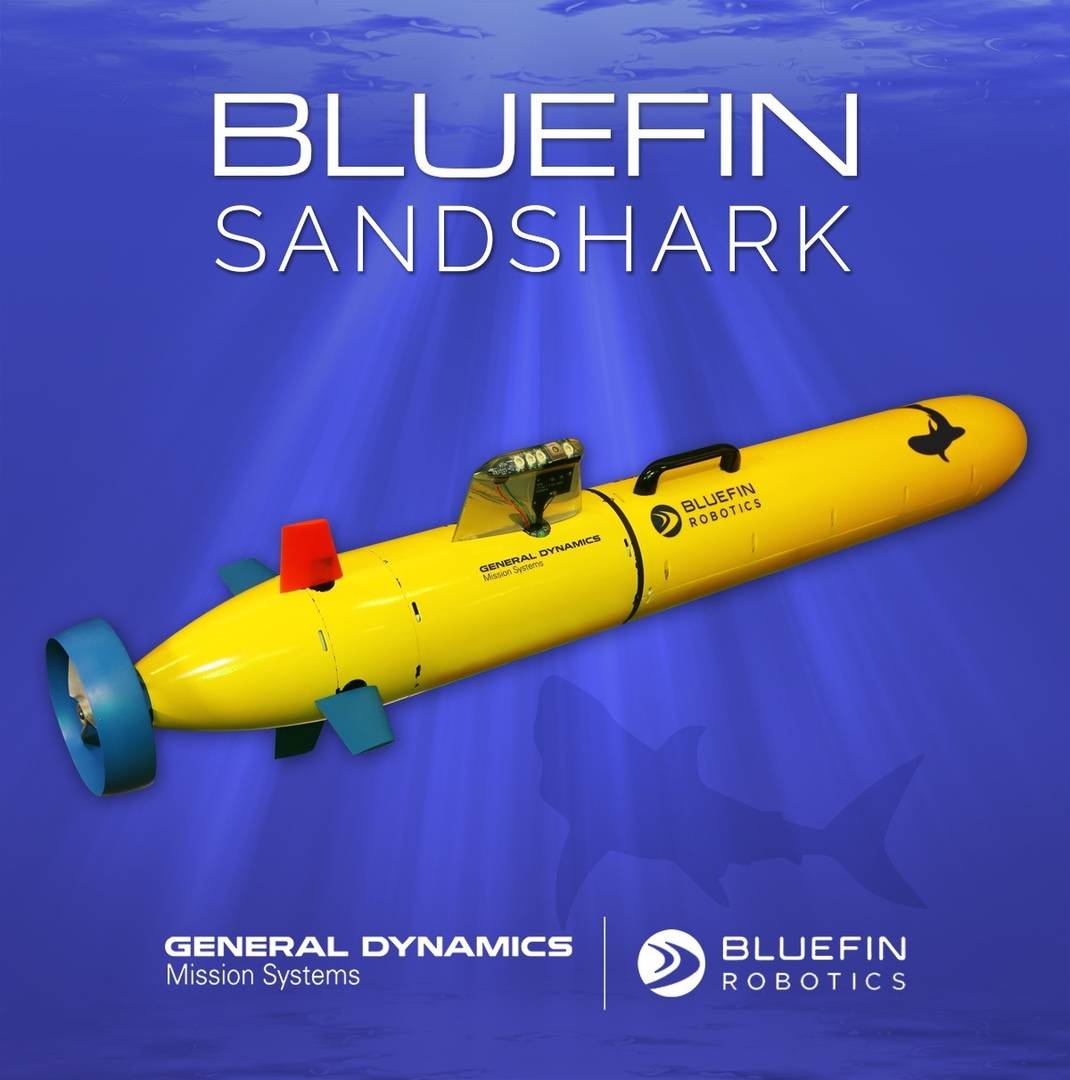 "The SandShark is a small, open-platform AUV designed for developers, providing a subsea reference design to support rapid technology development," said Adam Mara, General Dynamics Mission Systems director of power systems, speaking to Unmanned Systems at the Special Operations Forces Industry Conference in Tampa, Florida, on May 24.
The vehicle is capable of carrying a variety of sensor payloads for hydrography and surveillance and reconnaissance missions, as well as potential for carriage of ordnance for neutralization missions, although the latter would mean the SandShark would become an expendable vehicle launched for fire-and-forget missions. The MAUV has a payload capacity of 50 pounds.
"This is a burgeoning market with navies interested in the product. NSW could have applications for this as well for special mission units seeking a data collection capability. The SandShark has been designed with future development of payloads in mind and future [swarming] applications for multiple AUVs," General Dynamics Mission Systems Undersea Systems Director Tracy Howard added.
Measuring less than six inches in diameter and 1.5 feet in length, the MAUV could be extended in length in order to house a larger payload. The MAUV would have to be recovered by its sponsoring launch vehicle, which could be a rigid hull inflatable boat, military inflatable boat, swimmer delivery vehicle, manned or unmanned surface vessel, and even countermeasure pods from airborne aircraft.
The system can also be collapsed into two separate parts, allowing for it to be carried in a backpack by ground assault or reconnaissance forces, particularly suitable for NSW mission sets. With a mission duration ranging between eight and 12 hours, dependent upon operational use and tidal conditions, the SandShark runs preprogrammed routes, navigating by waypoints and surfacing in order to establish communications back to a forward deployed team or tactical operations center.
General Dynamics also displayed its Deep Subsea 1.5-kilowatt/hours subsea battery, which provides a high energy density power solution, with integrated protection, monitoring, power control and battery conditioning. The power source can also be fully recharged in six hours or less, Howard says.
---
To read the full story, visit auvsi.org. (Source: Andrew White, "General Dynamics SandShark to Start Swimming This Fall," www.auvsi.org, 6/1/2016)
Editors note: General Dynamics acquired Bluefin Robotics in February 2016.