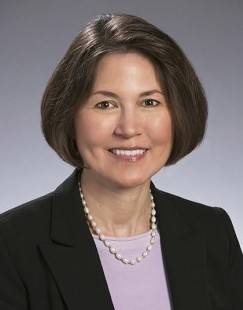 Sharon Dunbar is vice president and general manager of Federal Systems, a line of business within General Dynamics Mission Systems. In this capacity, she is responsible for meeting the current and evolving operational mission needs of our federal agency customers.
Prior to joining General Dynamics in 2014, Sharon served 32 years with the U.S. Air Force in operational and staff assignments spanning homeland security, contracting, government relations and human resources. She retired in 2014 as a Major General and as Commander of the Air Force District of Washington. In this capacity, she was responsible for national capital region homeland security, national special security events, and civil support operations with major command oversight of 60,000 military and civilian personnel assigned worldwide. She simultaneously served as Commander of the 320th Air Expeditionary Wing where she responsible for organizing, training, and equipping combat forces for aerospace expeditionary operations around the world.
A 1982 graduate of the U.S. Air Force Academy, Sharon was in the third class of women accepted for admission and earned a Bachelor of Science degree in engineering and business management. She graduated with distinction from the National War College with a Master's Degree in National Security Studies, holds a Master's Degree in Business Administration from California State University at Long Beach, and completed her doctoral studies in Public Policy at The George Washington University. She is also a graduate of the Defense Acquisition University's Defense Advanced Program Managers Course and a Level III certified acquisition professional, and completed senior executive programs at Harvard University and Massachusetts Institute of Technology.
Sharon serves on the board of directors for the Armed Services YMCA and the Girl Scout Council of the Nation's Capital, and is a Trustee with Union Institute and University.