Scottsdale-produced CM-300/350 (V2) radios replace legacy ground-to-air, air traffic control radios in more than 3,000 FAA locations and multiple U.S. military installations
SCOTTSDALE, Ariz. – General Dynamics Mission Systems' Ground-to-Air Radio Systems team delivered the 20,000th CM-300/350 VHF-UHF (V2) radio on February 20, providing advanced, network-ready, ground-to-air communications to the Federal Aviation Administration (FAA) as part of their NEXCOM 2 modernization program. These digital, Voice over Internet Protocol (VoIP)-capable radios provide high-quality communication among air traffic controllers and pilots flying in the National Airspace System (NAS). The first FAA-certified CM-300/350 V2 radios were delivered to the FAA in 2014.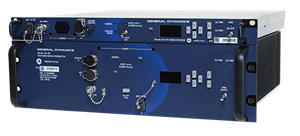 The CM-300/350 (V2) radios use the latest technology to reduce frequency interference and provide clear, uninterrupted communications to reliably improve the safety of flight in the NAS. They replace legacy ground-to-air radios in FAA facilities and military installations. According to the latest FAA Fielded Reliability Report, the CM-300/350 (V2) radios are averaging 695,000 hours fielded mean time between failures across 266 operational terminal sites monitored.
"The technologically advanced CM-300/350 (V2) radios meet the dynamic communications requirements of air traffic control centers, commercial airports, military air stations and range installations." said Bill Ross, vice president of RF and Broadband Products for General Dynamics Mission Systems. "Our radio users are reporting high reliability and increased clarity in ground-to-air communications resulting in significant time and cost savings."
"Most of the legacy radios we are replacing are 40 to 45 years old, and their supportability is a big issue," according to the FAA. "The CM-300/350 (V2) radios have proven to be extremely reliable and are flexible to meet today's evolving requirements."
Additionally, the Air Force and Navy chose the CM-300/350 (V2) radios to replace legacy air traffic control (ATC) radios at several of their installations. The services leveraged the FAA's CM-300/350 (V2) radio In-Service Decision to procure radios for their own replacement programs. The radios' software-defined architecture can accommodate expanding future Air Traffic Management ground infrastructure requirements through software updates.
More information about the CM-300/350 VHF-UHF V2 radios is available at the Mission Systems Ground-to-Air Systems website.
General Dynamics Mission Systems, a business unit of General Dynamics (NYSE: GD), provides mission critical solutions to those who lead, serve and protect the world we live in. We are a technology integrator and original equipment manufacturer with deep domain expertise in ground, sea, air, space and cyberspace. Headquartered in Fairfax, Virginia, General Dynamics Mission Systems employs more than 13,000 people worldwide. For more information about General Dynamics Mission Systems' broad portfolio of capabilities, visit gdmissionsystems.com and follow @GDMS on Twitter and LinkedIn.