Carroll Communications Now Official Value Added Reseller (VAR) for Fortress® Wireless
General Dynamics' Mission Systems is pleased to announce that Carroll Communications, headquartered in Columbus County, NC is now an official Value Added Reseller of Fortress Wireless products. Under the terms of the agreement, Carroll Communications will support sales, technical customer service and installation services for the Fortress Wireless product portfolio, including the Fortress LTE (consisting of Fixed LTE Solutions, and Deployable LTE Solutions) and Fortress secure Wi-Fi Mesh product lines in the U.S.
"Our goal is to work with the best value added resellers to sell and provide the same level of exceptional technical and customer service for our Fortress LTE and Fortress Mesh products that our Public Safety and Military customers have come to expect from us," said Karl Stupnik, Sales Chanel Distribution Manager. "We are very pleased to bring on board Carroll Communications and look forward to building this initiative together."
"As a company made up of 80% veterans, Carroll Communications, is in the business of getting the best gear into the hands of the war fighters," said Byron Carroll, President of Carroll Communications. "We see this is as a continuation of our service, and we know that General Dynamics has the best equipment to protect our nation and keep our troops safe. Lives depend on us getting this right and that's why we are thrilled to have General Dynamics as a partner."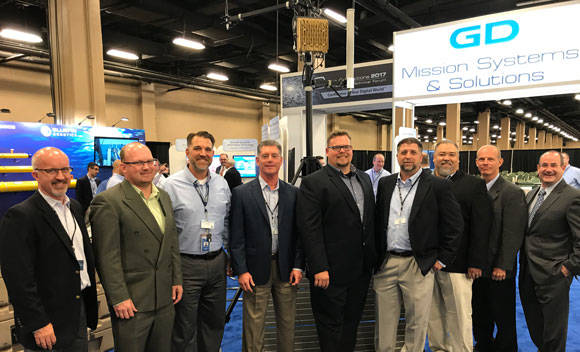 Pictured from Left to Right: David Aylesworth, GDMS, Fortress Mesh Product Line Manager, Derrick Child (Carroll Communications) MBA, CFO & VP Accounting, USMC Veteran, Karl Stupnik, GDMS Sales Channel Distribution Manager, Mike DiBiase GDMS, Vice President & General Manager C4ISR Technologies, Byron Carroll (Carroll Communications), President, U.S. Army Veteran, Ryan Peterson, GDMS, Technical Account Manager, U.S. Army Veteran, Brant Rosson (Carroll Communications), VP of Engineering, JR Haley (Carroll Communications), Board of Advisors Chairman, Rear Admiral U.S. Navy (Ret.), and Bob Sullivan (Carroll Communications), VP Sales, Commander, U.S. Navy (Ret.).
About Carroll Communications
Carroll Communications is a proud U.S.-based Service Disabled Veteran owned and HUBZONE certified small business. Its mission is to support the U.S. and its allies with high resolution solutions which provide for their needs, safety and defense while helping our great country grow. Carroll Communications product & service delivery model includes project management, assessments, and services and product supply. Carroll Communications brings together an experienced and talented staff with partner companies to assist in developing the very best of solutions. Through professional program and project management, Carroll Communications connects government agencies and corporations with the right product and services. For more information on Carroll Communications please visit their website.
ATC User Summit 2017
June 15th, 2017
General Dynamics Mission Systems - Scottsdale, AZ
Please join General Dynamics Mission Systems' at the ATC Radio User Summit. This one day event is bringing together our user community to connect, educate and collaborate on the latest CM-300/350 V2 ATC radio features, roadmaps and associated technology and systems. Presentations will be followed by a lab and factory tour.

For more information on the event, and to register please contact us. We look forward to seeing you!
Airbus Successfully Demonstrates Fortress® LTE Network for German Armed Forces and Security Forces
On April 26th – 27th, Airbus in collaboration with General Dynamics successfully demonstrated a highly mobile cellular network for the German Armed Forces' Mobile Tactical Communications' programme at the 31st AFCEA exhibition in Bonn, Germany. The programme is considered to be a major project to modernize the German Armed Forces' mobile communications during military missions. The demonstration featured reliable, secure Fortress 4G LTE technology, which Airbus integrated into the its cellular network system architecture to bridge the gap between secure voice and broadband services and provide reliable communications while on –the-move during tactical missions.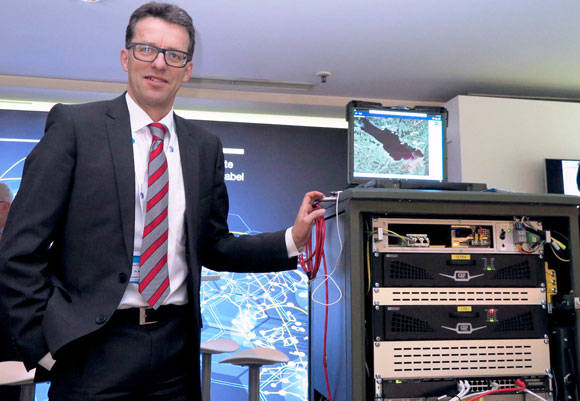 Markus Kolland, Head of Sales & Program Delivery of Europe and Africa of Secure Land Communications at Airbus demonstrates the cellular network system architecture with integrated Fortress 4G LTE technology. Copyright Airbus.
---
Upcoming Events
Please visit us at the following events to learn more about our latest radio and broadband products.
May 7
AAAE - Long Beach, CA
Products Featured: ATC Radios
May 16-18
SOFIC - Tampa, FL
Products Featured: Fortress Wireless
May 16-18
Critical Comms World - Hong Kong, China
Products Featured: Fortress Wireless
May 23-25
CommunicAsia - Singapore
Products Featured: Fortress Wireless
May 31- June 1
CANSEC - Ottawa, Canada
---
Contact Us
For additional information and news on our latest radio products, please email us, or contact us directly:
Digital Modular Radios (DMR): 800-424-0052
Combat Search & Rescue Radios: 800-424-0052
Air Traffic Control Radios: 800-424-0052
Manpack Networking Radios: 480-441-4079
Fortress Wireless Products: 770-689-2040
Click here to sign up for our Radio & Broadband E-Newsletter